KARACHI: The facade of the building or whatever remains of it now might help the imagination somewhat recreate, though with difficulty, what the Kakumal Asoomal Hindu Dharamshala must have looked like all those years ago.
Built in 1932, the Dharamshala was a rest house for Hindu pilgrims who would travel from afar to the Baghani Temple here. According to the Hindu community, the Dharamshala land of about 716 square yards in size situated at Napier Quarters in Saddar Town caught the eye of the builder mafia, who planned to build a shopping centre in its place.
On the plea of the Pakistan Hindu Council (PHC) to safeguard the Dharamshala, the Supreme Court of Pakistan on June 11 had ordered the Heritage Department as well as the Evacuee Trust Property Board (ETPB) not to demolish any part of this building.
The order had also proposed a task force for promoting tolerance and establishing a police unit to protect the places of worship of minorities. It also directed the commissioner of Karachi to take over the building so that no person trespassed upon the premises.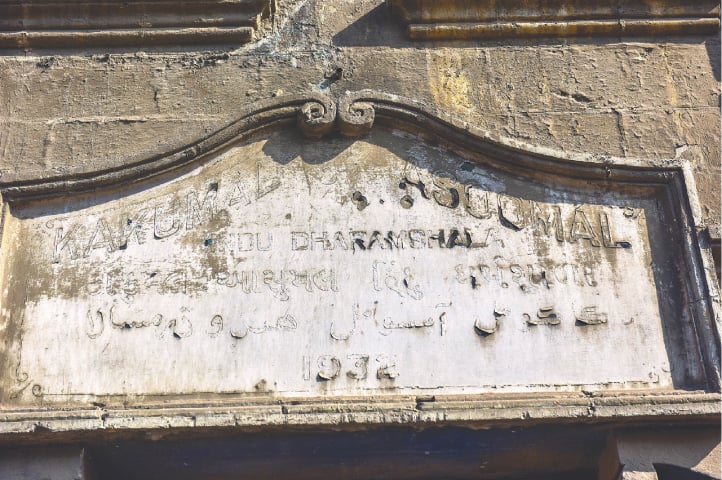 But despite the SC order the demolition could not be stopped. Today it is just a pile of rubble behind a hollow facade. Its grilled steel gate entrance is blocked by rubble. Neither can it be pushed or pulled open. Soon it will be completely razed to the ground and forgotten as another structure will come up in its place to add to Karachi's new skyline.
It has been alleged by the Pakistan Hindu Council that the ETPB forged a no-objection certificate from the Sindh heritage department for the demolition of the Dharamshala.
Speaking to Dawn, Dr Ramesh Kumar Vankwani, the patron-in-chief of the PHC, aired his sadness over the matter.
"I have requested the Supreme Court to at least transfer control of the premises to the management of the nearby Baghani Temple now. I have also asked for an inquiry by the Federal Investigation Agency into the alleged forgery by the ETPB and the resultant demolition of the heritage property," he said.
Published in Dawn, December 8th, 2021