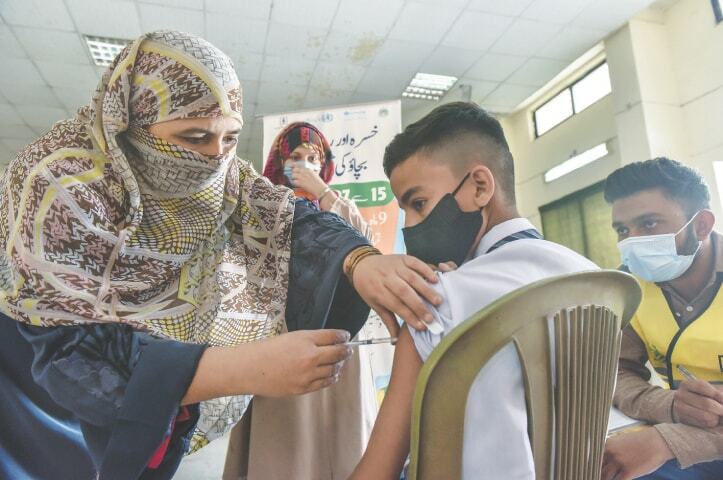 RAWALPINDI: Deputy Commissioner Mohammad Ali on Wednesday asked District Health Authority to lodge cases against those school owners who refused to allow the teams to vaccinate the children against measles and rubella.
He made the directive during the meeting to review the Measles and Rubella vaccination campaign in the district.
The meeting was also attended by district officials and representatives of World Health Organization.
The meeting was informed that some private school owners refused to allow the teams to vaccinate the children despite clear directives from the provincial government.
The officials said in some schools, the administration said that they would not allow administering vaccination without parents consent.
Upon this, the deputy commissioner asked the health authority to seal the schools and register cases against the owners who refused to vaccinate the children.
He said the government had launched the measles and rubella campaign to save the children from the diseases.
He said there was a dire need to save the children from these diseases and it was a national duty so no negligence in this regard will be tolerated.
He also asked the health authority to pay attention to the vaccination campaign against Covid-19.
He also urged the people to adopt safety measures against Covid-19 and don't take it easy and wear masks and get vaccination as soon as possible.
Divisional Surveillance Officer Dr Waqar Ahmed told Dawn that Rubella is a contagious disease and it also affected the pregnant women. He said that most people who get rubella usually have a mild illness, with symptoms that can include a low-grade fever, sore throat, and a rash that starts on the face and spreads to the rest of the body.
He said that measles was also highly contagious infectious disease and it's symptoms usually developed 10–12 days after exposure to an infected person. He said that initial symptoms typically include fever, high fever, cough, runny nose and inflamed eyes.
He said that in last three days, as many as 593,724 children vaccinated including 116,642 in Rawalpindi city, 100,925 in cantonment areas, 135,791 in rural areas of Rawalpindi, 79,450 in Gujar Khan, 23,417 in Kahuta, 14,103 in Kotli Sattian, 24,391 in Murree, 74,821 in Taxila and 24,184 in Kallar Syedan.
Published in Dawn, November 18th, 2021