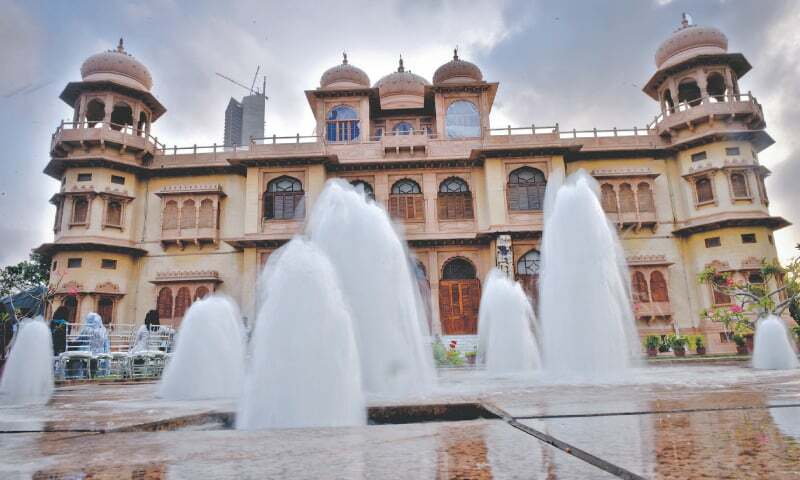 KARACHI: The Sindh High Court on Wednesday issued notices on another intra-court appeal against an earlier order of the SHC for setting up a medical college on the premise of Qasr-e-Fatima, commonly known as Mohatta Palace.
The appellants submitted that they were neighbouring residents of Fatima Jinnah's heritage property located in Clifton and expressed their grievance against a part of the single-judge bench order regarding establishment of a college.
A two-judge bench headed by Justice Aqeel Ahmed Abbasi issued notices to the respondents for Nov 18 (today) when the appeals of the provincial government and Mohatta Palace Gallery Trust, which is currently maintaining the heritage property, are already fixed for hearing.
Lawyer for the appellants Arshad Tayebaly contended that the subject premises was a heritage property and situated in purely a residential area, which cannot be used for any other purposes apart from residential purpose.
When the bench confronted the counsel about the maintainability of the appeal as the appellants were not party in the suit while the proposal about medical college was still under process of finalisation, the counsel placed reliance on two reported judgements of the apex court and requested to fix the same for hearing along with another appeal in the present matter already fixed for hearing.
Meanwhile, another division bench of SHC on Wednesday directed the director general of the Karachi Development Authority to hold an inquiry and fix responsibility against officials involved in committing illegalities and fraud about a genuine piece of land.
The bench headed by Justice Irfan Saadat Khan observed that this was not the only case but there were numerous cases in which blatant illegalities were committed on part of KDA officials.
The bench said that a Gulistan-i-Jauhar plot measuring 400 square yards belonged to the petitioner and it had been renumbered / rearranged by the officials of KDA and allotted to other persons while it was also erased from the approved layout plan.
It also directed the KDA chief to submit an inquiry report within a month and imposed a cost of Rs100,000 on the KDA to be payable to the petitioner within 15 days.
The bench in its order further said that plot number B-209/1 and B-210 were the same and the former was illegally created by the officials of KDA by misusing their official powers and authority for "extraneous motive".
The very action of KDA officials of renumbering the whole lane was found to be illegal and if another plot, allotted under the minister quota to some persons also impleaded as respondents in the petition, was encroached upon there was no justification available for KDA to rearrange, re-fix and reallocate the plot of the petitioner and allotted it to private respondents.
Published in Dawn, November 18th, 2021