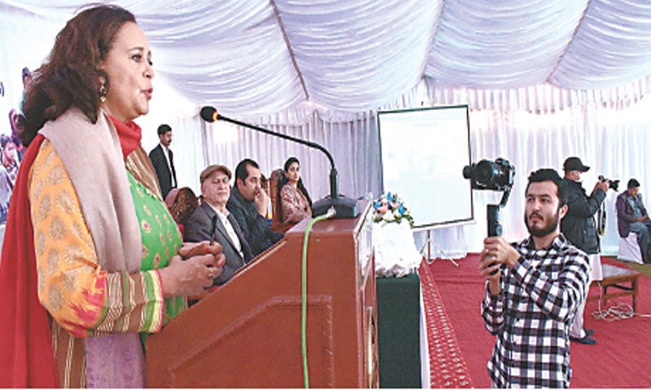 ISLAMABAD: About 50,000 children in Gilgit-Baltistan were involved in child labour, said a report launched on Wednesday.
The new report estimates prevalence of 13.1 per cent child labour in GB, with one in seven children is working.
Many children work in hazardous conditions and are almost twice as likely to report mental health problems, according to 'Gilgit-Baltistan Child Labour Survey 2018-19'. This is the first such survey conducted in the country since 1996.
It is also the largest survey conducted in GB, with a representative sample of 7,032 households from all the 10 districts representing nearly 400,000 children between the ages of five to17, living across urban and rural areas of the region.
The survey, conducted in collaboration with Unicef, says that child labour prevalence is lower among children living in a household where the household head has migrated, compared to the children living in a household where the household head never migrated.
Report says one in seven children is working in the region
Children from poorer households are more likely to be in child labour compared to children from richer households by various measures. Average household income is higher for children, who are not in child labour.
"The GB government is sternly committed to protect basic rights of every child and to ensure access of every child to basic education, health, social and mental wellbeing and more as protected under the Constitution of Pakistan and UN Convention on Rights of the Child," said GB Chief Minister Khalid Khursheed Khan while launching the survey in Gilgit on Wednesday.
The survey also highlights that almost 30 per cent of children aged five to 17 in GB do not attend school. Amongst those, who attend school, there is gender disparity with 88 per cent boys and 77 per cent girls.
"Every child has the right to be protected from harm, exploitation and abuse," said Unicef representative in Pakistan Aida Girma.
"Children should be provided access to learning opportunities — as opposed to being forced to engage in exploitative economic activities — to live with dignity and reach their full potential. This target can only be achieved if no child is left behind, no matter how difficult and challenging the circumstances," she said.
It is reported that 0.2 per cent of girls aged 10 to 13 and 7.4 per cent of girls aged 14 to 17 have married. Less than one in three children has a birth certificate, with the percentage being 1.3 points higher for boys than girls and higher for children in older age groups with a difference of 14.8 percentage points between children aged five to nine and children aged 14 to 17.
The children involved in child labour live on average in households with slightly fewer members compared to children not in child labour. Children in child labour are less likely to live with both parents, and more likely to have lost at least one parent.
More than a quarter of all households have at least one child in child labour. The child labour rate decreases with wealth of the household. Almost 40 per cent of households in the poorest wealth quintile have a child in child labour.
The percentage of households with at least one child in child labour is three times as high in rural areas compared to urban areas where the child labour rate is 10 per cent.
The households where the highest education completed by the household head is any grade of primary school are the most likely to have at least one child in child labour and the percentage of households with at least one child in child labour decreases with the level of education of the household head and is about 10 percentage points lower for households where the household head obtained higher education compared to the average of 26.7 per cent.
The survey recommends that since child labour is a complex issue, it is imperative to devise a coordinated policy response, focusing education, social protection, labour markets and legal standards and regulations.
It highlights that around 14.8 percent of students are neither in school nor working. These children are particularly vulnerable to becoming engaged in child labour.
The survey suggests that it is important to understand why these children do not attend school, especially as schools in public sector are providing free of cost education in GB.
Published in Dawn, October 28th, 2021