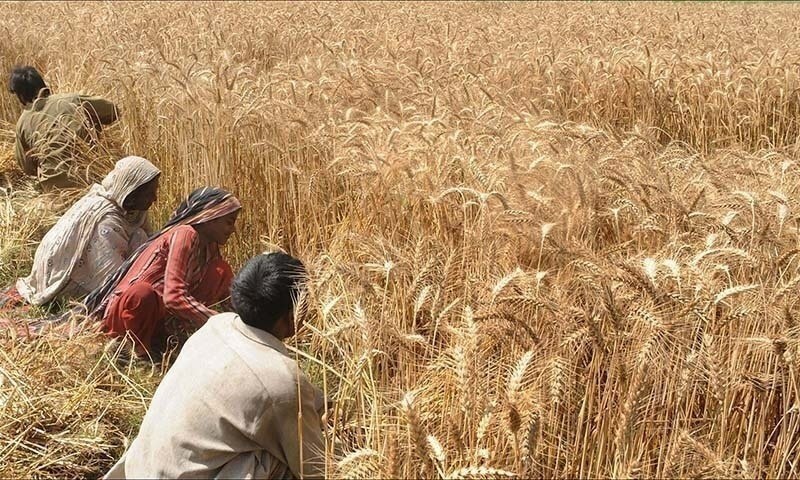 KARACHI: The Sindh government on Thursday fixed the price of wheat at Rs4,875 per 100kg bag.
An announcement to this effect came just a day before the planned release the commodity to the open market. The release of wheat would ultimately bring down the flour prices in the retail market, officials and sources said.
The notification issued by the food department said that flour mills and private parties could get a 100kg wheat bag at the official rate of Rs4,875 per.
It was only on Wednesday, that Sindh Governor Imran Ismail called for Centre's intervention in order to make the Sindh government release the wheat crop to open market. He alleged that the provincial government was deliberately holding back wheat stocks in warehouses to cause an artificial shortage and ultimate increase in flour price.
Governor criticised for inviting Centre's intervention
The CM and several of his ministers had reacted strongly to the governor's allegation and call for Centre's intervention. They challenged the governor's calculation claiming that the measures being taken by the Sindh government would soon bring down prices of flour in the province.
"The [Sindh] government is about to start releasing wheat," said provincial Information Minister Saeed Ghani in a statement. "The Sindh governor is not aware of facts about the production, consumption and procurement of wheat. If the Governor had known, he would not have said such a thing to hide incompetence of his [federal] government. Consumption of wheat in the country is 28 million tonnes while its production stands at 27 million tonnes. Among our total produce of the crop, 20 million tonnes is produced in Punjab."
He said that despite a high wheat production in Punjab, flour shortage and increase in prices were not visible to the governor; the quality of flour selling in Punjab appeared much poorer than what was available in Karachi and other parts of Sindh.
Another member of the provincial cabinet, Mukesh Kumar Chawla, who holds the portfolios of Food, Excise & Taxation, Narcotics Control and Parliamentary Affairs, said that for the last several years, the provincial government had been releasing wheat in the last week of October.
"As soon as wheat is released, flour prices in Sindh will come down significantly," he said in a statement. Even today, flour in Punjab was selling at Rs75 a kilo although that province had the highest production of the commodity in the country.
"The Sindh governor made a statement against the provincial [Sindh] government for scoring political points without getting any information," he said.
According to him, Sindh has wheat stocks in abundance to meet its requirement.
Published in Dawn, October 15th, 2021