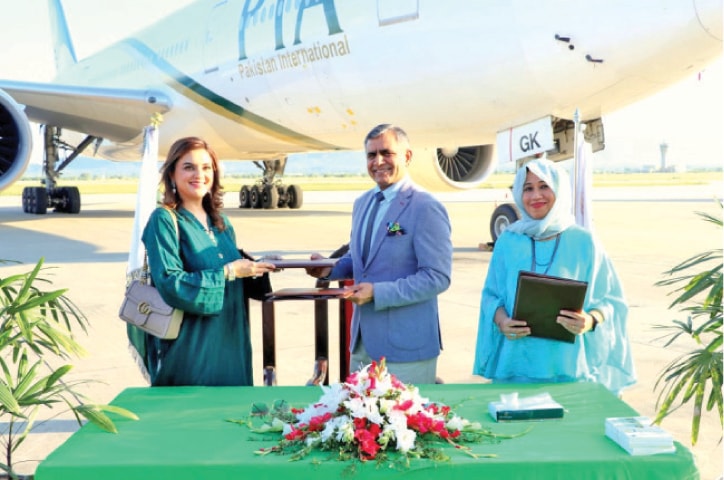 RAWALPINDI: United Nations (UN) Women Pakistan, Pakistan International Airlines (PIA), and the federal ombudsperson for protection against harassment (FOSPAH) signed a memorandum of understanding (MoU) in Islamabad Airport to promote safe mobility for women and pledged to prevent harassment of women in public and workplaces.
According to a press release issued on Sunday, nearly half of Pakistan's labour force comprises women. "There are perceived and real risks that limit women's mobility and capacity to contribute to the country's social and economic success. It is every woman and girl's right to be able to move freely and without fear of being harassed," it stated.
The press release further said awareness would be created through campaigns to promote a safe travelling environment for women, adding that it indicated implementation of Pakistan Penal Code (PPC) 509 and the Harassment of Women at Workplace Act, 2010, even onboard flights.
It may be mentioned that PIA is the first airline in the world to take such a step for protection of women's rights to create a safer travel and work environment for women.
MoU signed between UN body, PIA and federal ombudsperson
Recognising the importance of women's freedom of movement and right to a harassment-free life, Sharmeela Rassool, country representative of UN Women Pakistan, said: "We need to create safe spaces and give women access to safe mobility. When both halves of the population live with their potential, the economies and societies grow. Women are key drivers of economic growth. PIA has just set a trend for the whole world to follow."
Speaking on the occasion, PIA Chief Executive Officer (CEO) Air Marshal Arshad Malik said: "We pledge as an organisation to create safer transport environment for women, whether it is in offices or during transportation."
He said this was a big opportunity for all other corporate organisations to come forward and contribute to national development.
Federal Ombudsperson for Protection against Harassment Kashmala Tariq congratulated both UN Women and PIA on launching a landmark initiative. She said the Federal Ombudsman Secretariat was geared up for working towards the achievement of its goals and would provide justice to all those who approach FOSPAH.
Published in Dawn, September 27th, 2021