KARACHI: The stock market started the trading week on a bearish note. The KSE-100 index oscillated between the intraday high and low by 53 and 311 points evidencing investors' lack of interest in equity trading. The index fell 257 points, or 0.54 per cent, to close at 47,429.
Awais Ashraf, Head of Research at Foundation Securities, said that the commercial banks came under heavy pressure after the Finance Bill 2021 disclosed 'incremental profit on government securities to be taxed at 37.5pc," which was initially not included in the budget this year.
Other than that investors were spooked with the simmering tensions with the US, which they thought could impact both the ongoing negotiations with the IMF and Pakistan's later exit from the FATF. Other analysts also complained of lack of positive triggers; the resurfacing of political anxiety due to the reawakening of opposition PDM and the abrupt withdrawal of US forces from Afghanistan raised security concerns for the bordering nations.
Traders said market did not look forward to the upcoming corporate financial results with enthusiasm.
On Monday selling pressure was seen across the board, with cement, steel, technology, refinery and E&P sectors taking the brunt of the blow.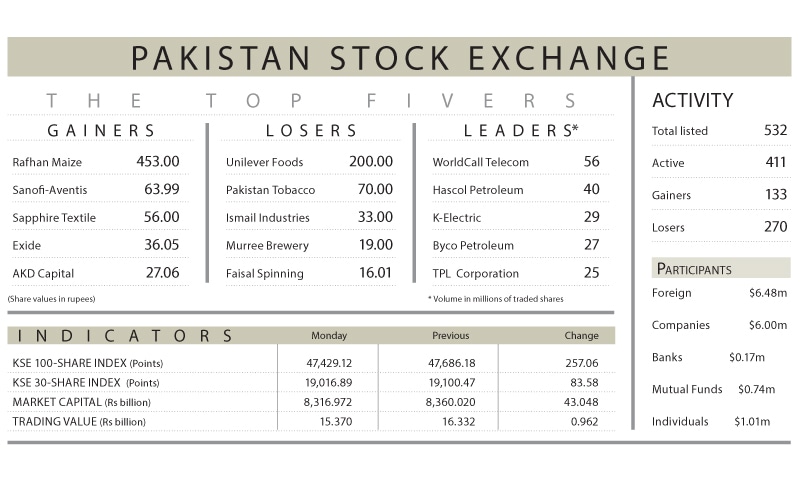 In the E&P sector OGDC saw active trading with rangebound price uptick due to increase in international oil prices.
Foreign investors disposed of equity worth $6.48m. Among local participants, companies, banks and insurance firms were also sellers. Individuals picked up shares valued at $10.13m and saved the index from sinking further. Mutual funds and brokers proprietary trading also saw additions to portfolio.
The trading volume declined 12pc over the previous session to 495m shares while the traded value also decreased 6pc to $97.2m. WorldCall and Hascol were lead contributors.
Stocks that contributed positively to the index included Hubco (27 points), SNGP (12 points), EFERT (11 points), SCBPL (10 points) and BAFL (9 points). Stocks that contributed negatively were Lucky Cement (39 points), PAKT (21 points), Engro Corp (17 points), HBL (17 points) and PPL (15 points).
Published in Dawn, July 6th, 2021