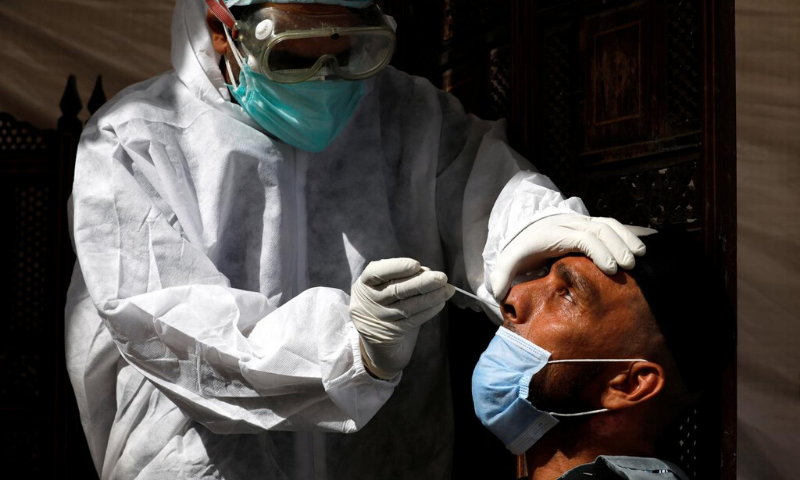 PESHAWAR: The health department has decided to install the latest machine to retest Covid-19 positive samples and detect Indian and other variants, which are most infective and severe than the locally prevalent virus.
A health department report said that three persons died of Covid-19 and 83 new cases were reported on Monday in the province. It said that provincial tally of deaths and cases was 4,343 and 138,616 respectively.
The report said that of the infected people, 132,683 patients (95 per cent) including 65 recorded during the last 24 hours had recovered. It said that two persons died in Peshawar and one in Abbottabad due to the virus. A total of 7,184 tests were conducted, it added.
Officials said that two persons tested positive for South African and one for Indian variant of the virus in Peshawar last month. They said that health department initiated the process to get its own machine and conduct more tests of positive patients as those viruses had also higher mortality.
The equipment will retest samples from 20 labs
The people, who had travel history to Middle East, were sent to quarantine by district administration and they were allowed to leave it when their PCR tests came negative after 14 days in Public Health Reference Laboratory (PHRL) at Khyber Medical University.
Officials said that the Pakistan-Afghanistan border could be transmitter of the Indian virus to the province as people from that country travelled to India frequently. The health department had also received recommendations from experts to close the border with Afghanistan after the Indian virus was found, they said.
They said that samples were dispatched to National Institute of Health (NIH), Islamabad from where the arrival of results was slow. NIH received samples from the whole country as part of strategy devised by National Command and Operation Centre to diagnose all infective viruses including Indian, Brazilian, UK and South African among Covid-19 patients and take measures accordingly to control their transmission. These variants have more hospitalisations.
Officials said that Khyber Pakhtunkhwa had been witnessing downtrend in Covid-19 patients and mortalities for the last one month but any of those variants could prove disastrous.
Dr Asif Ali, the director of institute of pathology and diagnostic medicine at KMU, said that the process of acquiring latest equipment continued to detect the lethal variants of the virus and safeguard the people accordingly.
After a month, the machine would become operational and would start getting five samples from each of the 20 laboratories, including 13 public and seven private ones in the province, which would be analysed by medical scientists at PHRL, he said.
Dr Asif said that the machine to cost Rs20 million would be used only for detection of variants. He added that currently they sent samples on fortnightly basis but NIH was overburdened with work.
He said that the UK, US and European qualified faculty members were only involved in academic and research work before advent of Covid-19 but after the outbreak of the pandemic they started service delivery through pioneering coronavirus tests from less than 50 per day. The number of swabs processed at PHRL had reached 8,000 per day, he added.
"Our experts remain in touch with other laboratories to scale up their capacity regarding use of PCR machines, which would be used by health department in other epidemics such as dengue, etc," said Dr Asif.
Dr Yasar Mahmood Yousafzai, director of PHRL, said that health department's role during Covid-19 led to development of diagnostic services, which were also meant to be used in other outbreaks. "We organised training for the staff of other Covid-19 labs which has improved quality of work," he added.
Published in Dawn, July 6th, 2021