The role of viewers in art is very important. In the end, they are the ones who assign meaning to it and, as buyers, give value to it. But this artist-viewer connection essentially rests on what the viewer wants to take on and how much the artist wants to reveal. Some artists are specific and expect viewers to see and think about their work from their perspective, while others expect the audience to give meaning and complete the piece with their own experiences and biases.
The recent exhibition at the Koel gallery, 'Flight', had a bit of both. It was concept-driven, yet also open-ended. It had 10 established and upcoming artists seeking viewer engagement at several levels because the premise, 'Flight', had been articulated through very individual media choices and contexts.
The conflict between tradition and modernity in existing third world cities is grist to the mill of contemporary artists such as Huma Mulji. She voices cultural and socio-political disparity, displacement and imbalance through awkward, suspended or oddly positioned sculptures and objects. Her Crystal Palace artwork composed with mirrors, acrylic sheets, adhesive and medium-density fibreboard (MDF), mimics model homes marketed by estate agents.
But, unstable and teetering on a frame, the glistening façade with shattered glass panes and hollow interiors speaks of false claims, scams and broken dreams — an all too familiar game of reality versus illusion played out between realtors and a gullible public.
Reality takes on a philosophical meaning for Atif Khan, reminding us that if we lived forever, we would not value today. He celebrates its fragility and transience in a set of eight delightful, archival inkjet prints on Hahnemühle paper.
Ten artists come together at the Koel Gallery to display what 'Flight' means to them
His work comprises eight bubbles that explore the soul, body, mind and heart along with the four elements of nature — earth, water air and fire — in his digital artworks. They illustrate his knowledge of the miniature, pop and truck art and his technical expertise and ability to fuse all three to conjure exquisite utopias. Pictorially rich and chromatically attractive, these decorative pieces garner instant appeal.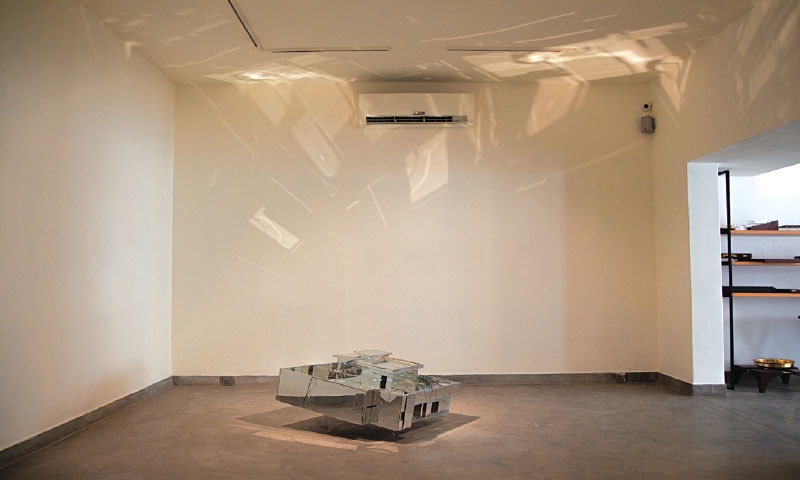 Beauty and reality of an abstruse kind personifies Arif Habib's Dry Intellect — a steel, acrylic and LED lights contraption. As a multimedia artist, Habib indulges in a striking, precision-oriented play of light and transparency, with the creation of unusual motifs, but the box-contained piece does not reveal much beyond the novelty that it is.
Recycling to recreate the real into an illusory form, David Alesworth and Tim Southhall's Magpie is a bird sculpture crafted from multiple pieces of laser-cut cardboard, sourced from international fruit cartons that have flown like migratory birds on defined routes to various destinations.
Essentially a sculptor and photographer, Alesworth has spent over a decade now exploring garden histories and relating anomalies of the human condition with botanical interventions. That is evident in the Magpie — the similarity between the bird wings and leaves is striking but, unlike his complex and provocative garden works, this piece simply rests as an ode to a bird.
Whimsy also applies to Jamil Baloch's Destination artwork. Transparent and momentarily eye-catching, the nondescript fossilised object, composed of resin and plastic, unfortunately does not emit any sociopolitical charge that lights up his art.
Among the new entrants, Tahir Zahid's desire, as expressed in his statement, for geometric synchronisation and calibration, translates well into his wood and steel artwork, Parwaz.
Hussain Jamil's Blue Megaliths and Golden Hour, stainless-steel mirror-polished gold and aquatint works, Rameez Rehman's sand-blasted colour-processed vertical glass column, Waves, and Muhammed Ashraf's welded shaft rods create an impact as new media experiments only. The theoretical underpinnings that give depth and meaning to a work are missing.
As a title, 'Flight', is only loosely adhered to in the Koel exhibition and the assorted artworks can be best evaluated by focusing on the product and process, because the premise wavers between the artists ideas and their media.
Flight was up at Koel Gallery from May 25 until June 16, 2021.
It can be viewed online at koelgallery.com/exhibitions/flight
Published in Dawn, EOS, June 20th, 2021