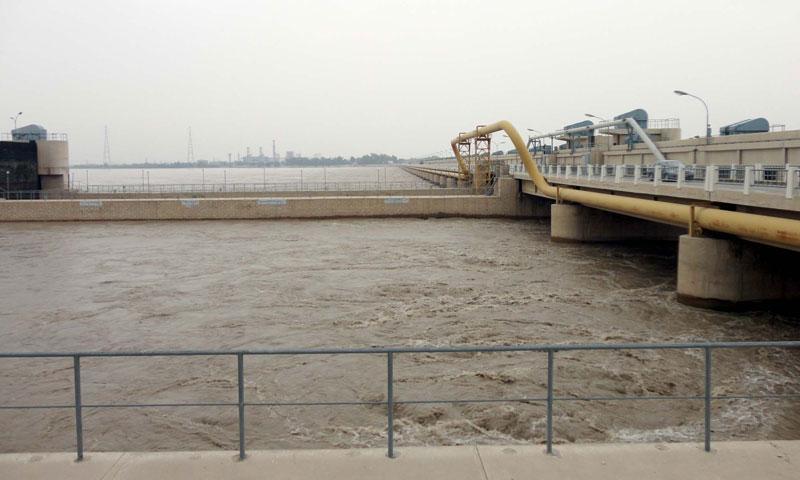 LAHORE: Punjab alleges that Sindh has been and is fudging data on the availability of water in the latter's canals by exaggerating transmission losses to get extra share at the cost of other provinces.
It sees national food security under threat if the Indus River System Authority (Irsa) does not stop release of water from Mangla Dam at once to save water for the Rabi season.
"Sindh has been tampering with water availability data in the province and teams of Irsa, the federal entity for distribution of water among the provinces, during surprise visits have repeatedly found more water at Guddu, Sukkur and Kotri barrages than was being reported by Sindh irrigation authorities," Punjab Irrigation Minister Mohsin Leghari alleged at a press conference here on Thursday.
Flanked by his cabinet colleagues Samsam Bukhari and Husnain Bahadur Dreshak, he said the Punjab irrigation officials deputed at Sindh barrages have also been reporting the figure fudging and the same have repeatedly been conveyed to Irsa with no corrective measures.
Punjab demands Irsa revisit allocation as per shortage
An Irsa spokesperson reinforces the claims by stating that the authority has reservations about the data quoted by Sindh on water availability but won't say what action was taken to redress the complaint(s).
Mr Leghari demanded that Irsa should revisit its allocation of water for various provinces in accordance with the intensifying shortage of water.
He said 8,000 cusecs of additional water for Sindh was released from Mangla reservoir two days ago though the inflow of water was 75 per cent less than Irsa's expectations.
"The water shortage has jumped to over 30pc against earlier estimates of 10pc during early Kharif 2021. But, instead of re-adjusting provinces' water share in accordance with the new depressing reality Irsa released additional water for Sindh from Mangla Dam on the basis of earlier estimates."
The Punjab irrigation minister feared that the country may face food security issue if Mangla reservoir is not allowed to be filled and water will not be available for wheat sowing at the end of the ongoing calendar year.
Replying to a question, he said it seemed Irsa released the additional water under pressure as a political party had threatened to launch a sit-in on Punjab-Sindh borders on the water shortage a few days ago, a reference to a presser by PPP Chairman Bilawal Bhutto-Zardari.
Published in Dawn, May 21st, 2021