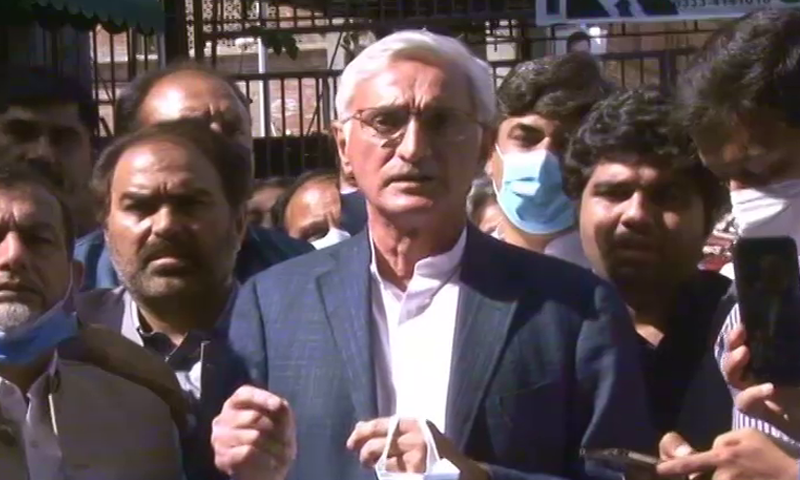 LAHORE: Pakistan Tehreek-i-Insaf's disgruntled leader Jehangir Khan Tareen on Tuesday submitted a reply to the Federal Investigation Agency (FIA) regarding allegations against him, including having illegal foreign assets, in connection with the sugar scam.
Mr Tareen had also called for a transparent inquiry demanding "a fair and noncontroversial investigation team, which could meet the requirements of justice and doesn't follow instructions given to it on telephone calls."
On Tareen's reply submitted to the FIA, the agency said it would inform the court about its findings after examining the record presented to it by the sugar baron so far.
"The FIA team is minutely examining all the records shared [by Mr Tareen] since the start of the sugar inquiry on Aug, 8, 2020. It is checking whether the record shared with it is relevant or irrelevant," FIA Lahore Director Muhammad Rizwan, who heads the sugar scam investigation team, told Dawn.
He said the FIA would present its findings to the trial court on the next date of hearing on April 22.
Mr Tareen pleaded before the FIA in a reply that no offence had ever been committed by his company (JDW) or by him and no proof of any such offence was brought forth either by the Joint Investigation Team (JIT) or the Combined Investigation Team (CIT).
He said all transactions were financially prudent under the circumstances in which they were carried out. The JDW had provided documentary evidence to establish the transparent, legitimate, and bona fide nature of each transaction, he added.
He said the JDW had paid Rs15 billion annual tax revenue to the national exchequer and was amongst the highest tax payers in the sugar industry, as well as other industries.
The FIA had probed into the increase in the sugar prices and the subsidy obtained by sugar barons, including Mr Tareen, during the last five years.
In its report submitted to Prime Minister Imran Khan last year, the FIA Director General Wajid Zia had revealed that two main groups had obtained maximum benefit during the crisis, one of these being JDW of Mr Tareen that had six sugar mills. As per the report, the JDW obtained 12.28 percent of the total export subsidy amounting to Rs3.058bn during 2015-18.
In his last appearance before an FIA team in Lahore, Mr Tareen reportedly could not provide a money trail of Rs4.35bn related to the sale of JKFSL's sugarcane business assets and liabilities. He, according to the agency sources, could not offer a "satisfactory reply" regarding some other business transactions and money laundering charges also.
The FIA has launched a probe into foreign properties of Tareen and his family members.
Meanwhile, as many as 25 lawmakers of the ruling party released a letter to the media on Tuesday they have sent to Prime Minister Imran Khan seeking a hearing in person so that they could explain their point of view on the issue.
The letter by the 25 PTI lawmakers says: "Firstly, we would like to state that the meeting (between Tareen and 25 lawmakers) was held in an effort to strengthen PTI. Mr Tareen is a party asset and his services for the PTI are unforgettable. We believe that his name and reputation are being targeted on the pretext of investigation. This is an agenda-driven activity by the people who have bias against him (Tareen) and misled and poisoned you (PM) against him."
It further states, "We do not oppose any investigation [against Mr Tareen]. We just want it done fairly. We request that a new investigation team be formed that is unbiased and not prejudiced. We request to see you in person to explain our feeling and point of view in this regard."
The letter has been signed by six MNAs – Raja Riaz, Khawaja Sheraz, Samiul Haq Gilani, Riaz Mizari, Mubeen Alam Anwar and Javed Wariach -- and 19 MPAs – Nuaman Langrial, Ajmal Cheema, Abdul Hayee Dasti, Faisal Hayat, Ameer Mmuhammad Khan, Rafaqat Gilani, Khurram Laghari, Aslam Bharwana, Nazir Chohan, Asif Majeed, Bilal Warriach, Umar Aftab Dhilon, Tahir Randhawa, Zawar Warriach, Nazir Baloch, Amin Chaudhry, Chaudhry Iftikhar Gondal, Gghulam Rasool and Salman Naeem.
Published in Dawn, April 14th, 2021