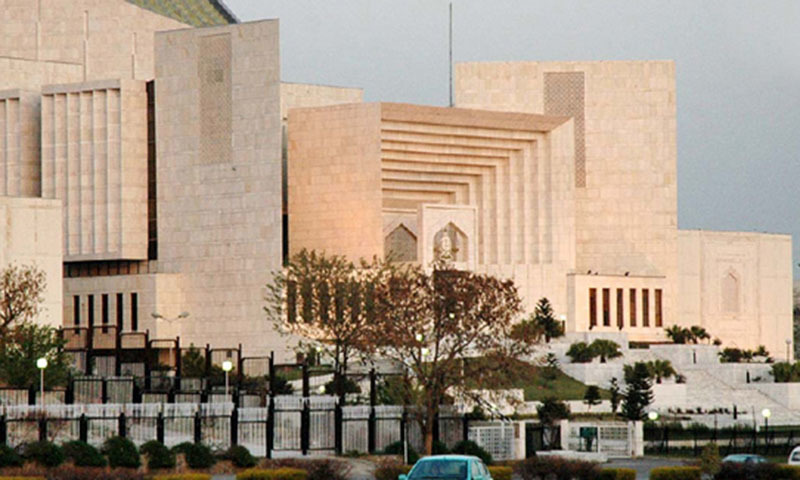 ISLAMABAD: The Capital Development Authority (CDA) misstated before the Supreme Court about the illegal construction of courts on the premises of the sessions courts Islamabad.
This was disclosed in a written reply submitted to the Supreme Court by the registrar of the Islamabad High Court (IHC) in response to the apex court's order of April 5.
A bench headed by Chief Justice of Pakistan Gulzar Ahmed on March 2 while hearing an appeal against the IHC decision to remove lawyers' chambers from a football ground in F-8 noted that some courts had illegally been established on private land.
Subsequently, the apex court directed the IHC registrar "to ensure that such land is vacated, court structure removed and the courts are shifted to proper regular premises."
However, in a subsequent hearing on April 5, the Supreme Court sought an explanation from the IHC registrar and asked him "why structures have not been removed/demolished.
The registrar IHC seems to have not complied with the court order." The Supreme Court also summoned the IHC registrar as well.
In his reply, IHC Registrar Sajid Baloch stated that "action was taken immediately after receiving the order" [of the SC].
It said besides the football ground, encroachments and illegal construction were made on green areas, roads, streets, public car parking areas and commercial plots in the F-8 Markaz, adding all such illegal constructions and encroachments had been declared by the local administration as a security threat, particularly after the terrorist attack of March 3, 2014.
The registrar stated that illegal construction and encroachment were facilitated by the civil courts through their injunctive orders which were subsequently withdrawn by the IHC.
He added that soon after the apex court's direction, the registrar directed the sessions courts judge and the CDA to identify the courts constructed illegally on greenbelts and private land and remove them accordingly.
The registrar, however, stated that "the Capital Development Authority informed that it had been misstated before the august Supreme Court that some courts or structures relating thereto had been constructed within the demarcated area of the football ground.
It was unambiguously informed that no court nor any structures relating thereto had encroached or were illegally constructed within the demarcated area of the football ground."
However, the CDA finally said some courts and structures were illegally constructed on a public commercial plot.
Besides the illegally constructed courts, some chambers on the said plot were also illegally constructed by enrolled advocates.
The IHC registrar said since the Supreme Court had already given two months for removal of the illegal chambers from the sessions courts premises, the CDA was asked to remove the illegal structure of the courts only.
Subsequently, the CDA executed the orders and confirmed that the illegally constructed courts had been removed.
Pursuant to the CDA's action, a compliance report has also submitted to the Supreme Court on March 29, stated the registrar.
The registrar said the IHC chief justice had asked the registrar office to conduct a forensic audit to determine how some courts were constructed illegally and "to identify the persons/officials responsible for causing loss to the exchequer."
Published in Dawn, April 12th, 2021