Driver pulled over for using a camping chair
The Wisconsin State Patrol shared a photo from a traffic stop in which a trooper discovered the driver of a vehicle was sitting on a camping chair. The vehicle was pulled over for an "equipment violation," the tweet said.
"On his approach, the trooper noticed the vehicle was not equipped with seats and the driver was seated in a camping chair," the state patrol tweeted.
The tweet did not say whether the driver was ticketed or given a warning.
---
Man breeds smiling emoji skin Python
A snake breeder who accidentally bred a ball python with the shape of three smiley face emojis on its body said he sold the designer reptile for $6,000.
Justin Kobylka, who has been breeding snakes for two decades, said he was attempting to breed ball pythons for the colour combination of bright golden yellow and white when he ended up hatching a snake with three yellow smiley faces on its scales.
The breeder said the snake was born after about eight years of working to breed pythons for the colour combination.
Kobylka said he estimates about one in 20 of the snakes he bred for the colour combination would have a smiley face, but the snake is the only one he's ended up with that has three faces on its scales.
Kobylka said the "emoji ball python" sold for $6,000.
---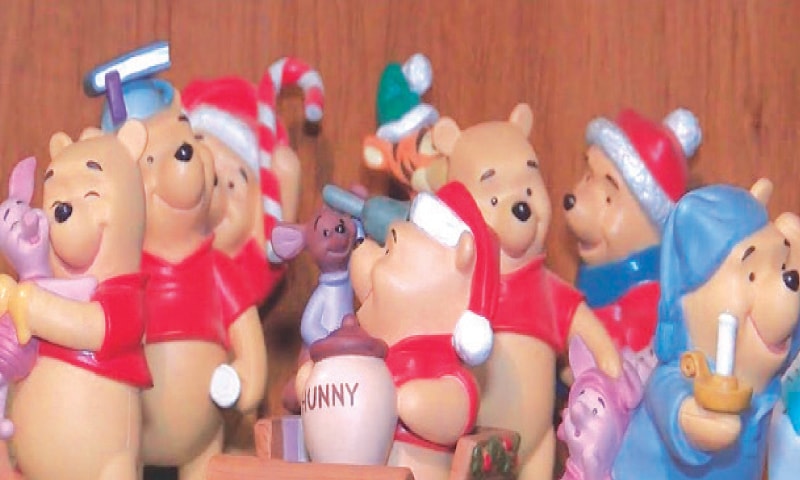 Winnie the Pooh memorabilia record
A Tennessee woman is seeking Guinness World Records recognition for her collection of Winnie the Pooh memorabilia, which includes more than 16,000 different items.
Donna Fee of Elizabethton said she started collecting Pooh items 31 years ago, when her son was only six months old, and her collection of toys, miniature statues, dishware, posters and other items soon numbered in the thousands.
"Right now, I can tell you the total is 16,147, but we are getting more every day," Fee told.
Published in Dawn, Young World, April 3rd, 2021