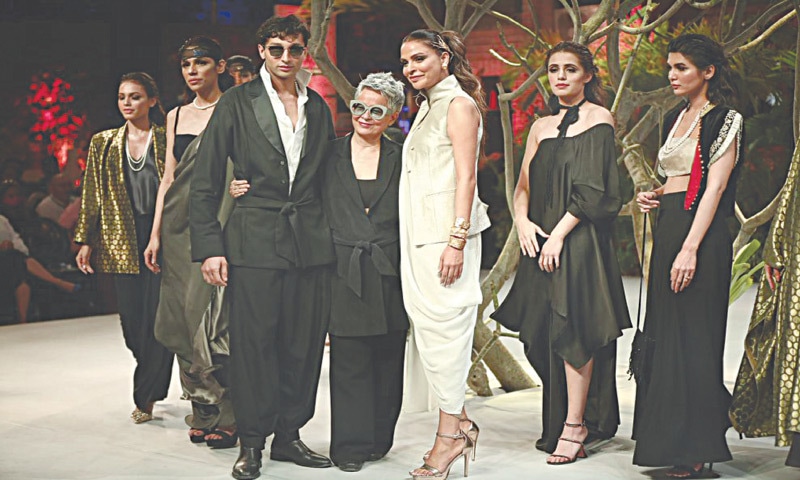 A bare-branched champa tree held court at the centre of the open-air catwalk. Live jazz music played out. The evenings were balmy, teetering towards Karachi's tropical summer, the cold winter winds long gone. It was quite the apt setting for a fashion week dedicated to spring/summer trends.
But notwithstanding the elegant surroundings and even Mother Nature pitching in with the right weather, the trends were missing at the spring/summer edition of Fashion Pakistan Week (FPW). A small smattering of collections were inspiring while the rest droned on, usually in a cloud of pastel-coloured bling and, sometimes, downsliding towards the terribly gaudy.
However, this critique can hardly be directed towards FPW alone. Today's coterie of designers have their minds primarily on commerce and, for some years now, they only want to showcase retail-friendly clothes at fashion week. Wedding-wear brings in the coin, especially when it is pastel-coloured, embellished with winding trellises, fashioned into a traditional silhouette. The days when designers would talk about pushing boundaries on a catwalk are long gone. The Pakistani clientele tends to fastidiously toe boundary lines and business-savvy designers happily abide by these requirements, thank you very much.
A fashion council can't very well shake up their designer line-up and force them to come up with more inventive collections. Fashion Pakistan Council (FPC) certainly didn't do so. Instead, chairperson Maheen Khan and her entourage placed their focus on somehow masterminding fashion week while still in the midst of a pandemic.
Fashion Pakistan Week's valiant effort in making a comeback despite the coronavirus pandemic proved that nothing much has changed in Pakistani fashion. Designers still overwhelmingly want to play it safe
The corona-compliant model
For one, the event extended for just two days at a private venue. The crowd was limited. "I only want to invite the pertinent people," Maheen had told this writer a few weeks before FPW. This meant that the guest list was restricted to the designers that were showcasing, the celebrities enlisted as showstoppers and media. It was a refreshing break from the jostling crowds of sponsors' friends, families, children and general riff raff that have always managed to filter into the audience, often merely there to ogle at the models rather than actually appreciate the designs.
It also meant that the people in attendance whispered to each other that there was no buzz. Buzz, in fact, should hardly be the priority at an event taking place with the coronavirus pandemic still on the rampage. The audience remained masked at large and sanitiser sprays were placed on each seat. The lack of buzz was actually a relief.
The catwalk, though, should have been buzzing. It should have been delightful to watch a fashion week after a sabbatical of more than a year. The fashion should have wowed, collections unfurling one after the other, trumpeting that fashion week was back and Pakistani fashion was raring to go! Very rarely, it did.
Fashion forward!
Maheen Khan's 'Amnesia' on the second day, at least, wielded plenty of sartorial clout. It was pure unadulterated fashion, draped and tweaked into avant-garde silhouettes, eschewing generic floral embroideries that are often passed off as 'design'. There was easy, masterful layering at play, drapes upon drapes, merging into a single silhouette; pure silk and handloomed Koya fabric in black and gold moulded into jackets, capes, slinky one-shoulder kaftan dresses, skirts and shalwars. The Maheen Khan signature is distinctive and, as always, the designer raised the bar.
Helping Maheen raise this — rather precarious — bar was designer Nida Tapal with Delphi, the longstanding label dedicated to handwoven crochet. The familiar crocheted threadwork came interspersed with twinkling zardozi, traversing a range of colour combinations. There were body-hugging dresses purely for the petite-waisted, long shirts, a sari paired with a shoulder-baring crocheted blouse and capes, perennial favourites that never go out of fashion.
Actress Nausheen Shah wore the final showstopping outfit: a long shirt with colours and sequins glittering on a grey canvas, over a panelled tulle skirt. It was wedding-wear fit for a 'dulhan' and called attention to the notion that the bride doesn't always have to be smothered in multiple layers of bling.
Sadaf Malaterre's tiered skirts and saris swung flippantly but only made momentary impact. The collection was far too limited to be memorable and disjointedly made a turn towards menswear halfway. The men wore crisp white shirts with jeans, all evidently part of Sadaf's newly launched range for men. It was strange that the designer didn't opt for greater details in the clothes. There is certainly nothing new about a shirt and jeans combination. The hashtag '#NO DOG CULLING' was emblazoned at the back, apparently depicting the designer's penchant for animal rights. But then, why didn't she dedicate the entire collection to this message? To start off with tulle skirts and wrap up with casual menswear and a social message seemed very haphazard.
At the other end of the spectrum, the workmanship on Shamsha Hashwani's wedding-wear was meticulous, but the sequined pastels and traditional silhouettes have been seen far too many times before. On a clothing rack in a designer store, they may look enticing. On the catwalk, they quickly fade from memory.
Dabbling with the new
Most of the remaining line-up comprised of newer names making their catwalk debuts, but opting to do so while keenly being commerce-friendly. There was potential in Kalah by Mubashra's motley crew of swans and lotuses, Aleena and Fareena's black-and-gold capes, and in Sana Abbas' daintily embroidered presentation. They did not, however, offer any remarkable new twists to design. There was no new signature and certainly no new ideas.
To be fair, one really can't blame young labels for being quite so business-centric. Even some of the country's most established brands spurned their creative inclinations a long time ago, making a beeline for blingy lucrative bridals. But to be truly covetable and recognisable, a designer needs to develop a singular aesthetic. Any young brand in the business for the long haul needs to understand this.
New territory was also traversed by FPW in the form of a fresh pool of models. There were a few fumbles and foibles here and there, but some of them showed promise. A few more chances on the catwalk and they could become familiar faces in the modeling circuit. The more senior lot of models, then, were enlisted by designers for specific showcases. Many of them have become extremely popular with fan followings and they served as veritable showstoppers: Fouzia Aman for Maheen Khan, Hasnain Lehri and Shahzad Noor for Sameer Sain and Sabeeka Imam and Hasnain Lehri in Shamsha Hashwani's show.
Adnan Ansari, of Riwayat Events, that organises Pakistan Fashion Week in London, juggled between playing show director to also handling production, choreography, lighting and backstage management. Considering how the show moved seamlessly and started and ended completely on time — a standard hitherto only achieved by Hum Showcase — Adnan and his team did very well.
Breaking away from Nabila's N-Pro team, fashion week mainstays in Pakistan, the council put their faith in the stylists at Depilex for hair and make-up. There were a few initial hitches but, then, things smoothened out, aided by a muted pastel palette and pulled back hair. It was safely appealing but not experimental at all. Perhaps, it is difficult to be experimental when creating looks that accompany heavy duty wedding wear?
These many wedding-wear collections make reviewing fashion week quite tedious. What does one say about a deluge of clothes that all look the same? Back when fashion weeks first started in Pakistan, design would be adventurous but, often, it would never reach retail racks. Critics would write about how greater focus needed to be placed on the business of fashion. In complete contrast, Pakistani fashion weeks today have become all about business while the innovation has more or less faded away, surfacing only in a handful of shows.
This is nothing new. Before the coronavirus pandemic came along, it was an acknowledged fact that fashion weeks were losing their spark. It was thought that when the pandemic shut the world off, it would serve as a wake-up call for local designers. They would get more creative and become inclined towards originality. Exciting, innovative fashion would get revived, it was predicted.
FPW's valiant effort in making a comeback despite the pandemic proved that nothing much has changed. Designers still want to play it safe, create conventional wedding-wear and dabble here and there with plagiarism. And fashion — all over the country and not just at FPW — is still drowning in a blingy, twinkly sea. A pastel pink one.
Published in Dawn, ICON, February 28th, 2021