Lahore has transformed rapidly over the previous two decades with more and more land on its peri-urban fringes being converted for new housing developments. Many of these new developments boast of expansive boulevards, 'aesthetic living', new commercial centres and modern facilities.
Much of the physical development we see around us is dictated by various building codes and standards. For instance, the width of the street outside a house, the availability and share of public buildings, commercial areas, green areas, footpaths in a scheme, are all shaped by such standards and rules.
Some housing schemes also offer a smaller number of 'low-cost' plots as part of the requirements laid out in such rules. In many cities, changes in such codes and regulations are the result of extensive debate and discussions. According to Eran Ben-Joseph, a professor of landscape architecture and planning at MIT, these changes aim to "reflect societal learning from deficiencies associated with conventional planning and design standards."
In this spirit, in this piece, we share recent changes to housing bylaws in the city of Lahore.
Last year, in June 2020, 18 amendments were made to the Lahore Development Authority (LDA) Private Housing Scheme Rules 2014, and there has been, unsurprisingly, very little debate about the implications of these changes.
Private Housing Scheme Rules, as the name suggests, broadly lay out the rules for the planning and development of private housing and farm housing schemes. They describe the criteria for obtaining planning permissions, outline approval processes, list minimum planning standards for any new development, explain marketing rules and restrictions, outline appeals processes, and include provisions for monitoring of development work.
To offer some background, in December 2018, the Government of Punjab's Housing and Urban Development & Public Health Engineering Department (HUD & PHED) formed a committee to offer recommendations to 'revise and update' the LDA Act 1975, LDA Private Housing Scheme Rules 2014, LDA Land Use Rules 2014 and LDA Building and Zoning regulations, with a view to facilitate the public and private housing sector.
The recent amendments to Lahore Development Authority's private housing scheme rules appear to be supporting segregation of housing by class rather than encouraging mixed-income housing
The committee comprised LDA's chief town planner, two representatives from HUD & PHED, the chairman of the Association of Builders and Developers (ABAD), and one town planner. Recommendations were offered in September 2019 to a group of LDA staff, ABAD representatives, select architects, as well as the Minister for Housing.
Subsequently, in October 2019, a meeting was organised at the LDA under its vice chairman Imtiaz Mehmood and final decisions were taken on the recommendations and proposed amendments. A number of these amendments have now been formally made as per the notification issued in the June Gazette.
While each amendment requires further scrutiny and discussion, here we focus on a select number of the amendments that have been made to the LDA Private Housing Scheme Rules 2014 to demonstrate that these require further debate.
Amendment 1 & 7: Low-cost housing
From the perspective of low-cost housing, there are two critical changes:
Previously, 20 percent of plots in a housing scheme were to be reserved/planned for low-income groups (those earning less than 25,000 rupees/month) in the following manner:
10 percent of plots were to be three to five marlas in size [a marla is about 25 sq yds]
10 percent for multi-storey flats or apartments for low-cost housing.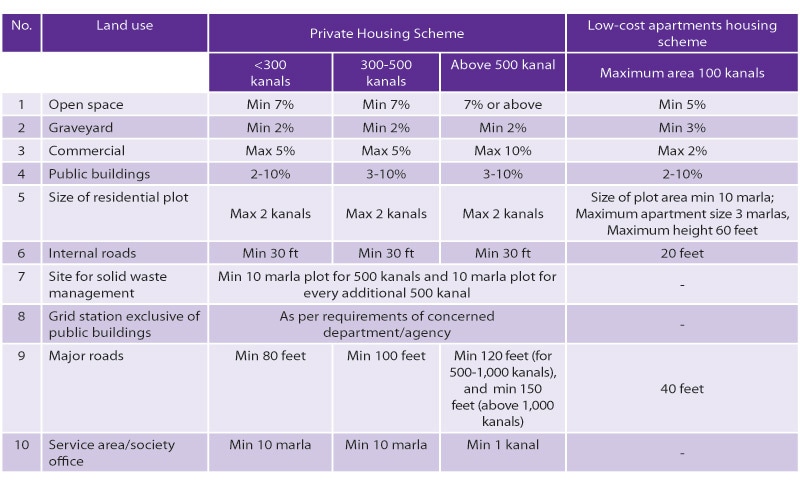 As per the new amendments, 20 percent of plots no longer have to be reserved for low-cost housing or for low-income groups. Instead, 20 percent of total residential area has to be provided in the form of apartments, or small plots (three to five marlas), or a combination of both. If a developer wants to build apartments on this land, for all intents and purposes, these can be built as luxury apartments.
While the previous rule was not implemented in practice in any case, there is no longer even a semblance of facilitating equitable access to housing, or attempt to offer housing for low-income groups across all new housing developments.
While the Naya Pakistan Housing Development Authority struggles to meet the goal of five million affordable homes, simple implementation and enforcement of the prior rule, along with the introduction of mechanisms to ensure affordability — as practised in many other countries — would have helped enhance supply of low-cost housing and supported the development of mixed-income housing without much effort.
Instead, the new amendments have added a new 'type of housing scheme' — a 'low-cost apartment housing scheme' — that developers can choose to develop as a stand-alone development, if they so wish. There is also no definition of what is meant by 'low-cost'. And one wonders why anyone would make such a scheme on their own, given the low returns on investment.
By making this optional, it is unlikely that developers will opt to develop low-cost housing at all. The changes, in effect, appear to be supporting segregation of housing by class rather than encouraging mixed-income housing.
The specifics of the low-cost apartment scheme are as follows: the maximum area of such a scheme will be 100 kanals, maximum apartment size is three marlas, maximum height is 50 feet, and all internal roads are to be 20 feet. For all other types of housing schemes, internal roads have a 'minimum' width but, in this case, this is simply set to 20 feet.
Why is this not a minimum of 20 feet? Will this be enough for emergency or firefighting purposes? Will there be enough room for parking?
Amendment 4: Compulsory land acquisition
As per the new rules, developers can now also acquire a maximum of 10 percent of total scheme area (seven percent within the scheme and maximum three percent adjacent to the scheme) through compulsory acquisition, in accordance with the Land Acquisition Act 1894.
Compensation for such acquisition is to be provided on market rates. Theoretically, this may prove to be useful, in case, for instance, a developer wants to improve road access within a scheme. And, of course, some may be willing to sell their land voluntarily. However, this also raises many questions. The Land Acquisition Act is used in the greater 'public interest'. Whose public interest is being supported here?
Will small landowners be able to refuse acquisition of their land if they so wish? Will they receive fair compensation? If anything, past experience in Pakistan tells us that it is difficult for households and residents to oppose land acquisition of this sort.
One of the key issues that remain central to how our cities are governed is that development authorities are not accountable to citizens. Previously, under Rule 55, any aggrieved person could appeal to the government for corrective action. Under the new amendments, 'government' has now been replaced by 'authority'.
Essentially, the LDA will be implementing the rules, and it will also be deciding the appeals. It boggles the mind as to how the same body can also be handling appeals against it. There is a clear conflict of interest here.
Amendment 15d: 'NOC from new builder – land next to the society'
This amendment states:
"If a different sponsor wants to develop a housing scheme on any portion of land lying vacant within or adjacent to an already approved scheme with access or right of way from approved scheme in addition to other requirements, mutual consent of the sponsors shall be mandatory regarding already approved schemes whose right of way or any other facility is to be utilised or shared by the other housing scheme proposed in the pocket of land." [Emphasis added]
Effectively, if someone owns land within, or adjacent to an existing, approved scheme, and is interested in building a small housing scheme on it, he/she will need permission from the developer of the pre-existing scheme. This clause clearly benefits large developers. Why would big developers give the go-ahead to smaller developers building adjacent to their projects? Would it not be more fitting for the authority to determine whether the development of a new scheme should be given permission or not, given the surroundings and available infrastructure?
A total of 18 amendments have been made to the existing housing scheme rules. The requirement to obtain preliminary planning permission has been removed — a change that is welcomed by small and big developers alike, as it facilitates ease of business. However, developers also no longer have to submit a no-objection certificate (NOC) from the Environmental Protection Agency (EPA) prior to approval, but are required to do so within six months of obtaining approval or pay a penalty.
It is worrying that the NOC is required after approval, once construction has already been initiated. Developers share that the NOC has merely been a formality even previously, with the EPA simply delaying approvals and project start dates. Should this mean that the requirement to obtain approval prior to construction should be omitted, or should the more difficult task of re-evaluating the effectiveness of the EPA be initiated?
Developers are now also required to plant at least 10 trees/kanal [a kanal is about 600 sq yds] of gross area. These are to be native to the region. Moreover, they have to offer a minimum of four-feet-wide footpaths on both sides of any road that is over 60 feet wide. While this is a welcome change, it also means that there is no requirement to offer footpaths along internal roads and roads below 60 feet.
While these may increase costs of developments, improving walkability within neighbourhoods through the availability of footpaths is critical for improving the liveability of those areas, and improving health and access to public spaces for those communities. We need to do more.
While we have attempted to outline some of the key amendments to the private housing rules to facilitate further debate, the key question we need to ask is how decision-making is taking place in our cities. And who is involved with these decisions?
In this case, the amendments are based on the recommendations of a small committee comprising government representatives and big developers, with vested interests in the outcomes. Interestingly, while the rules are applicable to Lahore Division, which includes Kasur, Nankana Sahib and Sheikhupura districts, representatives from Sheikhupura and Nankana Sahib were absent from the meeting in which the final decisions were taken. One wonders how such critical decisions have been taken without their involvement.
The LDA has carried out public consultations on such amendments, but these are merely rubber-stamping exercises where key decisions have already been taken and finalised. We need to ask who benefits from such changes, and who doesn't. How do we have more open dialogue?
Our cities are expanding rapidly, and it is in all our interests to democratise decision-making and ensure that planning processes address — and not exacerbate — inequalities and support sustainable growth.
---
Fizzah Sajjad is an Urban Planner and researcher working on land, housing and infrastructure
Azeem Alam is a social activist, researcher and urbanist based in Lahore
Published in Dawn, EOS, February 28th, 2021