Q. Can you suggest some sun-loving, flowering vines and creepers that can be grown in Karachi and are easily available here too?
A. Allamanda with its yellow trumpet-shaped flowers on and off almost around the year is a good option, as is Tecoma grandiflora — trumpet vine with its terracotta-coloured blooms throughout the hot weather and, sometimes, throughout the autumn months too. Then there are Antigonon (Sandwich Island creeper) with pretty sprays of rose and white flowers in summer, and white flowered, heavily perfumed Beaumontia grandiflora which flowers in spring. Other suggestions are: Bignonia (golden shower); Clerodendron, passion flowers of various kinds with flowers in different colours; Petrea volubilis; Quisqualis indica (Rangoon creeper); Solanum Seafortheanum (potato creeper); Thunbergia grandiflora; Clitoria ternatea (Mussel shell creeper) and lots of different kinds of Ipomea (Morning glory).
Q. My mother is very passionate about gardening. She planted a few papaya trees and, in the same bed, a number of sweet-scented lilies. The papayas from these trees had a very sweet smell and taste. Could it be because of the close proximity to the flowers or was it just by fluke?
A. How wonderful it would be if we could improve the quality and fragrance of our fruit by cultivating perfumed flowers around it/them but, as you will have surmised, this, unfortunately, is not the case.
Q. I want to grow cane plants to beautify our expansive area of ground in Larkana, which has not been used for a long time and is very overgrown. The intention is to make the area habitable for birds and animals. Please guide as to how I should proceed.
A. Presumably you mean bamboo which, to be honest, is not a good idea in the long run as, if at some point, you decide that you prefer more of a mixed planting, bamboo is extremely difficult to remove. Most bamboo species also require copious amounts of water to keep them looking good. The idea of creating a wildlife haven is a good one though. As the land has been unused for some time, wildlife will already have moved in and established itself to a degree. I suggest that, instead of eradicating everything and starting from scratch, you tidy the area up but leave any trees and shrubs in place — unless they are badly overcrowded, in which case you could thin them out. Add more locally indigenous trees and shrubs in selected spots, with the emphasis on fruit-bearing species to attract more wildlife and, if possible, create a pond as well. Providing and maintaining an ecosystem which is as natural, and locally indigenous, as possible will give far better results than covering the area with just bamboo although, as you seem to like it, you can plant a clump or two adjacent to a pond. Good luck!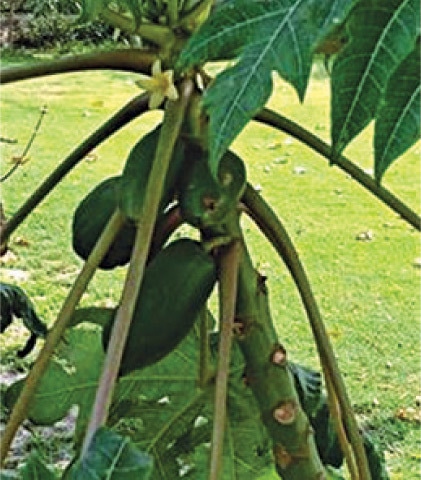 All your gardening queries answered here
Q. Please recommend a variety of flowers to grow around a coaching centre in Larkana. I want to make it attractive for my students.
A. Sun and heat tolerant sunflowers in colours ranging from red and brown through all the shades of autumn to lemon, creamy white and glowing gold are always a good bet in your location, and your students will get a kick out of watching them grow. Perhaps you can get your students involved in sowing the seeds and caring for the plants too. Other brightly hued beauties for you to consider are: zinnias, petunias, gaillardia, gazania, gomphrena, amaranthus, marigolds, tagetes, cockscomb, celosia, verbena and portulaca. Remember to plant out according to height at maturity. Also, keep in mind that watering daily, throughout the incredibly hot Larkana summer, is essential, and is best done in late evening so that plants have all night to drink their fill before the sun comes up again and evaporates soil water.
Q. I have a huge garden and lawn. I water it every day in the early morning but it remains yellowish in colour as compared to other lawns in the area. Last week I gave fertiliser to it but it is still yellowish. What should I do to make it green? I reside in Dera Ismail Khan.
A. It takes far longer than just one week of using fertiliser — it is hoped that you have applied a suitable organic one rather than a toxic, chemical compound — for improvements to show. Give it at least three or four weeks, possibly even six weeks, for the fertiliser to take effect. In addition, now that the weather is warming up, switch watering to the evening so that the grass is dry when the heat of the sun arrives. Hot sunshine on wet grass can result in scorching — the grass appears dry and brownish yellow — and you are trying to resolve the issue of yellowing, not add to it.
Q. I live in Gujrat and would like to know if I should sow tomato seeds in February or in March to get a harvest in the summer. What is the right process of sowing the seeds and caring for the plants so that they remain healthy and give a good harvest? I am new to gardening.
A. March is the perfect time to sow tomatoes in your location. You will find all the information you need in a previous column on this very subject. This is the web link: https://www.dawn.com/news/1433062
Please continue sending your gardening queries to zahrahnasir@hotmail.com. Remember to include your location. The writer does not respond directly by email. Emails with attachments will not be opened
Published in Dawn, EOS, February 28th, 2021