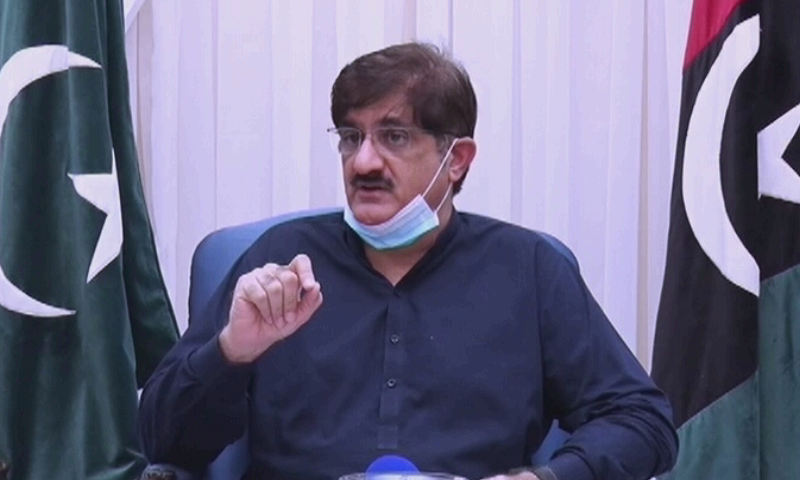 KARACHI: Chief Minister Syed Murad Ali Shah on Saturday said that Article 266 of the Constitution called for holding the Senate elections through a secret ballot, adding that the allegation of sale and purchase of votes against parliamentarians was aimed at defaming the public representatives.
He said lawmakers had the right to vote in accordance with their conscience.
Talking to reporters at the Election Commission of Pakistan, where he had gone along with his party's candidates for filing nominations for the March 3 Senate polls, he said he was sure that the decision of the apex court on a presidential reference seeking open ballot would be "according to the constitutional guidance".
"Our all 12 candidates are purely party workers and have a long track record of loyalty with the party," he said, adding that candidate Sadiq Memon had filed his nomination paper a day before and remaining 11 candidates nominated by the party for general, technocrat and women categories filed their nomination papers on Saturday.
Replying to a question about the success of PPP candidates, he said that all the candidates of his party would emerge successful in the poll.
11 PPP and eight MQM-P candidates have filed their nominations for March 3 Senate election
About seeking support from other opposition parties for the Senate election, the chief minister said that it was the strategy of the party and he would not disclose it but "I am telling you we would get our senators elected".
Rejects wheat hoarding allegation
Responding to a question about wheat shortage, the chief minister said that he was surprised that the federal cabinet had blamed the Sindh government for hoarding wheat. "Why will we hoard it?" he asked and added that it's their failure to ensure procurement of wheat in Punjab.
Mr Shah said that he was surprised that the PTI government had forgotten the statement of their own minister Fakhar Imam on the floor of the National Assembly that 6.6 million tonnes of wheat harvested in Punjab had "disappeared".
"It did not disappear but was smuggled and it needed to be investigated," he said, adding that the federal government was pressing the Sindh government to release wheat in May, which was not an established practice.
"The wheat crop is harvested in Sindh in March and April. Therefore, it remains available in the market in great quantity," he said, adding that from November the wheat stocks started running out and the provincial government intervened and started releasing wheat to stabilise prices.
Mr Shah brushed aside an impression that his government was allowing resettlement of Kashmiris in Sujawal. "It was a letter the federal government had written to the Sindh government; otherwise there is no such proposal," he said.
PPP, MQM-P candidates file nominations
Candidates belonging to the PPP and the Muttahida Qaumi Movement-Pakistan have filed their nomination papers on the Senate's seven general seats and two each reserved for technocrats and women seats from Sindh.
Four PPP candidates filed their nominations on general seats while three each candidates submitted their forms on two technocrat and women seats each.
Sherry Rehman, Saleem Mandviwalla, Taj Haider, Shahadat Awan, Jam Mehtab Dahar, Dost Ali Jaiser filed their papers on general seats.
Abdul Karim Khwaja and Farooq H. Naek submitted their nomination papers on technocrat seats. Palwasha Khan and Rukhsana Shah filed their candidatures on women seats.
According to an MQM-P statement, eight candidates of the party filed their nominations.
It said Faisal Subzwari, Rauf Siddiqui, Dr Zafar Kamali, Khawaja Sohail Mansoor and Abdul Qadir Khanzada filed their candidatures on general seats.
Syed Khizar Ali Zaidi and Mr Siddiqui filed their nomination papers on technocrat seats while Khalida Atyeb filed her paper on women-reserved seat.
The ECP already amended its schedule by extending the date of submission of nomination papers till Feb 15.
Published in Dawn, February 14th, 2021