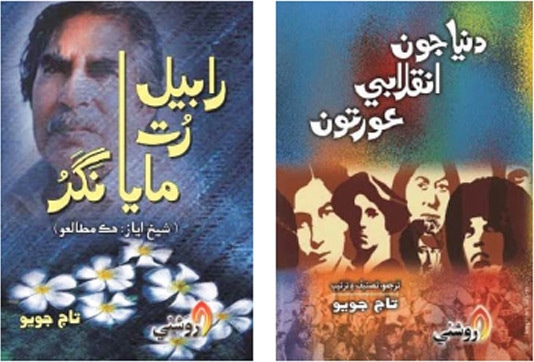 It takes a lot of guts to decline a presidential award in Pakistan, and even more unwavering integrity to refuse the money associated with it, especially if you are facing financial hardships and can hardly sustain yourself.
In August 2020, well-known Sindhi-language writer Taj Joyo rejected the President's Pride of Performance award announced for him by the government, and then a few weeks later, Dr Veerta Ali Ujan refused to accept an award for her mother, the late Fahmida Riaz.
Both cited similar reasons for their refusal: violations of human rights in the country, abductions and enforced disappearances of activists and civil society workers, and curbs on freedom of expression. Some armed sleuths had abducted Joyo's son, Sarang, just three days before the Government of Pakistan announced the award. They released Sarang after a few days, but he faced removal from his job as a research associate at a private university in Karachi.
Many readers of English and Urdu don't know much about Taj Joyo and his writings, hence this brief introduction to his life and work. It is a discussion of only those books that I have in my personal collection, so it does not claim to be a comprehensive overview of all his work. I can classify 18 of Joyo's books that I have in various categories, such as criticism, compilations and translations.
First, we have his compilations of articles and essays on prominent artists, intellectuals, poets and politicians of Sindh. They range from Shah Abdul Latif Bhitai, Bhagat Kanwar Ram and Hameed Sindhi to Sirajul Haq Memon, Ibrahim Joyo, Rashid Morai and Khaki Joyo. Taj Joyo has done a tremendous service to Sindhi literature by compiling these books.
Then we have Joyo's works of criticism on Sindhi poets from Bhitai to Shaikh Ayaz. His books on Bhitai, such as Shah Latif Ja Fikri Sarchashma [Intellectual Sources of Shah Latif] published in 2013, is a work of research that must be appreciated. It is a good addition to the work that has already been done on Bhitai by writers such as Agha Saleem, Usman Ali Ansari and many others.
With books on criticism, compilations, translations and even stories, Taj Joyo is a cultural icon more should know about outside Sindh
Joyo has also compiled the papers that various researchers and writers presented on the occasion of Bhitai's 260th Urs, or death anniversary. The Bhit Shah Cultural Centre in Hyderabad published this book in 2005. Titled Husaini Ji Haak [A Study of Sur Husaini], all papers in this book deal with the intricacies of Sur Husaini. The book also contains two articles on Sur Husaini in Urdu and one in Persian.
We can translate sur as mystical content or the musical mode that Bhitai used in his poetry, such as Sur Momal Rano, Sur Kalyan, Sur Aiman and Sur Khanbaat. Sur Husaini is based on the Husaini raga, first developed in the 15th century by Sultan Husain Sharqi, the last ruler of the Sharqi dynasty of Jaunpur, India. Though some marsiyas [devotional poetry] were composed in this sur, it is not (as may be mistakenly assumed) associated with Hazrat Imam Husain.
On Shaikh Ayaz, Joyo has contributed at least four books. Rabail Rut, Maya Nagar [Season of Flowers, Land of Deception] is Joyo's original work on Ayaz, whom he held in high esteem and who was also a good friend of his. In the 24 chapters of this book, Joyo analyses Ayaz as not only an intellectual and poet, but also as a Sindhi nationalist, whose love for his land had no bounds. In particular, the fifth chapter of the book, titled 'Jadeed Sindhi Shaeri Mein Ayaz Ja Fanni Tajriba' [The Artistic Innovations of Ayaz in Modern Sindhi Poetry] is a treat to read.
Joyo received great inspiration from Shaikh Ayaz and initiated a series of books on how Ayaz analysed and understood great Sindhi poets such as Bhitai, Sami (Chainrai Bachomal Dattaramani) and Sachal Sarmast. The Shaikh Ayaz Foundation published the first two books of this series in 1998 and 2002, in which Joyo compiled Ayaz's tributes to Bhitai and Sami. The third book is Aao Draza Hul [Let's Go to Draza]. Draza is the name of the town where Sachal Sarmast was born, and this brief book by Joyo is a compilation of research on how Ayaz analysed and was inspired by Sachal Sarmast.
Among Joyo's original works of criticism are also studies of modern Sindhi poetry, such as Nain Mehte Khayal Jagya: Jadeed Sindhi Shaeri Jo Abhyas [Dreams in a Slumber: A Study of Modern Sindhi Poetry]. In this book, Joyo begins with analysing the imagery and symbolism in modern Sindhi poetry and then moves on to discuss Sindhi haiku and its future in Sindh. Joyo is optimistic about the future of poetry in Sindh and deals with poets such as Ahmad Solangi, Amar Sindhu, Ayaz Gul, Bakhshan Mehranvi, Hasan Dars, Malik Nadeem, Mukhtiar Malik, Nurul Huda Shah, Satya Pal Anand, Waseem Soomro, Zaib Sindhi and many others.
Another of Joyo's original work is his collection of short stories, Munhjo Doh [My Crime, or alternatively, My Fault]. This is a collection of 17 stories with a preface by Madad Ali Sindhi. Joyo wrote these stories early in his career as a writer but then, for some reason, discontinued writing stories. Some of these stories remained unpublished for decades, and appeared in print only after his friends persuaded him to have them published. Most are about the feudal system in Sindh, which Joyo has been striving to alter. For example, the story titled 'Izzat Wara Manrhoon' [Respectable Men] deals with such wadera shahi, or the rule of the feudals.
The time Joyo spent in jail has found expression in his jail diary, written as Kholiya Te Chand Chamkio [Moonlight Over My Prison Cell]. This is a narration of the events that took place nearly four decades ago, in the early 1980s, during the dictatorship of Gen Ziaul Haq, who used state machinery to arrest, imprison and even kill by torture not only activists, but also intellectuals and journalists. In this diary, Joyo has delineated the ruthless nature of the dictatorship that is still haunting our country. He also talks about the other nationalist and progressive political workers and leaders who were in jail with him.
Joyo has done several translations, and his book Dunya Joon Inqilabi Aurtoon [Revolutionary Women of the World] is one such example. The book contains articles about women who were involved in freedom struggles or revolutionary movements in various countries, and features Fatima Bernawi and Zarqa from Palestine, Djamila Bouhired of Algeria, Zoya Kosmodemyanskaya from Russia and many other female revolutionaries and freedom fighters. There are six translated articles and three original write-ups by Joyo, with another four compiled by other writers such as Priyanka Dero and Comrade Mir Mohammed Talpur.
Being a protégé of Ibrahim Joyo, how could Taj Joyo not write a book on him? Ajpe Ji Ujri Bakh Ja Sapna Disandar [The Dreamer of a Bright Dawn] is dedicated to Indian revolutionary Manabendra Nath (M.N.) Roy and Ghulam Murtaza (popularly known as G.M.) Syed, who Ibrahim Joyo considered his ideological and literary teachers. Ibrahim was a giant of Sindhi history and literature, whose activities and literary products spanned nearly a century. Taj pays him tribute and outlines his contributions to Sindh. Anyone in search of a brief introduction to Ibrahim Joyo must read this brief book.
Taj Joyo had a close association with Abdul Wahid Arisar, that indomitable son of Sindh who kept his politics alive under the most unfavourable circumstances. When Arisar passed away in 2015, Joyo paid him tribute by compiling two books that present Arisar's efforts in Sindhi politics.
The first is Hoo Jo Srapa Ishq Ho [He was Love Embodied]. The book has four sections in which Joyo has compiled articles by Arisar himself and from his mentor G.M. Syed, an interview of Arisar conducted by Aijaz Mangi, and write-ups by Ameer Hyder and Jalal Mehmood Shah, Abdul Khalique Junejo, Gulshan Leghari, Naz Sehto and many others. The book also has three Urdu articles about Arisar that Hasan Mujtaba, Riaz Suhail and Rehan Shabbir have written. Finally, Joyo includes newspaper editorials written for Arisar and poetic tributes to him.
The second book is Tareekh Saan Taazyat [Condolences with History], which also contains articles and impressions about Arisar written by writers ranging from Iqbal Rind and Ayub Khoso to Ashfaque Leghari and others.
Lastly, I would like to mention perhaps the best book compiled by Taj Joyo, and one that I found the most educative and informative: Shaheed Bhagat Kanwar Ram: Sindhi Sabhyata Jo Mujjasim Roop [The Martyr Bhagat Kanwar Ram: Embodiment of Sindhi Culture]. This is about Bhagat Kanwar Ram, who was a most beloved singer of folk and Sufi songs in Sindh. A philanthropist who always helped the poor without any consideration of caste or creed, sadly, he became a victim of communal violence in 1939 when he was 54 years old. Joyo has done us a favour by compiling over 40 articles about Kanwar Ram, affording us an opportunity to read in detail about this folk legend of Sindh.
The writer is a columnist and educator based in Islamabad. He can be contacted at mnazir1964@yahoo.co.uk
Published in Dawn, Books & Authors, January 17th, 2021