Take a long, hard look at AK vs AK's poster. The line between AK's (Anil Kapoor) and AK's (Anurag Kashyap) photoshopped faces is seamless, yet each disjointed side — bearded, bruised, sporting malevolent grins — comes off as a revolting mismatch.
From their eyebrows to the size of the skulls, to their jaws (Kapoor's face is longer, Kashyap's is stouter), the poster exhibits deliberately bad Photoshop skills with the intention of selling the film's unique, parodic premise: these two come from starkly different worlds, they have a war of ideologies, they hate each other's guts, yet they want to work with each other.
The story goes like this: Kapoor, a has-been actor and star, and the critically celebrated but financially failed director Kashyap have known each other for years. In a fit of boiling rage, they start a media war that triggers Kashyap's inner, self-professed villain. He kidnaps Kapoor's daughter Sonam, and puts him in a ticking clock deadline.
The actor has 10 hours to find Sonam, or she dies. Running through the night with Kapoor is Kashyap, wheezing with asthma, often taking a hit from an inhaler. A documentary filmmaker (Yogita Bihani) records their run, turning the search into a reality-inspired motion picture. It would be Kashyap's best film till date.
The half-baked plot of AK vs AK doesn't take itself seriously, so why should we?
Alas, Charlie Kaufman or Spike Jonze they ain't.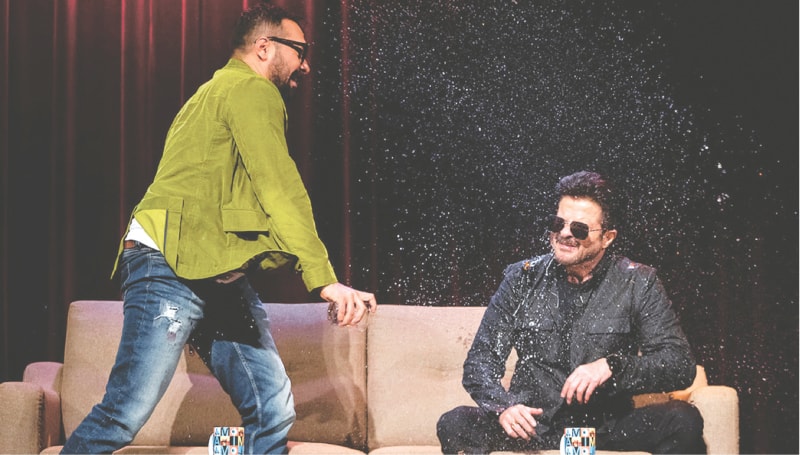 This potentially whimsical wild ride mocks everything from stardom to box-office successes, to privileged nepotism in Bollywood. If the film were truer to itself, the gist of the premise would have amounted to something. For the most part, AK vs AK feels like play-acting. A boy's game for celebrities, where the stakes aren't high enough nor the drama as dramatic. Akin to conventional Bollywood, the half-baked plot doesn't take itself seriously, so why should we?
As Kapoor runs through the night, unveiling the threadbare mystery of where Kashyap keeps his daughter, we get to see some bizarre, yet stirring set-pieces. In one scene, Kapoor barges into a police station, hoping to lodge a FIR, but the policemen think they are shooting a reality-inspired motion picture, with Kapoor tuning into his "method-acting" skills to dive deeper into the role. They clap as Kapoor, helpless, shatters emotionally in front of them.
Running here and there, Kapoor's quest is often interrupted by people stopping him for selfies; and being a good soul, he says yes to every snap. In another scene, Kapoor, again helpless, dances in front of a Christmas crowd, hoping to find the whereabouts of a man who may give him a clue. Later, a small accident verifies Kapoor's range as an actor — not that it needed verifying. The scene overstays its welcome by 10 seconds, like most scenes in the film.
AK vs AK starts off with an engaging presupposition but it quickly becomes a mockery of itself. The film is entertaining fluff, but the stakes — emotional or narrative-wise — are never that serious to begin with. Oh, and the climax… you could see it coming a mile away.
Streaming on Netflix, AK vs AK is rated 16+. It has crude language and fake dramatics
Published in Dawn, ICON, January 10th, 2021