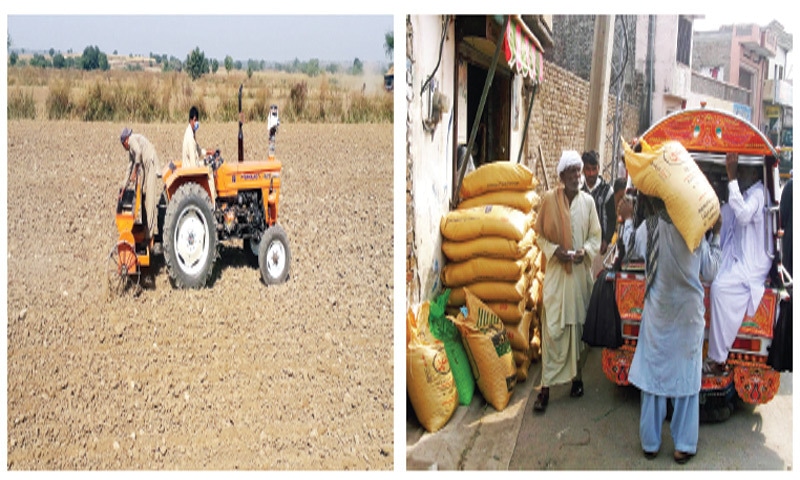 CHAKWAL: Farmers fear that like last year, the subsidy payment mechanism announced by the federal government on wheat seeds and fertiliser will not give them a single penny.
Under the mechanism, bags of subsidised varieties of fertilisers and wheat seeds contain a voucher. A registered farmer, after scratching that voucher, would send the hidden number by SMS and the government would send the subsidy amount to the buyer through the Easypaisa platform.
Mumtaz Kahoot, a progressive grower from Janga village of Chakwal, purchased 50 bags of diammonium phosphate (DAP), last year.
"All the bags contained vouchers and I sent their numbers on 8070 but could not get a single penny," Mr Kahoot told Dawn.
Like him, as many as 90pc farmers in the province last year were deprived of Rs4 billion on wheat seed and fertilisers launched under the Prime Minister's National Agriculture Emergency Programme as the scheme failed due to the unavailability of funds.
This year, too, the Economic Coordination Committee (ECC) of the cabinet approved a Rs24bn package on Oct 29 in a bid to reduce the input cost of Rabi crop.
Under this package, a subsidy of Rs5.4bn was set aside for DAP as a relief of Rs1,000 was supposed to be given on a 50kg bag. Currently, one bag of DAP is being sold at Rs4,000.
Furthermore, Rs12.5bn were earmarked for Punjab province where a subsidy of Rs1,200 was announced on a 50kg bag of recommended varieties of wheat seeds along with fertilisers.
However, farmers in the Punjab province have termed this mechanism of providing subsidy an eyewash as the scheme failed last year due to this procedure.
"In Punjab 30 million bags of DAP are consumed annually. This means if government is giving a subsidy of Rs1,000 on one bag, it must announce a subsidy of Rs30bn only on DAP in Punjab," a senior official in Punjab Agriculture Department told Dawn.
Farmers said they did not get any response by sending the coupon number to 8070 last year and this year too, they would meet the same fate.
"To introduce a coupon system means to simply deny subsidy meant for farmers. In fact this is the easiest way of eating up subsidy as it fails to reach farmers," maintained Chaudhry Mohammad Anwar, the president of the Pakistan Kissan Ittehad.
He asked why, as under the previous government, a straight subsidy on fertilisers and seed was not given. During the PML-N government, subsidised fertiliser was directly available to farmers in the market. For example, if the actual price of one bag of DAP was Rs3,200 and there was a subsidy of Rs500 on one bag, a farmer had to pay Rs2,700 to fertiliser dealer instead of Rs3,200.
A senior official of Punjab Agriculture Department while talking to Dawn said the issue is not the procedure, rather, the issue is to ensure the availability of funds.
"The government has to pay as many as Rs15bn liability to fertiliser companies due to the straight subsidy given by the previous government, adding this year too hardly 15pc of farmers in Punjab would be able to get subsidy on fertiliser and seeds," he said.
"I purchased 50 bags of DAP by paying Rs200,000 as the price of one bag is Rs4,000. This means the prime minister's package could not give me a relief of a single penny," Mr Kahoot said.
Last year, all varieties of seeds except Barani 2017 and Rodi remained immune from rust. The seed of Barani 2017 was not available in the market this year and most farmers in Potohar were left with no option but to cultivate un-recommended varieties.
There is no price check on the seed available in the market as 50kg bag of wheat seed is being sold at the rate of Rs3,600.
Chakwal Agriculture Department Assistant Director Dr Mohammad Khalid told Dawn that seed prices are regulated by the federal government.
"The district government cannot take any action regarding seed trade," he said.
When contacted, Punjab Agriculture Extension Director General Dr Anjum Ali Buttar claimed that 300,000 bags of recommended wheat seed were distributed in the province. "Government is trying its best to benefit maximum farmers under its subsidy plan," he said.
Published in Dawn, November 22nd, 2020