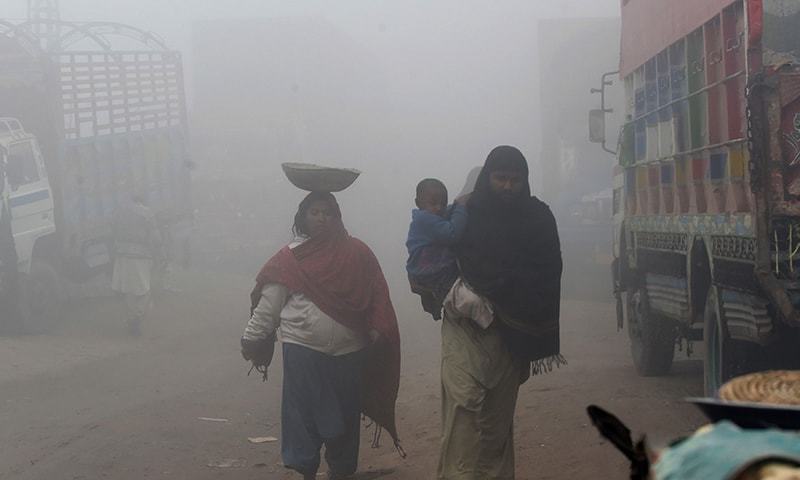 LAHORE: City's Air Quality Index appeared to be very unhealthy on Sunday amid forecast of massive rise in smog with continuous drop in temperatures and increase in stubble-burning and round-the-clock operation of brick kilns in suburbs and rural parts of the neighbouring country.
"The AQI status of Town Hall has been recorded at 207. And it is a moderate one, but will be unsatisfactory if it touches 300," an official source in the environment department told Dawn.
According to a daily report / reading updated by IQAir at 9pm, the city had worst AQIs at various spots. These include 404 taken at HAC Agri point, followed by 367 (Sundar Industrial Estate), 267 (Empress Road) and 259 (Yateem Khana). Similarly various other spots also showed city's AQI as 244, 211, 210, 206, 198 and 192.
Though the official doesn't see the situation as much problematic, he predicted that it would rise with more stubble-burning in the suburbs since the growers are busy in harvesting the rice crop.
"In the next 15 days (till Nov 10), it will rise a lot due to stubble burning in the areas and the neighbouring country coupled with operation of bricks kilns. So the smog situation would attain its peak by Nov 10," he claimed.
He said the department, in a bid to reduce smog, had also issued a notification to ban the 7,523 brick kilns in Punjab from Nov 7 to Dec 31. Moreover, the brick kilns, which are yet to be shifted to zigzag technology from the traditional methods, would not be allowed to operate after Dec 31.
"As many as 695 of 7,532 brick kilns in Punjab have been shifted to zigzag technology. A deadline of Dec 31 was already given through a notification issued on Jan 20 this year. So only those kilns would be allowed to operate after Dec 31 that will be shifted to this mode," he maintained.
Published in Dawn, October 26th, 2020