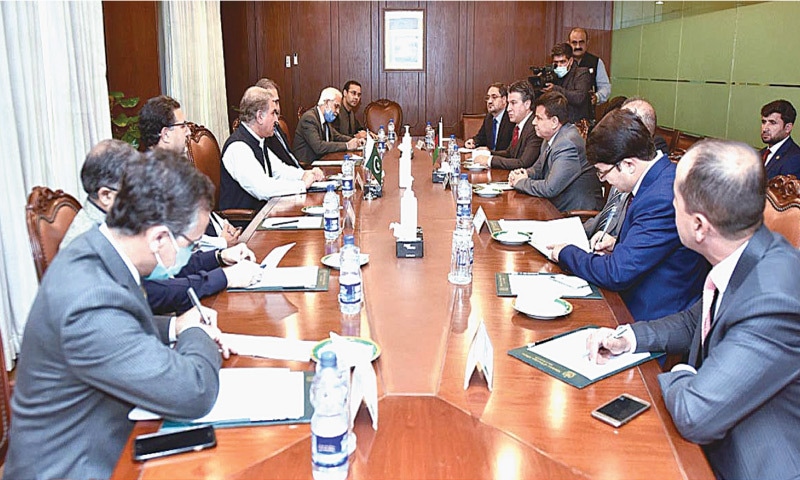 ISLAMABAD: Foreign Minister Shah Mehmood Qureshi on Saturday said that the way towards reduction in violence in Afghanistan lay in progress in the ongoing intra-Afghan dialogue.
He was talking to Speaker of Afghanistan's Wolesi Jirga Mir Rahman Rahmani.
"Progress in the intra-Afghan negotiations would help in reduction in violence leading to a ceasefire," an FO statement quoted the foreign minister as having told the Afghan leader.
Kabul has been urging the Taliban to agree to reduction in violence, but hostilities have increased despite the dialogue in Doha, which started last month. Taliban have carried out large-scale attacks against Afghan security forces.
Meanwhile, little progress has been made in the talks.
Fears are being expressed that the high level of violence could disrupt the Doha talks.
Mr Qureshi reminded the Afghans that they had a "historic opportunity" to work together and secure an inclusive, broad-based and comprehensive political settlement.
Qureshi says Afghans have 'historic opportunity' to work together
He also urged them to be watchful of the "spoilers", who do not want Afghanistan to achieve peace and stability and were simultaneously averse to strong Pakistan-Afghanistan relations.
The foreign minister reaffirmed Pakistan's support for a peaceful, stable and prosperous Afghanistan and highlighted Pakistan's positive contribution to the Afghan peace process.
He stressed the importance of APAPPS (Afghanistan-Pakistan Action Plan for Peace and Solidarity), noting that the mechanism provided the best platform to address all relevant issues.
Mr Qureshi said enormous synergies and complementarities existed in trade and economic fields between the two countries which should be optimally utilised. A new visa regime has been implemented for Afghan nationals which would facilitate people-to-people links, he recalled.
APP adds: Mr Rahmani, accompanied by a high-level delegation, is on a three-day bilateral visit from October 23 to 25.
He will also participate in Pakistan-Afghanistan Trade and Investment Forum 2020 — Partnership for Mutual Benefit seminar in Islamabad.
Published in Dawn, October 25th, 2020