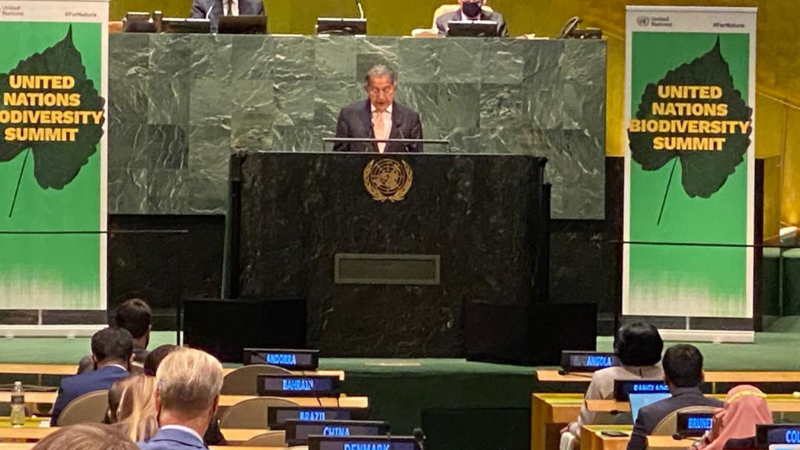 WASHINGTON: Prime Minister Imran Khan told a UN biodiversity summit on Wednesday that Pakistan was among the ten countries that were the most vulnerable to climate change.
The summit, held virtually in New York, brought toge­ther heads of state and government from across the glo­be to consider urgent mea­s­­ures for protecting biodiversity.
President of the 75th Gen­eral Assembly of the United Nations, Volkan Bozkir, had convened the summit, which was co-chaired by Prime Minister Khan and German Chancellor Angela Merkel.
President Emmanuel Macr­on of France, Prime Minister Justin Trudeau of Canada, Prime Minister Jacinda Ardern of New Zealand and Prime Minister Boris Johnson of Britain were among the 64 world leaders who participated in the meeting.
"Seventy-five per cent of the Earth's land surface has been significantly altered by human actions, including for example the loss of 85 per cent of the area of wetlands," said Mr Bozkir while explaining why world leaders needed to focus their attention on this issue. "Also, 66 per cent of the ocean area is experiencing multiple impacts from people, including from fisheries, pollution, and chemical changes from acidification," he added.
The prime minister informed the summit that Pakistan was one of those fortunate countries which were diverse from north to south, east to west.
Pakistan has twelve climate zones. In the north, its highest mountain — K2 — is also the second highest in the world. From there to the sea the country has 2,000 kilometres of diverse lands.
"So, we go from alpine climate zone to right down to the tropics and my government has pledged to protect this biodiversity," Mr Khan said.
He said that to protect the country's flora and fauna, the government had enlisted the help of local communities. "We have taken up the challenge to plant 10 billion trees and to plant these 10 billion trees we have enlisted the help of local communities," he said.
The prime minister said that giving jobs to local communities not only protected the forests, but also encouraged them to help the government "achieve our target of 10 billion trees".
Mr Khan said the government had increased national parks from 30 to 39. Thus, "in the two years of our government, we have increased the national parks by nine," he said. Special Assistant to the Prime Minister on Climate Change Malik Amin Aslam told the meeting that the Covid-19 pandemic had further underlined the link between people and nature.
"It reminded us that when we degrade biodiversity, we exacerbate the risk of breakout of diseases, with more frequency and intensity, from wildlife to humans," he said.
Pakistan's permanent representative to the UN Munir Akram told the meeting that while the impact of global warming and climate change was visible, "the impact of biodiversity loss will be equally pervasive and equally devastating for the future of humanity".
Published in Dawn, October 1st, 2020