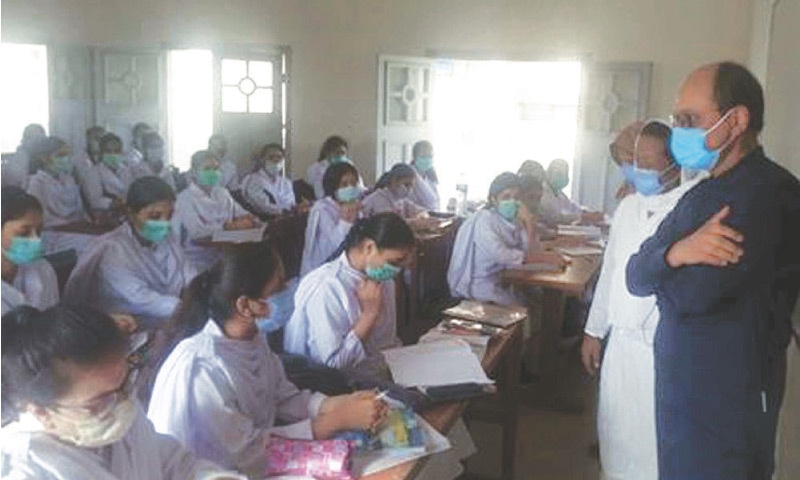 KARACHI: Sindh Chief Minister Syed Murad Ali Shah said on Thursday that schools would resume their session from Sept 28. "I have given clear instructions to the minister education to ensure implementation of proper SOPs in all the public [and] private schools," he said and warned against non-implementation of SOPs.
Mr Shah said this while addressing a press conference at CM House.
In a separate statement, provincial Education Minister Saeed Ghani also stressed that full SOPs be ensured for students coming under the second and third phases of reopening of schools from Sept 28.
However, Sindh Health Minister Dr Azra Fazal Pechuho reportedly told some media outlets that schools should remain closed for a longer period of time.
Like the rest of the country Sindh had reopened educational institutions phase-wise, starting from classes nine till 12 as well as universities, on Sept 15. While lower secondary schools were to reopen this week, the Sindh government postponed their reopening after Covid-19 cases started emerging in various educational institutions in Karachi, Hyderabad and other areas.
Murad Ali Shah said that his government had conducted Covid-19 tests in thousands of public and private schools, of which 185 were detected as positive. "This is serious and we all have to be careful in handling our children," he said.
He urged people of the province to wear masks, wash hands frequently, and avoid handshake and gatherings.
Minister's visits
Saeed Ghani suspended two officers of the education department in district East while paying surprise visits to various government and private schools and colleges in districts East and Central on Thursday.
He also issued the two officers show-cause notices seeking clarification on non-fulfilment of the responsibility given to them by the department.
The minister's surprise visit included visits to St Joseph's College for Women, St Joseph's Convent School for Girls, The Smart School, The Educators School, Mama Baby Care School, Merit and Merit School, Apex House, Foundation Public School, St Lawrence College for Women, Islamia College.
He also visited several government schools to inspect the SOPs and system of education there. In case he found something lacking in this regard, he issued warnings while also directing the teachers and students to wear masks during class.
He also said that educational institutions with a high enrolment of children should invite the students in shifts or on alternate days. Saeed Ghani said that a minimum distance of at least three feet should be ensured between the students in each class and the educational institutions that are teaching online should promote it further.
Published in Dawn, September 25th, 2020