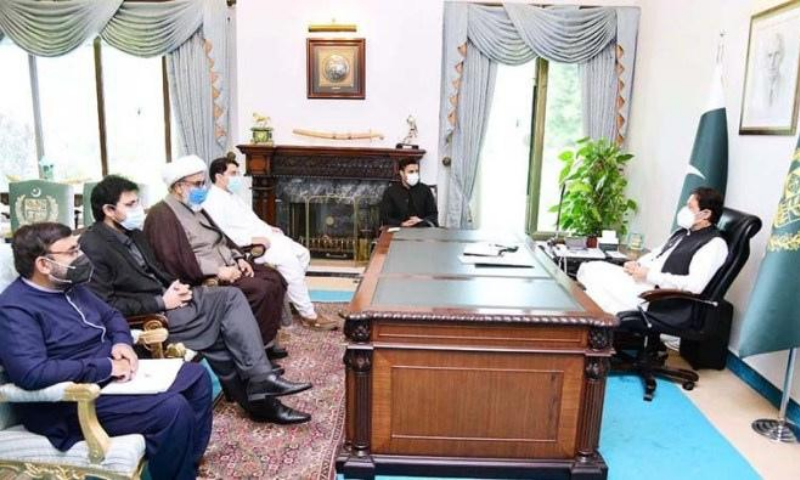 ISLAMABAD: A delegation of Majlis-i-Wahdat-i-Muslimeen (MWM) led by the party chief Allama Raja Nasir Abbas Jafari met Prime Minister Imran Khan on Friday, and discussed the changing situation in the region as well as threats faced by the country.
The prime minister sought the religious leaders support in maintaining law and order during Muharram.
Special Assistant to the Prime Minister Zulfiqar Bukhari and Saifullah Niazi of PTI and central leaders of MWM Syed Nasir Shirazi and Syed Asad Naqvi were also present on the occasion.
The prime minister appreciated the efforts of Allama Raja Nasir Abbas and MWM for its support in maintaining unity and supported the MWM chief's recommendations for developing coherence and solidarity among the citizens.
Earlier on Thursday Pakistan Ulema Council (PUC) Chairman Hafiz Mohammad Tahir Ashrafi called on Prime Minister Imran Khan and lauded the strong stance taken by Pakistan over the Palestine issue.
Hafiz Ashrafi conveyed the sentiments of religious segments of the country to the prime minister the clear and firm position taken by him has been welcomed in the whole Islamic world, and the political situations faced by the Muslim world also discussed.
The prime minster reiterated the official stance of Pakistan regarding the rights of Palestinian people and the right to self determination for the people of Kashmir.
The prime minister supported the efforts of PUC to develop coherence and unity among all sects of Islam and members of all the religious communities in the country.
The prime minister said that enemies of the nation were trying to sow discord in the country through religious extremism and lauded the role of clerics like Hafiz Ashrafi in brining various communities together.
Published in Dawn, August 29th, 2020