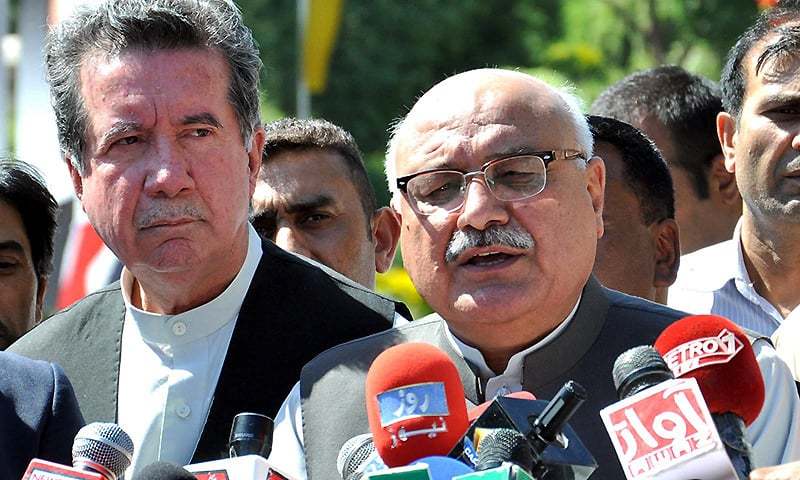 CHARSADDA: Awami National Party central general secretary Mian Iftikhar Hussain has said that terrorists have been regrouping in different areas of Khyber Pakhtunkhwa, especially in the tribal districts.
"There are confirmed reports that terrorist groups are regrouping in former Fata, Dir, Malakand, Nowshera, Mardan and Charsadda," he said while talking to journalists here on Wednesday after laying a floral wreath on the memorial of Babrra martyrs. ANP provincial president Aimal Wali Khan was also present on the occasion.
Quran Khwani was also organised in connection with the 72 anniversary of the tragic incident. The mass shooting of workers of Khudai Khidmatgar Tehreek had happened in 1948 and ANP claimed that more than 700 people were killed and hundreds others were injured on the occasion.
Expressing concerns over spike in lawlessness and acts of terrorism in different areas of the province, Mr Hussain said that government and security agencies should fulfil their responsibilities and take immediate action against terrorists.
He said that the 20-point National Action Plan was designed in the wake of terrorists attack on Army Public School and College Peshawar on December 16, 2014. Unfortunately the plan was not implemented in letter and spirit to eliminate terrorism and extremism, he added.
The ANP leader said that escape of the spokesman of proscribed Tehreek-i-Taliban Pakistan Ehsanullah Ehsan and his statements was clear indication that situation was going back to square one. "The situation may go out of control if terrorists reorganise themselves," he warned and urged government to ensure safety of the citizens.
To a question, Mr Hussain said that ANP would reopen the case of Babrra massacre if it came into power in the province. He said that more than 600 followers of Bacha Khan were killed in Babrra.
The ANP leader welcomed decision of Loya Jirga in Afghanistan that authorised Afghan President Ashraf Ghani to release 400 Taliban prisoners. He said that ANP fully supported peace process in Afghanistan. He suggested provision of facilities at Torkham and Chaman border crossings to promote trade with Afghanistan.
The ANP leader condemned attack on convoy of Maryam Nawaz Sharif in Lahore on Tuesday and demanded fair investigation into the incident. He said that government was using National Accountability Bureau as a tool to suppress opposition. He said that provision of security to political workers was the responsibility of the government.
Mr Hussain said that NAB resorted to victimisation and Supreme Court had given very clear remarks about the anti-corruption watchdog. He said that time had come to initiate action against officials of NAB. He said that opposition parties should come on one page to get rid of the incompetent and corrupt government.
Published in Dawn, August 13th, 2020