Osama Com Laude or Osama Karamat Ali Shah, the artist best known for his striking resemblance to actor Jason Momoa, who plays the character of Khal Drogo in the HBO fantasy television series Game of Thrones, released his debut EP this year. Last year, fans were quick to spot the resemblance and he went viral. He ended up doing a few modelling gigs and released a really cheesy Valentine's Day song, Dil, which was unlike any music he'd released before.
This year though, he's been coming on strong — musically. He collaborated with some fine rap artists from Rawalpindi on Pindi Aye and has now released his debut EP, PaKING. The EP features collaborations with both foreign and domestic artists. Songs from the four-track EP are available both on Patari and YouTube.
The cover of PaKING has Osama Com Laude sitting on a throne in full metal-scaled armour and a white and green fabric (a nod to the Pakistani flag) covering his head under the helmet, the nape of his neck and falling over his chest. The whole look is very historical fantasy.
Clearly, he isn't trying to sever the connection to his resemblance to Khal Drogo. In fact, he's playing it up. It might sound harsh, but it's getting really a little old now. It reminds one of those cosplay (costume play) characters that roam around in Times Square in Manhattan, New York, or on the strip in Las Vegas, always known for playing other popular real life or fictionalised characters and not for their own selves.
Osama Com Laude looks like Khal Drogo and, in his debut EP, PaKING, tries to act like him. But he needs more to be his tribe's leader
Coming to the EP. It's mostly in Urdu. Osama Com Laude switched over from English to Urdu in Dil and now this entire EP follows up on it. There's the title track, PaKING, which talks about the arrival of Osama Com Laude as a rapper to contend with. It's about his own personal journey through the underground rap and hip-hop scene. How his ambition is within his reach, how he pushed past conflicting advice and his 'haters' to get to where he is right now, how the industry is full of brats (essentially) and how strong his faith in divine justice and destiny is.
And all those that stand in his way will be destroyed: "Meri yeh aag kabhi na bujh paaye gi, meri kamyaabi ki bhook yeh sab ko kha jaaye gi."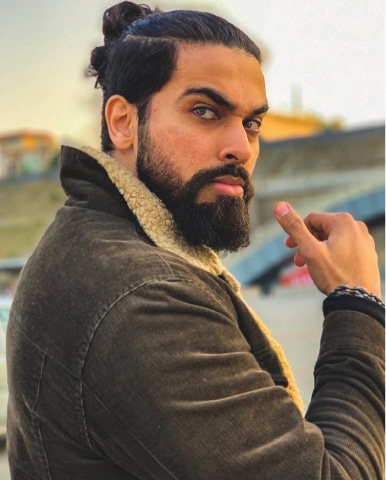 PaKING is an angst-filled track and a far cry from his previous work where he's rapping about women and his own sexual prowess. You can sense he's struggling a bit with the change in language, but overall PaKING is catchy and listenable. It's a good opening number.
There is a marked difference in tone in Overdose, which features Bali Shah, Fonzo AM and Myca C. The latter two are based in the United States. Fonzo AM raps in Spanish, Myca in English. With its slower pace, bigger bass, dub step-ish sound, it's a bit of a mix and mash. It's definitely a car song, but each of the four artists bring a different style to the song and there's a lack of… cohesiveness.
Bali Shah is no stranger to Pakistani music. He's collaborated with other known acts, such as Peshawar-Islamabad based Fortitude, before. I don't know why the other two artists are there, other than for their 'foreign exotic' points. For a Pakistan release, it doesn't make sense to have an artist rapping in Spanish, for example, no one's going to understand it — or follow it. Bali Shah's Punjabi hook and section is the only one that provides some groove to the song. Overdose, which is unsurprisingly about being under the influence, is a hit and miss.
3-Peat starts off with an unmistakably early nineties, dark, electronic beat. This one features Guru Lahori and Talhah Yunus. This sees Osama Com Laude go back to his English-rapping roots and the ease with which he spits the lyrics out in this song is clearly evident. 3-Peat is the most Osama Com Laude has sounded like himself in this whole EP. The song is called 3-Peat because it borrows the term from the American sports — it denotes three consecutive championships. In 3-Peat, Osama Com Laude brings together three major names in underground rap (including himself, of course) to show off their chops.
The final track of the EP, Vehshi, features a collaboration with Islamabad-based Umair Jaswal. Off the bat, you know it's going to be a heavy rock anthem. It's a great attempt, but it's not really memorable. There's no big hook or catchy tune or line anywhere. In Vehshi Osama Com Laude is essentially talking about the same thing he spoke about in the opening track: his journey, how hard he has worked, his struggles etc. At this point, in terms of subject matter, it is getting repetitive.
Overall PaKING is a decent first attempt at an EP. It has its moments here and there, but it's not going to blow you away. Osama Com Laude needs to dig a little deeper and do more.
Published in Dawn, May 31st, 2020