KARACHI: While fasting, in the sweltering heat, Aslam Baloch of Lyari has a smile on his face as he checks the harnesses on the load of packed boxes piled on his cart and picks up its heavy iron handle to start pulling it along M.A. Jinnah Road.
"It's backbreaking work, requiring much stamina but I am up for it. I have dreamt of this moment when I could return to earning my respectable livelihood during the last two months when my family had to survive on charity during the lockdown. I thank Allah for keeping me healthy and for helping me work again. Now, I will earn myself to feed my family," he told Dawn on Monday as the markets, closed due to the coronavirus pandemic, reopened after almost two months.
There were people at the opticians getting their broken glasses fixed. The shopkeepers could not suppress their smiles. In fact some looked quite amused at how their customers had fixed their glasses, with rubber bands, thread, electric tape, etc. And they were even happier that now everyone wanted spares. "The way most of my customers are coming for spare glasses, I think I should be able to make up for all the loss that we accumulated during the lockdown in a few days now," said an optician in Saddar.
There were small and big pickup trucks with air-conditioners and refrigerators pulling up at shops that sell these and repair shops that repair them. "I have been calling my technicians since morning to hurry back to work and help me fix all this stuff, otherwise we will be buried in work even after Eid," said an AC repair shop man. "I know it is Ramazan but we can't afford to take it easy right now. There is just too much to do."
Confusion persists over which shops are not allowed to open
The shops along the automobile parts market along the Plaza area on M.A. Jinnah Road also found themselves in a similar situation. The boys chasing cars and finding parking spots for those looking to get their locks, lights or any other problem fixed looked thrilled. "Please ask me how I am doing tomorrow. As you can see, we don't even have time to scratch our heads right now," said a salesman selling car accessories in the market.
Though Zainab Market in Saddar was partially open, most shops in clothing markets were open or opening. The rush was heading back to Jama Cloth Market as the shutters were lifted. "We better get all the dupatta and bangles to match our Eid outfits today only," a woman was overheard telling her teenage daughter as they went about browsing at the shops. Another woman was heard informing someone over her mobile phone that the market was indeed open and she better come and join her there quickly.
Mobile rush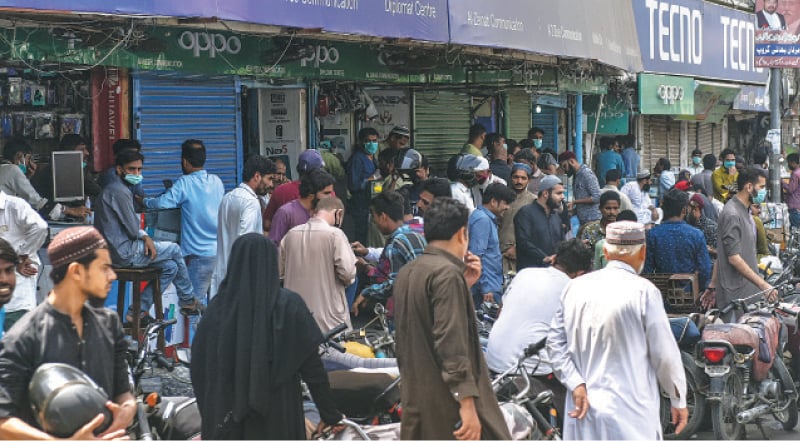 The rush was also back at the mobile phone market in Saddar. "I am being bombarded with customers asking me why such and such phone is still not in the market. They have all been waiting for the new lot of phones to arrive. And surprisingly everyone knows better than me which phones are expected to hit the market. I think they spent all this time researching phones," laughed one salesman.
The shops around Regal Chowk, that had been functioning through half-open shutters earlier, were completely open for business again. "We tried selling online too but you know our people. They like to get a feel of things in their hands before buying," said the owner of a clocks and watches shop.
The electronic markets selling fans, lights, generators, UPS, solar panels, music systems, LCD TVs, etc, were all doing good business. The Botal Gali, the tire market, the Paper Market were also open and welcoming customers as were the row of money changers near the City Courts. From shops selling bathroom fixtures to those selling curtains and furnishings all were open and looking like they have never closed. There was a cheerful skip in children's step as they headed to footwear shops accompanied by their parents.
Still, many of the sights one has grown used to during the lockdown were still very much there to haunt and remind that all is not well and that we are still not completely out of the woods.
The long lines at ATMs were still very much there. The people rushing to buy groceries while panicking unnecessarily were there as well. But surprisingly, many of the people were now without their protective masks, something which is quite concerning as traffic congestion and jams, too, lifted their ugly head.
Confusion over shops permitted to open
Speaking to Dawn, secretary general of the All City Tajir Ittehad Association Mohammad Ahmed Shamsi said it was a good first day though all shops were yet to open. "Yes, many shops were open and things looked like they were back to normal on Monday, but many shops also remained closed because they were confused about whether they came under small markets that had permission to open or whether they were part of shopping centres or malls that do not have permission to reopen as yet," he said.
"We are hopeful that things will normalise soon and we will be back following our usual routine soon as soon the other markets will also get permission to reopen. The last part of Ramazan will be good for our markets," he said.
When asked about the people throwing care to the wind during this pandemic, which is still not over, Mr Shamsi said that the shops were trying their best to follow the standard operating procedures but the customers should also take care. "It is the government's job to spread awareness among people but in the better interest of our business community, we are going to start setting up awareness camps, starting from the Timber Market on Tuesday," he said.
Published in Dawn, May 12th, 2020