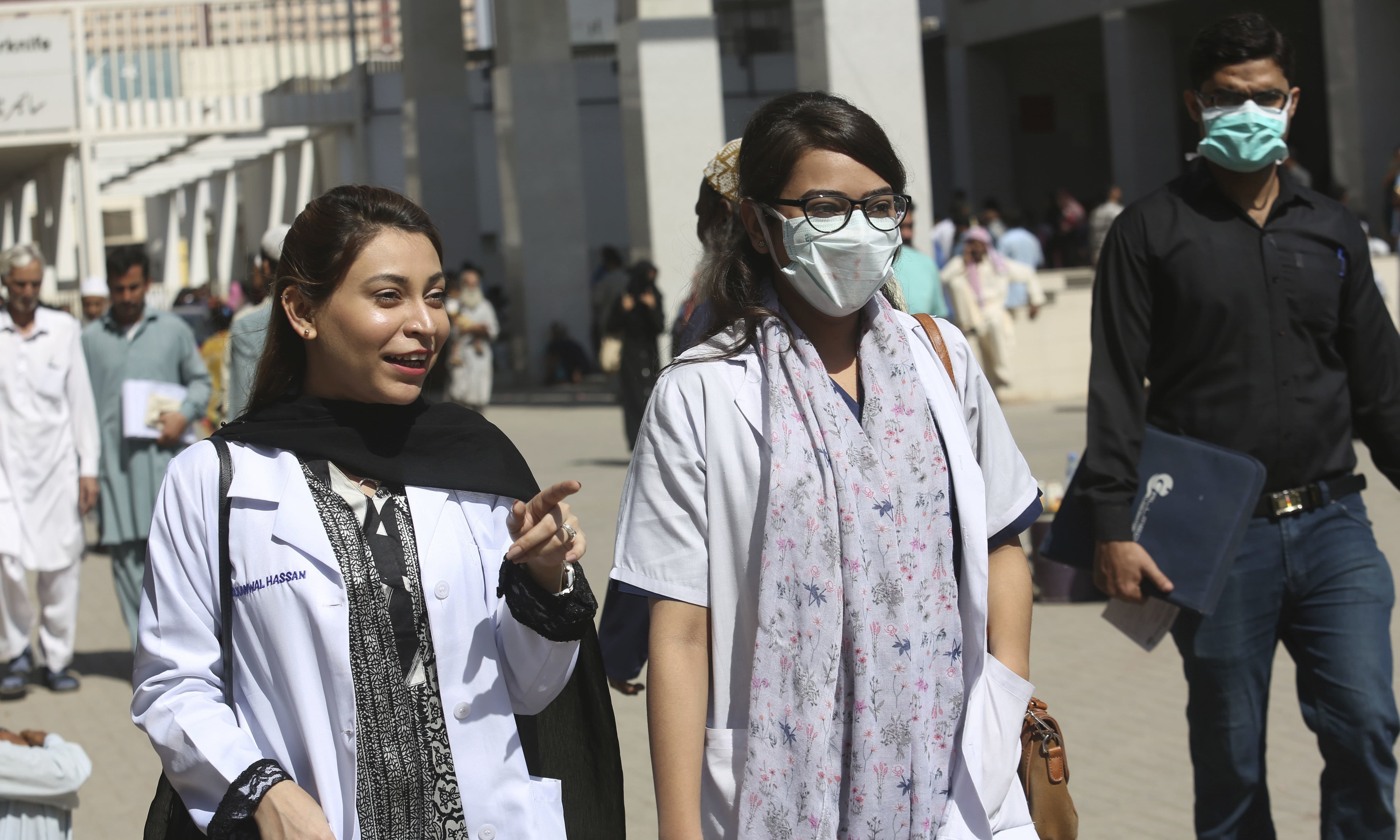 KARACHI: Three doctors' associations have called for a strict enforcement of the lockdown to prevent congregations of all kinds to contain the spread of Covid-19.
Addressing a press conference on Friday, representatives of the Pakistan Islamic Medical Association (Pima), Pakistan Medical Association (PMA) and Young Doctors Association (YDA ) also called upon the government to involve (in its task force) health experts from public sector medical universities/hospitals and organisations of doctors actively fighting the deadly virus.
Highlighting the gaps in the government strategy on Covid-19 and sharing suggestions, Pima-Karachi president Prof Mohammad Azeemuddin said the government must reflect why the numbers of coronavirus cases were growing despite the lockdown.
"But the agenda to enforce a complete lockdown couldn't be achieved if the poor remained deprived of ration that should be provided at their doorsteps," he said, suggesting that the government should seek help of charity organisations and utility services in this respect.
He also urged traders and ulema on behalf of the organisation to revisit their decisions and suggestions on resuming their businesses and holding religious congregations in the larger interest of the nation.
Prof Azeemuddin spoke in detail about the shortages in personal protective equipment (PPE) supplies being experienced across the country and how it led to infection among healthcare providers.
"This is unfortunate since a timely action on part of the government could have minimised the damage. Currently, young doctors are looking towards non-governmental organisations for PPE instead of the government," he said, demanding immediate supply of the equipment to healthcare staff.
According to doctors, though the issue of PPE has affected so many healthcare staff, the government has not developed any guidelines on safe practice and use of PPE, which is another reason for spread of infection among their colleagues.
Criticising private hospitals, they said a majority of them had not equipped their employees with the necessary PPE.
"This is sheer ignorance putting healthcare providers at risk. Outpatient departments at both public and private sector shouldn't be opened without ensuring that the staff is trained in following the relevant standard operating procedures," said Dr Misbah-ul-Aziz, suggesting that the organisation can help the government develop relevant guidelines.
Other demands presented at the event included provision of job security to all physicians working in hospitals and ensuring maximum utilisation of field isolation hospital at the Expo Centre.
"Also, there is an immediate need to properly sanitise and decontaminate Covid-19 wards at public hospitals, which are currently in very bad shape," said Dr Atif Hafeez Siddiqui.
Details about organisations' relief activities — which included launch of a nationwide telemedicine service, distribution of PPE among healthcare workers and publication of guidelines on the use of equipment — were also shared with journalists.
Dr Umer Sultan of the YDA and Dr Qaiser Sajjad of the PMA also spoke.
Published in Dawn, April 18th, 2020