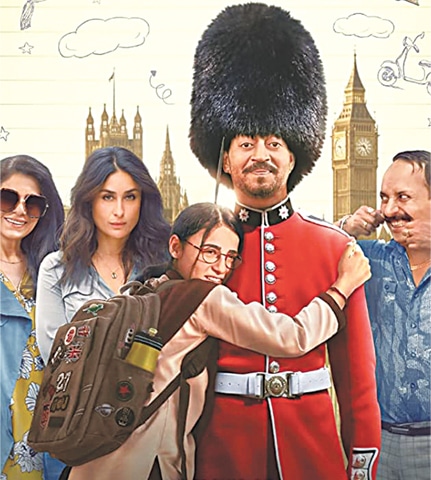 Angrezi Medium, directed by Homi Adajania, starts off as a simple story of a father and daughter.
The father, Champak (Irrfan Khan), owns a sweet shop in Udaipur; the daughter, Tarika (Radhika Madan), is in twelfth grade. Since childhood, Tarika wanted to go abroad. Now about to become an adult, she's more ready than ever to leave the nest. Tarika is a mediocre student, but if she can make it to the top three of her class, she can study at Truford, a prestigious university in London.
Champak, however, has his own sly plans. For someone whose wife died at a young age, he can't even think about parting from his daughter. A father, a daughter, and truckloads of desire — some declared, some hidden. It doesn't take a lot to sink into this story: all you need is some heart, and a parent or a child that you loved more than yourself.
Besides, it's easy to like Tarika. The world may be too small for her, but she's evidently tied to her small-town. She pronounces top as 'toe-p', college 'coal-age', sorry 'sow-ree'; the "j" in her "mojito" bursts with life.
But the movie neither takes digs at her accent nor sees it as a cute quirk. It is what it is: an aural identification of a teenager splashing at the shore of this endless world, restless to take a dive. Madan is excellent. Combining hesitancy and hope — topped by a girl's rebellion and a daughter's cheekiness — Madan makes Tarika deeply identifiable. Through the trajectory of her role, you can map the aspiration of most small-town girls, for whom freedom itself — of any kind, in any form — is a triumph.
Angrezi Medium portrays the parent-child relationship in a new light, breaking free of clichés. Too bad the rest of the film succumbs to them
On the other end is Champak, a man who sees the world in his daughter, wanting to share the world with her. Angrezi Medium portrays the parent-child relationship in a new light, breaking free of clichés. Champak is not a strict, disciplinarian figure. He's liberal, a softie, who at times even gets intimated by his daughter. Theirs is an endearing, playful relationship, where dreams and promises matter.
This is easily the best portion of the film, where at least two scenes stand out. One, where Tarika comes home drunk for the first time, but convinces Champak that he is drunk, using his confusion to slip into her room. And another where Champak tells her that he's procured the question paper for the exam, convincing her to take a look at it. Tarika doesn't, as she had promised that she'd crack the top three on merit. (Champak doesn't have the question paper, either. The sheet has the words, "Nakalchi bandar, London cancel.")
Irrfan is phenomenal here, and given that he's Irrfan, he's so throughout the film. He's always been impressive — memorable in fact — in roles that required him to act: the kind of scene-chewing stuff every actor wants on his CV. But in Angrezi Medium, he does so little — and yet is able to elicit a sea of emotions — that it feels like watching a master meeting his muse. (Not to mention that only two years ago, he was battling a life-threatening disease.)
If only the entire film was as good. Angrezi Medium is poignant and riveting till the point it's centered on Champak and Tarika. But in a bid to be an all-sweeping comedy, the film dips into various subplots. The movie opens with a disputed ancestral property and, like a true Chekhovian gun, ends on it, too. Another subplot is about a sessions court judge that gives the movie its central conflict. In London, the cop Naina (Kareena Kapoor Khan) is eager to nab Champak and his cousin Gopi (Deepak Dobriyal; ingenious comic timing throughout), as she finds them suspicious. There's another subplot about Naina and her mother (Dimple Kapadia), who have not been on good terms for quite some time. Oh, there's also Ranvir Shorey, playing Champak's childhood friend now settled in London, in the movie.
These subplots are unconvincing and trite. At best, they function as narrative padding. At worst, they distract from and dilute the film's essence. Further, the several plot turns, divorced from logic, make little sense. You get the feeling that the makers first conceived a broad story and then reverse-engineered the different plots turns (and subplots) so that the pieces fit.
Angrezi Medium belongs to a new brand of commercial Hindi cinema. It's not the kind of movie that's formulaic. For instance, there's no romantic angle here, no songs that interrupt and puncture the story, no swigs of escapism used as an excuse to relinquish screenwriting and filmmaking responsibilities. And yet, the film uses several tropes to become 'commercial': inconsistent and awkward comedic scenes bordering on slapstick, unexplained and bizarre character motivations, an elaborate climax that refuses to end. These scenes — overtly dramatic (read: 'cinematic') — belong to a different kind of comedy. And yet you find them here, because the implication is that perhaps life itself is not enough, that a tender father-daughter relationship somehow doesn't justify the length of a feature film.
But who gets to decide that? Because Angrezi Medium's first hour — revolving around Champak and Tarika, set in Udaipur — gives us all the pleasures that we turn to movies for: hope, innocence, love. Sometimes you don't need a passport to see the world. — By arrangement with The Wire
Published in Dawn, ICON, March 22nd, 2020