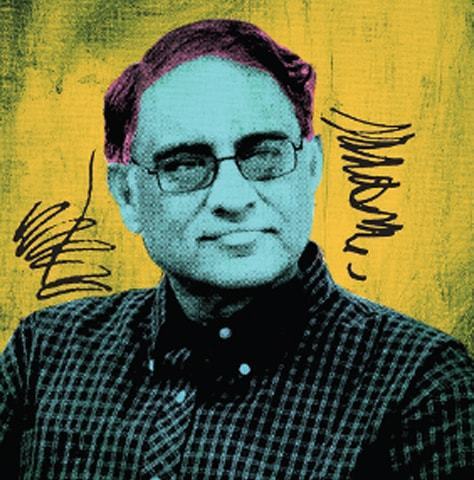 Stopping short of being declared a pandemic on a global scale by watchdog bodies, the dreaded coronavirus has nevertheless taken the world by surprise. The word "novel" is attached to its current outbreak and, in between flipping through endless reports, I hanker towards novels and stories — not as diversion, but a perennial recourse for solace and the promise of healing.
Thinking of populations facing the peril of epidemics and telling myself stories, I can do no better than start with Tauba-tun-Nusooh [The Penitence of Nusooh] which has probably one of the most striking opening lines in Urdu fiction. As Delhi reels under the threat of cholera and thousands are wiped out, Nusooh regards himself as safe because of the precautions he is taking, but has a close brush with death. A dream of divine justice turns him into a penitent man who wants to bring his family to righteousness. He faces tough resistance in his elder son Kaleem. When Nusooh destroys the musical instruments in his son's room and burns the book of poetry which he considers licentious, Kaleem leaves home in a fit of anger only to realise the real worth of the two-faced Mirza Zahirdar Baig. Cholera is the agent provocateur for the novel's action, triggering the consequent dramatic incidents and symbolising the moral crisis of society at large.
Two short stories from the early 20th century are worth remembering, although both authors are rather out of favour these days. Publishing her works under the name of Mrs Abdul Qadir, she wrote gothic-style stories of horror and the supernatural. Raseela stands out in her work, acquiring the flavour of a folk daastaan when the disease appears in the form of a horrific witch, but is defeated by the power of love. Critic and historian Muhammad Mujeeb authored Kimiya-gar [Alchemist] in which the hakeem [doctor] stays back in a town afflicted with the plague to keep serving the townsfolk with whom he identifies. Memories of plague in the past inform Intizar Husain's Basti. In the opening scene, a boy insists he's telling the truth, but is hushed by his mother, as "in a house full of people you shouldn't mention the name of that ruinous disease." When dead rats are found on the streets, indicating the rising tide of the epidemic, Bi Amma has a vision marking the culmination of the disease. However, such a vision is questionable for the intellectuals gathered in the coffee-house towards the end of the novel. Has self-doubt become their plague?
Contemporary concerns shape the lucid and intense Waba [Epidemic] by the writer-physician Hasan Manzar, my favourite among his novels, all of which have a wider scope. The locale is Karachi, inside a hospital ward for infectious disease. The affected persons include patients as well as the hospital staff as a low-key tragedy is enacted. The victims have been randomly selected and subjected to a cruel fate from which there can be no escape. Probably it is the city which introduces them to the pathogen.
When discussing pestilence of any kind, or epidemic, my mind keeps returning to Albert Camus's The Plague, a grim narration of a physician's struggle to cope with a deadly disease affecting an entire city. It is said that Camus disliked the label of 'existentialist' for his work, but the unrelenting struggle against inevitable death reduces life to an absurdity while the physician seems like a Promethean figure, ready to face a lifelong punishment for his act of rebellion.
Details of a disease-afflicted city are vivid in Daniel Defoe's A Journal of the Plague Year, published in 1722, but set in 1665. It is a remarkable book and I feel sorry that its author is remembered chiefly for Robinson Crusoe, the plot of which is actually based on a philosophical fable penned by the 11th century Andalusian philosopher Ibne Tufayl. In the Penguin Classics edition of the Journal, which I first read ages ago, there is a provocative introduction by Anthony Burgess — himself a novelist of repute — which commends the novel for "the way in which London is made to appear as a breathing, suffering entity and not just what Auden called 'an abstract civic space'." Burgess leaves it for the readers to decide if Defoe's book can be compared to Camus's. Rather than compare them, I find it more profitable to have such books contextualise rather than cancel or replace each other. One epidemic, after all, can be as grim and deadly as the other.
While typhus fed on poverty, and malnutrition and the living conditions of battlefields are depicted in a number of 19th century novels, rather strange afflictions come up in contemporary novels. A sudden deprivation of sight strikes a number of people who must eventually be quarantined in Jose Saramago's brilliant Blindness. As the name implies, an epidemic moves the fatal pages in Gabriel Garcia Marquez's Love in the Time of Cholera, whose Florentino waits patiently for more than 50 years for Fermina to become a widow and it is his mad love which triumphs over age, quarantine and the raging disease.
Without yielding the place marked for Camus's novel, I would like to add Yan Lianke's Dream of Ding Village. Lianke is, to my mind, one of the finest living novelists on a global scale, with his ruthless depiction of petty-minded corruption, excruciating poverty and wonderful inventiveness. A corrupt speculator coerces poverty-stricken rural folk to sell their blood without taking any precautionary measures, thus giving rise to
an AIDS pandemic in China. Unscrupulous and incisive in his depiction of rural misery and situated close to the original trouble spot, I wonder how Lianke would turn his focus on the present-day epidemic, if he were to write about it. But then, who knows what types of epidemics lurk around the corner and wait for us in the future? What kind of miseries will they unleash upon mankind? All we can be sure of is that there will be stories, even if for a tiny bit before a final annihilation.
Germs and bacteria provide a saving grace in H.G. Wells's The War of the Worlds as microbes — which human beings have become used to — prove deadly for the conquering Martians. Is such a positive spin probable? At least it is more comforting than the current situation.
The columnist is a public health physician by training, a critic and fiction writer. He teaches literature and humanities at Habib University, Karachi
Published in Dawn, Books & Authors, March 15th, 2020