• Imran says there is no need to panic, he is overseeing anti-virus steps
• Shrines, marriage halls, cinemas closed in Sindh for three weeks
• 1,822 sent to their provinces from Taftan, says PM's aide
ISLAMABAD: While two more cases of the novel coronavirus (COVID-19) were reported in Pakistan on Saturday, raising the tally to 30, Prime Minister Imran Khan said he was personally overseeing the measures adopted to deal with the situation and would address the nation soon.
The first meeting of the National Coordination Committee (NCC) on COVID-19 was informed by the provinces that all decisions made by the National Security Committee on Friday had been implemented in letter and spirit.
The Sindh government on Saturday ordered the closure of all shrines, marriage halls and cinemas across the province for three weeks.
Taking a policy decision, Chief Minister Syed Murad Ali Shah also decided that educational process in seminaries and training institutes, marriage functions in clubs and public gatherings, including Urs celebrations of Sufi saints, would also remain suspended till April 5.
"I want to inform the nation I am personally overseeing measures to deal with COVID-19 and will address the nation soon. I would advise people to follow safety instructions issued by our govt. While there is a need for caution there is no need for panic," Prime Minister Khan tweeted.
He said in another tweet: "We are alert to the dangers and have put in place sufficient protocols for the safety and health of our people. The WHO [World Health Organisation] has commended our efforts as being amongst the best in the world."
Executive Director of the National Institute of Health (NIH) Maj Gen Dr Aamer Ikram, while talking to Dawn, confirmed that on Saturday two more cases were reported from Islamabad and Karachi due to which the tally had risen to 30.
"A 30-year-old woman who had come from the US to attend a marriage ceremony has been confirmed with the virus. She is in a critical condition and has been put on a ventilator at the Pakistan Institute of Medical Sciences. Another patient confirmed in Karachi is also a woman who had travelled to Saudi Arabia," he said.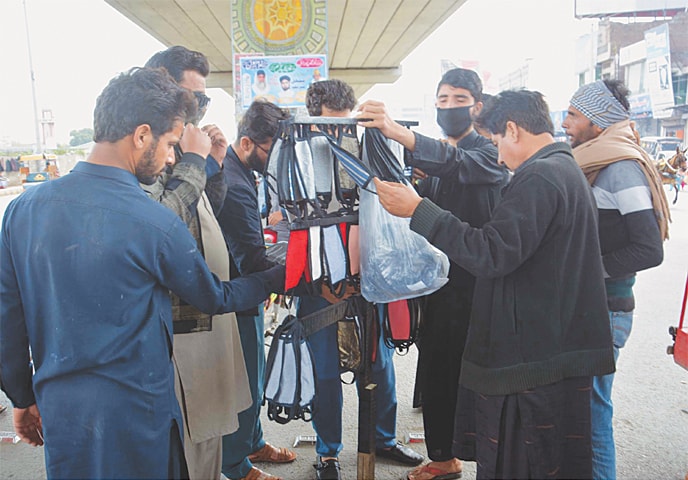 The NCC meeting was chaired by Special Assistant to the Prime Minister on Health Dr Zafar Mirza and attended by the four chief ministers through video link, SAPM on Information Dr Firdous Ashiq Awan, the director general of Inter-Services Public Relations (ISPR), federal Finance Secretary Naveed Kamran Baloch, chairman of the National Disaster Management Authority, surgeon general of Pakistan and others.
A participant, requesting not to be quoted, said that the provinces told the meeting they were prepared to deal with any untoward situation.
"It was also informed that all border crossings had been closed for two weeks. However, only Indian pilgrims will be allowed to visit Kartarpur. Arrangements at points of entry are being further improved. People don't have to get panic and facilities have been set up across the country to test suspected patients for the virus," he said.
According to an official statement, Dr Mirza said a coordinated national response to safeguard the health of people of Pakistan was underway.
"The federal and the provincial governments and relevant agencies are working in unison to meet the challenge. All educational institutions including madaris will remain closed for students and staff for three weeks. Incoming travellers at Kartarpur would be allowed after proper screening.
The ministry of information, the ISPR and the Ministry of National Health Services will jointly work to keep the public informed on coronavirus. People are being provided guidance and necessary assistance through helpline 1166," he said.
"We are following international best practices strictly in all aspects of our response, be it in screening of travellers at points of entry, laboratory tests of suspected patients, establishment of quarantine facilities, preventing cross- border spread of the virus or surveillance," Dr Mirza said.
"Incoming travellers from affected countries are being screened and followed up. A quarantine facility has been established at Pakistan-Iran border at Taftan. Necessary measures have been put in place at the Afghan border at Chaman," he said. "We must not panic and fight this challenge as one nation by protecting ourselves through simple precautionary measures and educating communities. The role of the media is of critical importance to ensure that only authentic and accurate information is provided to the people so panic can be avoided and risk averted."
Pilgrims sent to provinces from Taftan
The SAPM refuted the claims made by some members of the National Assembly and said that 1,822 Pakistanis, kept at Taftan border, had been sent to their respective provinces.
On Friday some MNAs had alleged that around 3,000 people had been kept in an open area at Taftan due to which a large number of them had fled and the government could not track them down.
Dr Mirza said that it was true that those people had not been kept in an ideal condition due to remoteness of the border area and there was unrest in them.
"However on Friday we sent 1,822 people to their provinces as they have completed quarantine period. Transport and security was provided to them and they were handed over to the provincial governments which will again put them in quarantine. Moreover record of all persons is maintained at Taftan and no one has left the place on its own. Currently, there are about 1,200 people at Taftan and we will also provide them transport once their quarantine period completes," he said.
Published in Dawn, March 15th, 2020