LAHORE: A good number of people from all walks of life attended the Faiz Amn Mela at Bagh-i-Jinnah's Open Air Theatre on Sunday.
The Faiz Amn Mela Committee organised the event that is a regular feature of Lahore's cultural calendar, attracting people not only from Lahore but from other cities as well. Poets and intellectuals from India also attended the mela.
There were more than a dozen book stalls and big portraits of Bhagat Singh, Mashal Khan, Faiz Ahmed Faiz and Asma Jahangir, all draped in red, were displayed. Also on display were banners of the Mazdoor Kissan Party, the Awami Workers Party, the Pakistan Quami Mahaz Party, the Social Democratic Party and many others.
The festival began with a solo musical performance by Musa Ali Zar, a young singer who sang Faiz's poem Umeed-e-Sahar. It was followed by a heated debate by students of various educational institutions and they spoke about class difference and inequality.
Dr Ammar Ali Jan, Behram Khan, Haider Butt, Mohsin Abdali, Janat Fazal, Arooj Aurangzeb, Comrade Sana, Muzamil Khan and Shahzeb Irfan spoke on class difference, rights of students, labourers and the downtrodden.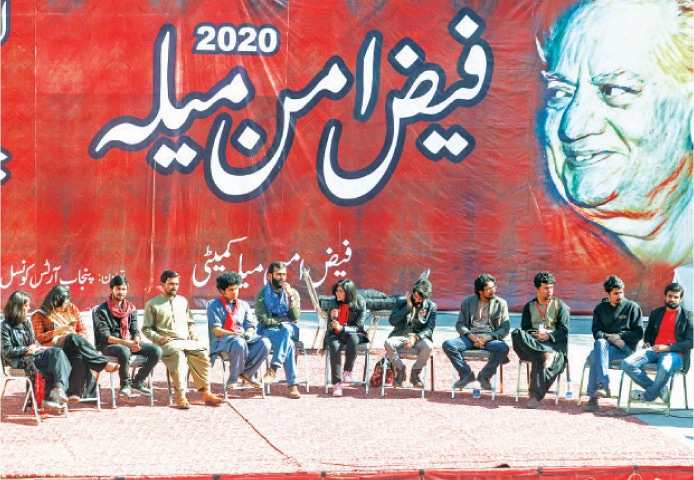 Dr Ammar Ali Jan said students took out demonstrations for their rights on Nov 29 in 50 cities of the country but their demands had not been met and they would continue their struggle despite the fact that cases had been registered against them.
Behram Khan said the Progressive Students Collective would hold a convention on April 13 in which their leadership would be announced. He said a big demonstration would be held in protest against cut in education spending before budget.
Haider Butt said the students were fighting for their rights and the rights of labourers and the downtrodden. He said there should be free education for the poor.
National Students Federation's Comrade Sana said students could not be harassed and they would again hold a demonstration just as they did on Nov 29.
Janat Fazal said there should have been committees to stop sexual harassment against women at colleges and universities.
Arooj Aurangzeb said student unions had been banned in the country for the last over three decades. She demanded that student unions should be restored and there should be free education for the poor. There should be committees to stop sexual harassment against women in universities and colleges.
April 13 should be declared a public holiday in memory of Mashal Khan, she demanded.
Two book launch events were also held; Tanveer Zaman Khan's Halqa-e-Zanjeer Mein Zuban and Irfan Comrade's Sanglan wich Jahan were launched by Saleema Hashmi and Hussain Naqi.
There was also a poetry sitting which was presided over by Baba Najmi. Performances by Lal Hartal and Ajoka Theatre and artists such as Nighat Chaudhry, Adnan Jahangir, Amna Muaz, Faizan and Ali Mohsin also won appreciation.
The visitors were excited to know that the prices of food items were very low. Farooq Tariq, the chief organiser of the event, said he had made sure the prices of water bottles and eatables were affordable.
Published in Dawn, February 17th, 2020