MUZAFFARABAD: A six-year-old survivor of an avalanche succumbed to her wounds in a hospital on Thursday, pushing the death toll in the Neelum Valley to 75 and 77 for Azad Jammu and Kashmir, officials said.
Safia, daughter of Tariq Shaikh, succumbed to her brain injuries in Shaikh Khalifa bin Zayed al Naha­yan Hospital, also referred to as Combined Military Hospital, after midnight, said Prof Dr Adnan Mehraj.
Quoting her mother, Dr Mehraj said the young victim had spent more than 20 hours under the snow after their house in Seri village was engulfed by an avalanche.
She and two other survivors from the neighbouring Bakwali village were first airlifted to Sharda and from there to Muzaffarabad on Tuesday afternoon.
Dr Mehraj said Prime Minister Imran Khan had particularly expressed concern about Safia's condition during his visit to the hospital on Wednesday.
Safia's father Tariq Shaikh, doing some odd job in Karachi, had arrived in Muzaffarabad on Tuesday night and after visiting his daughter in CMH had left straight for his village by road, as his other two children were among the dead.
Shaikh Khairullah, an elderly member of the bereaved family, told Dawn that as many as 18 people from one family were killed after their two houses in Seri village were struck by a huge mass of snow on Monday afternoon — Safia was the 19th victim.
The dead included five women, one man and 12 young boys and girls, he said.
Mr Khairullah recalled that only six out of 18 bodies could be recovered by the same [Monday] evening. "We recovered another 10 bodies on Tuesday," he said.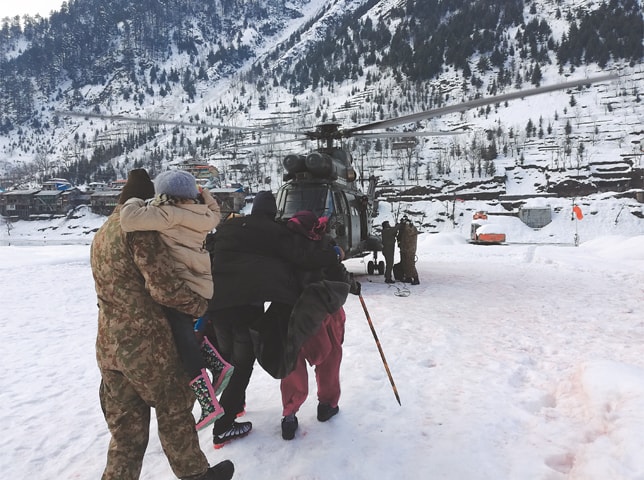 Mr Khairullah said the last two bodies were recovered on Wednesday amid snowfall. However, the funerals of all 19 were held on Thursday after the army chopper dropped Safia's body in Seri village, he said.
In Muzaffarabad, a number of people from the affected area, almost all of them doing jobs in downstream areas, had gathered outside the stadium [helipad] in the hope of taking a ride to their disaster-stricken Valley.
However, the authorities said their foremost priority was transportation of relief goods from Muzaffarabad and evacuation of injured survivors from the affected valley.
AJK Chief Secretary Mathar Niaz Rana, who was also present at the helipad, vowed that the government would do whatever it could to mitigate the sufferings of affected population.
As the chief secretary spoke to reporters, the army personnel loaded food items, medicines, tents and tarpaulin on an MI17 and a Puma helicopter, spared for rescue and relief operation.
On their way back, one chopper brought five injured survivors belonging to Surgan area and the other brought 12 survivors belonging to Chaknaar village.
A disaster management officer in Athmuqam told Dawn that the death toll in the valley was 75 while the injured survivors were 56.
Published in Dawn, January 17th, 2020