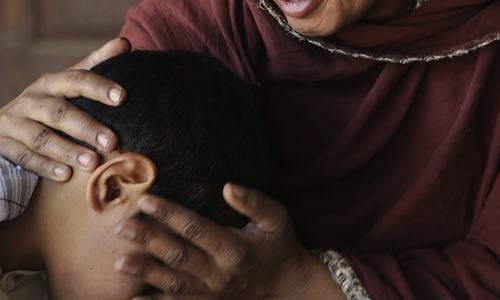 TAXILA: A schoolteacher was suspended and booked for beating a five-year-old student at school on Wednesday.
Sources said the victim was a student of Government High School No.2. He was subjected to corporal punishment that left him with bruises on his face and other parts of his body.
His mother informed his uncle, Mohammad Qasim, about the incident after he returned home from school crying. Mr Qasim then lodged a complaint with the local police station.
Mr Qasim said that incidents of corporal punishments were in continuing to take place at educational institutions in the rural areas, despite anti-corporal punishments slogans introduced by the Punjab education department under the last government.
District Education Authority CEO Dr Javed Iqbal said a committee headed by the secondary education district officer was formed soon after the case came to the notice of the education authorities.
The committee found the teacher guilty of corporal punishment and suspended him, he said, and further departmental action has been initiated under the Punjab Employees' Efficiency, Discipline and Accountability Act.
He said that teacher reconciled with the family of the victim with the help of elders and influential local residents.
Dr Iqbal said there was a zero tolerance policy for corporal punishment in schools and the department itself had become the complainant in the case and registered a case against the teacher in question.
He said the education department registered a criminal case against the teacher under section 328-A of the Pakistan Penal Code, under directions from the Attock deputy commissioner and Hazro assistant commissioner.
Published in Dawn, January 16th, 2020