At Sonya Battla's, sartorial beauty lies in the details. And as one sifts through the neat clothing racks, there are so many tiny details to absorb: swirls of Urdu and Persian script, etching out the verses of Amir Khusrau; block-prints that tell stories of Moenjodaro or pay ode to traditional floral patterns; luxurious velvets in solid tones, set off by a vibrant lining or dainty beadwork; florals reminiscent of Kashmir, with petals that are splayed out in perfect symmetry. The kantha-work nudges shoulders with marorri and dabka, immaculately embroidered with not a stitch out of place. There is an artistry to the design.
But then one expects nothing less from Sonya Battla.
Two decades ago, when she started off her designing career at merely 24, it was this very artisanal take on design that had spurred on Sonya's career. She was touted as the 'new kid on the block' as she spiraled from catering to her first few customers from her home to setting up shop in Zamzama in Karachi, an area that was fast becoming the city's 'it'-most destination.
"I opened my store at a time when many other veteran designers were closing shop and resuming operating from home," Sonya recalls. "And I think that my customer-base grew from word-of-mouth. I liked to do things differently and people noticed this and began coming to me."
After two decades in the fashion industry, Sonya Battla can be quite poetic when it comes to describing the intricacies that lie within bona fide design
I'm meeting Sonya in her present store, located on Karachi's E-Street — the city's current 'it' area. Many of her peers from her early days have long since changed tack, opting to churn out commercial ready-to-wear or delving towards wedding-wear 'on a budget'. But at Sonya's, design is still distinctive, even if this means limited quantities and higher prices. Quality control is optimal — and mastering the right silhouette, a prerequisite.
The poetry to design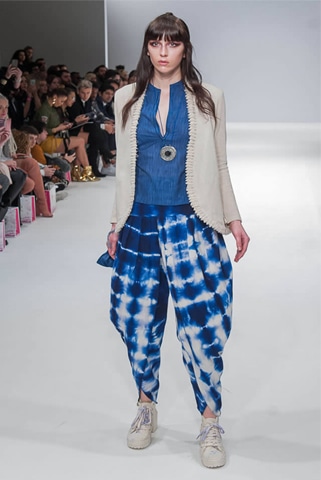 Holding up a cotton shirt, she explains how the hem needs to be stitched by hand for the shirt to fall correctly. A sewing machine can't achieve the same neatness, she insists. Sonya, in fact, can be quite poetic when it comes to describing the intricacies that lie within bona fide design.
"The process of hand-weaving fabric is soulful," she says during the course of our conversation. "It's the ultimate luxury." Some of these very luxurious fabrics are available in her store, stitched into statement tunics. Similarly, the hand-dyeing of fabric is 'an art'. "There are so many technicalities just so the right sheen can be achieved," she explains.
She is, of course, a stickler for hand embroideries. "Machine embroidery can also be very beautiful if it is done carefully," she says, "but that hikes prices."
In these economically difficult times, is business still doing well despite these hiked prices? "I think that, over the years, I have built a loyal customer-base that is appreciative of my way of designing and my ethics. But it has been hard and it continues to be hard — to get potential customers to understand the value of staying true to a certain quality and to get the people who work for me to realise that originality is important. Many new designers come to work for me, thinking that it is okay to plagiarise. It takes time to train them in my way of working."
She continues: "The customers who come to me, and who have always come to me, are discerning. I'm a minimalist, even a fully-worked bridal created by me will never be in-your-face. Not everyone likes that. I know that people who like flashy designer-wear won't want to come to me."
The process of hand-weaving fabric is soulful," she says during the course of our conversation. "It's the ultimate luxury." Some of these very luxurious fabrics are available in her store, stitched into statement tunics. Similarly, the hand-dyeing of fabric is 'an art'. "There are so many technicalities just so the right sheen can be achieved," she explains.
Have shoots featuring celebrities and celebrity showstoppers helped draw in more customers? She thinks about this. "Celebrity endorsements help because I feel that we are living in a time where personal confidence levels are generally low. People feel included when they wear a design that has been trending because a popular star has worn it. Also, celebrities are generally good-looking and carry clothes well. They have a repertoire of work that says something about them, and a designer knows whether they connect well with the brand image."
Creative heydays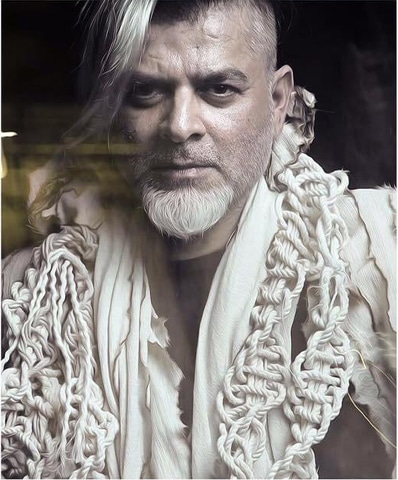 Nevertheless, Sonya's marketing strategies have never relied entirely on celebrity imagery. More than anything else, her designs have always been the real stars in a fashion shoot. She recalls her first fashion cover, for a popular glossy in the late '90s, shortly before she opened her store. "I was in a supermarket and the editor of the magazine saw me there and asked me if I was Sonya. She had seen a design of mine and wanted to purchase it. She was also planning a shoot with Nabila at that time, and Nabila has always been someone who appreciates fashion. Somehow, my designs were incorporated into that shoot. I told Nabila that I didn't want her to slather the model with too much make-up and she agreed. I also wanted an offbeat look, a modern-looking model with Elvis-hair. Nabila suggested Tanya Shafi and suddenly, my designs were on the cover.
"I was lucky that way but, to give me credit, I was also constantly trying to do something new. I created hybrids of the kurta, the shalwar, the straight shirt and I just kept experimenting. It was so exciting, setting the pace of fashion back then. For the first three or four years after opening my shop, I planned a show at least once a year. Sometimes it would just be a small meet-and-greet in my store. The models would wear the designs and mingle amongst the crowd, and we would serve food from Okra, which was right next door. I remember that Amean J. once created a video of my craftsmen at work and we just projected it on the walls outside my store."
She also took part in a plethora of shows across the country as well as abroad. Her first ever fashion show, prior to her store opening, was in collaboration with a major French perfume that was spreading its feelers into Pakistan. "They wanted to showcase designs that traced Pakistan's sartorial history from Jinnah's time to the present," describes Sonya. "Vinnie came out dressed wearing monocles and a striped suit. This was in 1998. The following year, architect Zain Mustafa was planning a show in Mauritius and he got me on board. I showcased a collection that was intrinsically Pakistani but was also reminiscent of water. At the first ever fashion week in Pakistan, Fashion Pakistan Week in Karachi, planned out by Rizwan Beyg and Ayesha Tammy Haq, I opened the event. An image from my show was printed in The Telegraph, UK!
"It is only in hindsight that I feel proud of all these achievements over the years. Back then, I was just thinking ahead to what my next project would be."
Her early years in designing were also distinguished by many awards, including Lux Style Awards trophies. "Appreciation always matters," she says, "and I won quite a few awards in the first decade of my career. Not so much in the second decade."
Why does she think that this is the case? "I think that it's quite understandable. A designer gets awarded when he or she offers something different but once you've done that, the next trophy is bound to go to someone new who has a new design philosophy."
I point out that often new designers aren't awards winners. In fact, certain veteran labels continue to win year after year. She mulls over this. "Perhaps some awards are also dependent on networking…" she muses, "It doesn't matter."
Are industry politics the reason why she hasn't been part of a fashion week in recent times? "Not really," says Sonya, "I would love to be part of a fashion week, if only I get invited to show. I also prefer it if my collection is showcased on a catwalk that features other exciting designers. Certain standards need to be upheld. I don't want to place my designs with brands that are uninspiring or are dependent on plagiarism.
"You know, there was a time when I would get irritated by industry politics or angry when someone plagiarised my work. Now, I have mellowed down. I have learnt so much in these two decades and I'm excited to discover what comes next."
What does come next, I ask her. "I'm considering expanding my business so that there is more stock in this store. Perhaps I will bring back my high-street label Kaju. I wouldn't mind extending my repertoire by being the creative head of a high-street label. I now understand what customers want, what a market needs. I think that it would be exciting to diversify and cater to two different markets, one for my own label and one for the mass market that shops at the high-street."
In the near future, Sonya is also planning out a celebration to commemorate completing two decades in the rocky business of Pakistani fashion. "I could create archival installations. I have my samples from the past 20 years. I could place them on mannequins. Or I could plan out a show."
Knowing Sonya, it's bound to be an artistic experience. As we wrap up, I recall one of her shows, in collaboration with jeweller Kiran Aman, staged in Karachi's planetarium. Surrounded by a starlit sky, Sonya's designs had been reminiscent of celestial bodies, floating out on models or simply hanging from the ceiling. In another show, Identity, she had started off sartorial conversations with fantastical structured clothing created in collaboration with textile and visual art students from Karachi University.
That's typically Sonya — paving her own path, far from the madding crowd of sellable but mundane design. She knows how to do it well too. After all, 20 years is a lot of experience.
Published in Dawn, ICON, January 5th, 2020