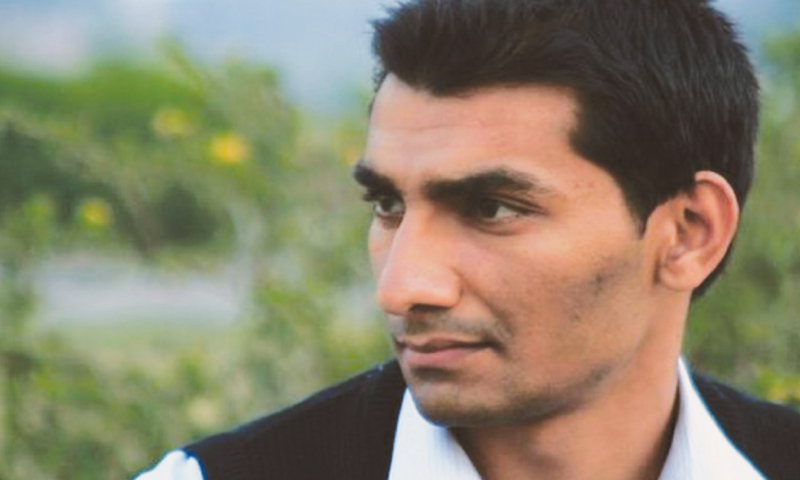 A district and sessions court in Multan on Saturday sentenced Junaid Hafeez, a former university lecturer, to death on blasphemy charges.
Formerly a visiting lecturer at the Department of English Literature of the Bahauddin Zakariya University (BZU), Multan, Hafeez was booked on blasphemy charges and was arrested by police on March 13, 2013. The trial of the case started in 2014.
According to Amnesty International, Hafeez, who was also in the process of getting a graduate degree in English Literature, was charged with blasphemy over Facebook uploads.
Read: The untold story of Pakistan's blasphemy law
Additional Sessions Judge Kashif Qayyum sentenced Hafeez to death and a fine of Rs0.5 million under Section 295-C of the Pakistan Penal Code (PPC); in case of default he will undergo further imprisonment of six months.
He was also sentenced to life imprisonment under Section 295-B, and 10 years' rigorous imprisonment and a fine of Rs100,000 under Section 295-A of the PPC.
According to the court's short judgement, "All the sentences shall run consecutively and the accused would not be entitled to the benefit of Section 382-B CrPC because in case of blasphemer, this court has got no circumstance for taking [a] lenient view and it is also not permitted in Islam."
Under Section 382-B of the Criminal Procedure Code, the period of detention of a prisoner has to be considered in the prison term when a person is convicted by a trial court.
The defence attorney told the Associated Press his client was wrongly convicted and that the verdict would be appealed.
Hafeez has been lodged in the high-security ward number 2 of New Central Jail Multan.
His previous lawyer, Rashid Rehman, was shot dead in May 2014 in his office. At least seven judges were transferred through the course of Hafeez's case.
The testimonies of a total of 15 witnesses were recorded in the case, the trial of which was shifted to the Multan Central Jail in April 2014 by the provincial home department due to security concerns.
Examine: A living hell
Prosecutor Athar Bukhari said Hafeez had spent three years in the United States under a special programme for Pakistani educators.
The prosecutor said investigators retrieved anti-religions material from Hafeez's laptop after his arrest.
The academic's parents had earlier this year appealed to former chief justice Asif Saeed Khosa to look into their son's case. They sought justice for their son, fearing for his mental and physical health.
They had said their son had been languishing in solitary confinement in a cell of the Central Jail, Multan, for the last six years on the false charge of blasphemy.
"Due to transfer of many judges, delaying tactics of prosecution witnesses, and difficulties finding adequate legal counsel for the defence because of the sensitive nature of the case, our son continues to await justice in a fabricated case," Hafeez's parents had said in a written appeal to the chief justice.
'Unfortunate verdict'
Hafeez's family and counsels in a statement said today's was "an unfortunate verdict which has less to do with the legal merits of the case and more with the sociopolitical environment in which the lower judiciary operates and for which no one seems to care".
"The prospect of Hafeez getting even a semblance of fair trial came into question when his counsel Rashid Rehman was brutally murdered inside his chambers. Those involved in the murder were never apprehended. Rehman's murder resulted in a wave of fear, putting off other lawyers from taking up his defence. The failure to apprehend those who shot Rehman dead signalled impunity for other would-be vigilantes," the statement said.
"Could any judge in such circumstances take the risk of doing justice? Those who could were transferred from the district or brought under pressure by groups of lawyers operating as mafias."
The statement said Hafeez has already spent over six years in solitary confinement prior to conviction "which amounts in itself to cruel and inhuman punishment".
"We feel the case was wholly unnecessarily prolonged defying all legal norms. Seven judges were transferred in six years of the trial," it added.
The statement said an appeal against the verdict will soon be filed in the high court, and that it was hoped that "justice will be served without delay".
How it began
Junaid bid farewell to studying medicine at the King Edward Medical College after his first year of MBBS and entered BZU to pursue a degree in English literature, according to a Dawn report.
At the BZU, he stood first, shattering a 38-year-old record by scoring a 3.99 GPA in BA Honours.
Junaid was one of five Pakistani students selected under the Fulbright Scholarship Programme to complete their Masters from the United States.
Related: Junaid Hafeez: condemned forever?
Junaid proceeded to Jackson State University, where he studied American literature, photography and theatre.
After returning home, he rejoined the BZU's literature department, this time as a lecturer. Despite the conservative environment on campus, Junaid found secular space and academic freedom in the department, which was headed at the time by Shirin Zubair.
Junaid would often invite women-rights activists on campus to deliver guest lectures and engage with students.
One of those was Qaisra Shahraz, who penned the award-winning PTV drama serial Dil he to hai. At her guest lecture at BZU, which was arranged after securing permission from the university's vice chancellor, some students accused Hafeez and Shahraz of having passed blasphemous remarks. Later, Junaid was also charged with 'supporting' the themes in Shahraz's novels.
The blasphemy allegations put Junaid behind bars while Zubair had to flee Pakistan.
One of the witnesses later produced by the prosecution to testify against Junaid reiterated the same accusations that were levelled at them back in BZU. Junaid's lawyer brought Shahraz's books to court and asked the witness to pinpoint the blasphemous content to the judge. The witness couldn't — he could neither read nor understand English.
When the Multan police registered a case against Junaid, they did so based on some printouts of offensive material attributed to Junaid, which the defence attorney believes was doctored. Junaid was arrested from Lahore and brought back to Multan. Later, he was shifted to Sahiwal jail. His computer was seized and the police forced him to reveal his login details — without any court order and due process as required under the law.
The Multan police subsequently interpreted the content and decided what was blasphemous and what was not.
Blasphemy in Pakistan
Blasphemy is a hugely sensitive issue in Pakistan, with even unproven allegations often prompting mob violence. Anyone convicted, or even just accused, of insulting Islam, risks a violent and bloody death at the hands of vigilantes.
Rights groups have said the blasphemy laws are routinely abused to seek vengeance and settle personal scores.
In 2017, a mob in Abdul Wali Khan University Mardan beat up a student, Mashal Khan, to death after accusing him of blasphemy over social media.
Meanwhile, last year, the Supreme Court acquitted Aasia Bibi, a Christian woman earlier condemned to death on blasphemy charges, after accepting her appeal against her sentence. So far, no one has been executed for blasphemy in the country.