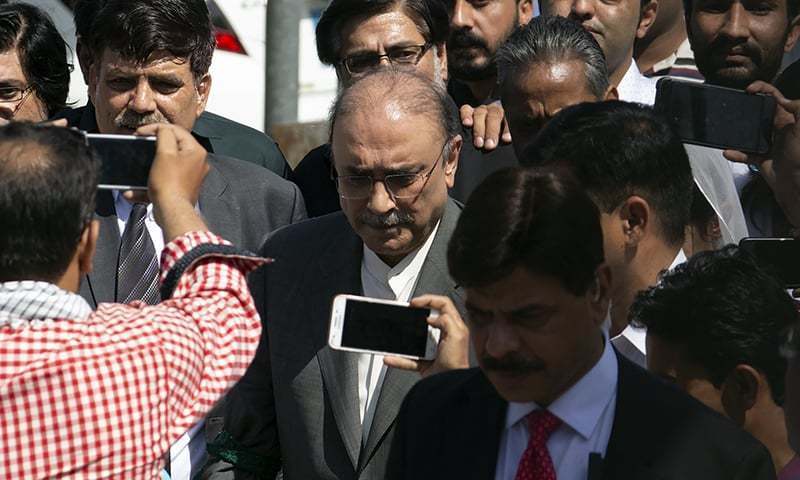 ISLAMABAD: After the dramatic departure of former prime minister Nawaz Sharif to London for medical treatment, the Pakistan Peoples Party (PPP) has also initiated efforts to seek some kind of a relief for ailing former president Asif Ali Zardari who is currently undergoing treatment at Islamabad's premier public sector hospital.
Though various PPP leaders, including party chairman Bilawal Bhutto-Zardari, for the past many days have been expressing their concerns over the deteriorating health of Mr Zardari, the party has recently started demanding that the personal physician of the former president be included in the medical board formed by the government.
PPP co-chairman Asif Zardari was shifted to the Pakistan Institute of Medical Sciences (PIMS) last month after the medical board recommended that he was suffering from cardiac problem, diabetes and other ailments and needed medical care.
The PPP leaders in their official statements have not been making any comparison with Mr Sharif, who was provided the facility of being examined by his personal doctor, but in private conversations they are found to be complaining of the discriminatory treatment.
A senior PPP leader told Dawn that after Mr Zardari's refusal to submit an application for his bail, the party leaders launched a campaign to highlight his case which was different from that of Mr Sharif as the former president was not a convicted person and all cases against him were only at the investigation stage.
He said the party leaders also took up the issue at the party's core committee meeting last week and decided to launch a media campaign after the departure of Mr Sharif to build up political pressure on the government to seek a similar relief.
In a statement issued on Thursday, PPP secretary information and MNA Dr Nafisa Shah expressed concern over the "information provided by a source from the hospital" regarding Mr Zardari's health, saying if anything happens to the former president then "[Prime Minister] Imran Khan is to be blamed".
Dr Shah alleged that Mr Zardari's personal doctors were deliberately not being given access to him and, according to media sources, the government doctors had advised immediate angiography for him.
The PPP leader said the government doctors were concerned about Mr Zardari's health, but "the selected government is toying with his life and has proved how insensitive it is through its conduct".
When contacted, PPP general secretary Farhat­ullah Babar refuted the impression that the party wanted to seek relief for Mr Zardari like the one provided to Nawaz Sharif. He said that unlike Mr Sharif, Mr Zardari was not a convicted man and had not even applied for a bail.
Mr Babar, however, said that following the example of Mr Sharif, the government should at least allow Mr Zardari to have access to his personal physicians, including Dr Asim Hussain.
Published in Dawn, November 22nd, 2019