November 04, 2019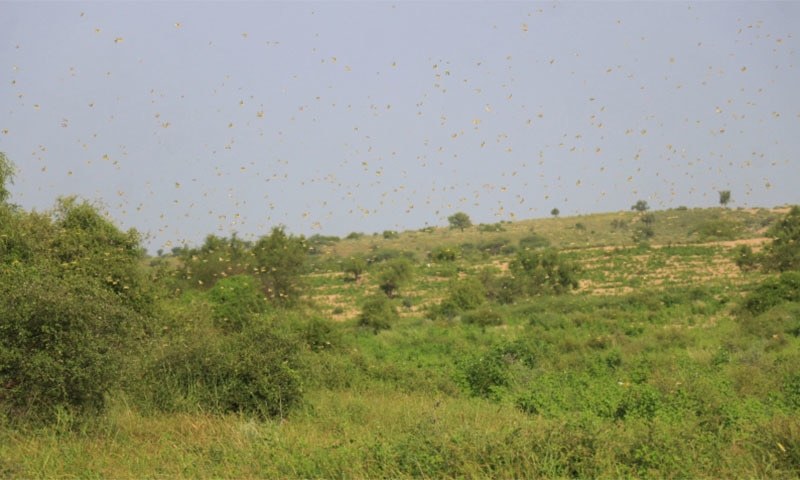 RAHIM YAR KHAN: The locusts in the desert areas could not be eliminated soon after the onset of attack due to use of expired pesticide (malathion) Ultra Low Volume (ULV) which was in the stock of the Directorate of Locusts Control (DLC), Islamabad, sources told Dawn.
They said the efficacy of fresh pesticide would have been far more than the one used by the officials. The spray was done through plane and vehicle mounted machines. The danger of locusts attack on the crops had eventually been reduced because its breeding season had ended with the start of winter and it is migrating towards coastal areas of the north, they said. Speaking on the issue of recent locusts attack, Director General Agriculture Pest Control Punjab Syed Zafaryab Haider told Dawn that the newborn insect did more damage to the crops than that was done by mature locusts. He said the last time locusts appeared in the desert areas of Bahawalpur division was in 1997 and it did not reappear for more than two decades.
"Basically locust is an insect of desert. Initially, it started its journey from African countries and later travelling from Yemen, Saudi Arabia and Iran, it entered the coastal areas of Balochistan in March and then it started breeding. After its breeding season it entered Nara desert in Khairpur district of Sindh in April 2019.
"By the end of June, locusts entered some areas of RYK desert (Cholistan) and the Food and Agriculture Organization (FAO) of the UNO organised a workshop of the stakeholders of three provinces for awareness," said Mr Haider who came here to check the recent complaints of locusts attacks in the district.
He said Punjab Agriculture Secretary Dr Wasif Khurshid wrote a letter to the federal government to combat the insect. "The DLC which works under the Ministry of Food Security and Research provided 35,000 litres of Malathion ULV which was in very low quantity and quality in July last. In August 2019, two aircraft were also sent by the federal government for aerial spray. Later, the Punjab government requested the pesticides firms who donated 17,000 litres of pesticide.
The Punjab government in August provided funds for emergency purchase of Malathion and 10,000 litres of it was imported from China to control the locusts in RYK and Bahawalpur. After that 12,200 litre were added to the stock in September and last month, the DLC placed order for 100,000 litre fresh malathion for precautionary measures, he said.
Published in Dawn, November 4th, 2019