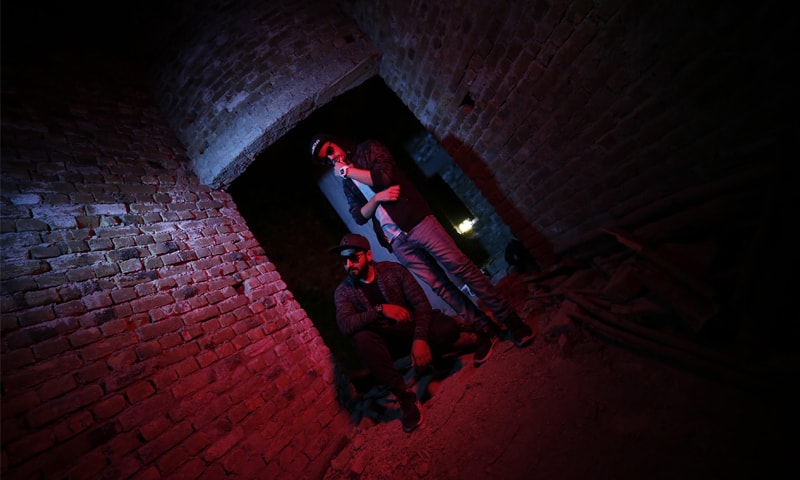 "People think that we're dead or lost, right?
But we're still alive and vibing, people are just bluffing."
That is how Mustafa Kamal Khan opens Fortitude's latest song, Era of Pushto. These are of course, translated lyrics, but they reference the band resurfacing in the music scene after a hiatus of a few years. The song is layered over a fully-animated video which carries subtitles and translations of the lyrics.
Fortitude is a three-member Pashto rap act composed of Mustafa Kamal Khan and brothers Shumail and Shahkar Alam Khan. Their previous releases include Pukhtoon Core, Time Pass, So Fly and Lewani. They've been around for almost a decade and have amassed a dedicated following in Pakistan and among Pashto-speaking communities around the world.
With Mustafa's rapping, Era of Pushto, opens like a storm. His style has always been to come on strong and intense. And that intensity is intermittently tempered by Shahkar's slower, melodic delivery. The production, even more so than before, is impeccable. It should be — the band now has more than a decade of consistently producing and releasing music under its belt.
Mustafa, who is often credited as having pioneered Pashto rap in Pakistan, took some time out for a chat with Icon about the song and the plans the trio has for the future.
Era of Pushto marks the return of Fortitude on Pakistan's rap scene
Why was the band so quiet for the past few years? Where did everyone go?
Mustafa Kamal Khan: Well, we never really left, we've been working together on tracks every now and then. It's just that, in 2015, I moved to Australia to pursue my career in finance, then the boys got busy in their postgrad studies and work, which slowed our whole process, but we still released an audio track once in a while.
Looking at the video, I can't help but notice how everyone's suddenly grown up. It gives the impression that a lot of time has passed. How did it feel reconnecting on this?
MKK: It always feels good to be back on the mic and writing stuff. A little known fact about this track [Era Of Pushto] is that my part was recorded and done two years ago and, whenever we showed it to our family and friends, they enjoyed it a lot. So, Shumail [Alam Khan] finally finished the track this year for the official release and, with some creative animation, we got an excellent response.
It's a great feeling indeed, but this time, I'm going to write more in Pashto and try to bring more awareness about Pashto hip hop in our community back home.
Who directed and animated the video?
MKK: Shahkar and Shumail made the animation video and it was entirely our own concept. The animated video took almost three months and it was our first try but we were motivated because we've always wanted an animated music video. Back then we never found someone or the time do it right but, thankfully, it all came together this year. Since we also love to draw and paint, it wasn't much of an obstacle once we got going. More exciting things coming soon. Watch this space.
Meanwhile, has the Pashto pop/rap/alternative music scene seen any other major acts break through? Do you have any favourites?
MKK: Well there's a lot of talent in the Pashto music scene but, personally, we've felt like there isn't much harmony amongst the artists. But we still have hope to see positivity in the future as there is no dearth of talent here.
The Pashto rap scene though has still some way to go. Our aim is to make it more and more relatable. That's why myself and Shahkar are focusing now on stories and lines that are relatable. So far, the last two tracks [i.e. Outrageous by Fortitude featuring Rap Demon and Era of Pushto] have had fans around the world making over 15,000 plus TikTok videos on our lyrics.
What are you planning on releasing next?
MKK: The year 2019 has been our comeback year of sorts. We've released three major music videos and two audio tracks. We want to keep making more music in 2020 as well, so right now we've some new and exciting releases in the pipeline, which also involve some collaborations with other talented artists as well. And we plan to release them very soon in the coming months.
Published in Dawn, ICON, October 20th, 2019