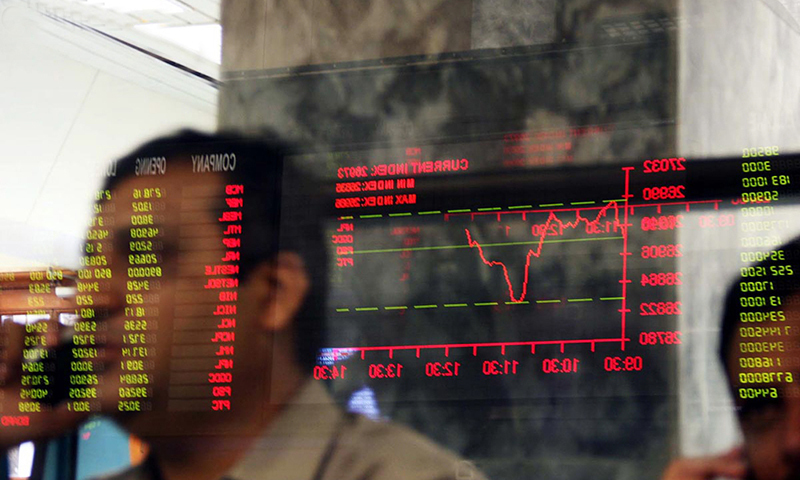 KARACHI: The stock market extended its rally into the last session of the week with the KSE-100 index gaining 447.99 points (1.32 per cent) on Friday and settling at 34,475.
Although the index pulled back a little from the intraday high of 662 points, many pundits were surprised by the investors' insatiable appetite for stocks. The market displayed traded value at Rs10.6 billion - highest to date in 2019.
The market upside was underpinned by a sharp drop in 10-year Pakistan Investment Bond yields in the secondary market this week (from 12.03pc to 11.34pc) which raised investors' optimism of softening of interest rates in the upcoming monetary policy.
Moreover, the Financial Action Task Force meeting is scheduled to take up the Pakistan case on 14th and 15th where the country is expected to avoid the fall into "black list". Mid of the current month would also see several corporates announcing financial results, which also had the market trade, largely in positive direction.
During the session, the news of Iranian oil tanker explosion had international crude oil prices spike resulting positively on the exploration and production sector.
Among participants, mutual funds were the major buyers of stocks worth $2.43 million while individuals who have been at the forefront of the current rally decided to take profit with sale of shares at $2.78m as weakest holders were unwilling to carry positions over the weekend. The volume rose 10pc over the earlier day to 287m shares. Banking added the most at 170 points with Meezan closing near its upper circuit while Habib and United were also gainers.
Scrip-wise, bulk of gains were contributed by Habib Bank, higher by 3.58pc, United Bank 1.91pc, Meezan Bank 4.63pc, Bank Alfalah 1.90pc, Bank Al Habib 1.13pc, Oil and Gas Develo­pment Company 2.03pc, Mari Petroleum 4.78pc, Pakistan Oilfields 1.78pc, Pakistan State Oil 1.23pc and Lucky Cement 2.75pc.
Published in Dawn, October 12th, 2019