September 23, 2019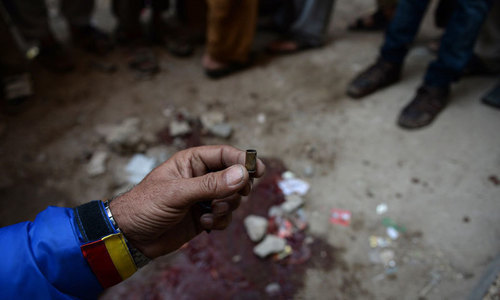 KARACHI: A man was shot dead while his sister wounded in suspected targeted killing in Gulistan-i-Jauhar early on Sunday morning, said police.
The family was travelling in a car when armed motorcyclists opened fire on them in Block-12 near Kamran Chowrangi, said area SHO Chaudhry Shahid. Mohammed Salman, 41, and his sister, Maria, 47, sustained bullet wounds and were taken to a nearby private hospital, where doctors pronounced the former dead on arrival.
He sustained a bullet wound on his back. His sister received wounds on her shoulder and hand. Her condition was stated to be out of danger. The police said that other family members remained safe in the attack.
The SHO added that the family did not get his post-mortem examination carried out and took away the body without allowing the investigators to fulfil legal formalities.
His funeral prayer was held in Jamia Darul Khair in Gulistan-i-Jauhar and he was buried in the Block-19 graveyard.
The victim, a resident of Block-15 in the same area, worked as a real estate agent.
"It appears to be a targeted killing incident," said DIG-East Amir Farooqi, adding that there was no act of stopping them or demanding anything from them. The armed motorcyclists sprayed the vehicle with bullets, he added.
"The motive is not yet clear but it is not sectarian," said the DIG.
Meanwhile, Jamiat Ulema-i-Islam-Samiul Haq Sindh leader Haifz Ahmed Ali told Dawn that the victim, Salman, was a nephew of religious scholar Maulana Asad Deobandi, who had remained chairman of the Sindh Zakat and Ushr committee in the past.
He demanded arrest of the killers.
Published in Dawn, September 23rd, 2019