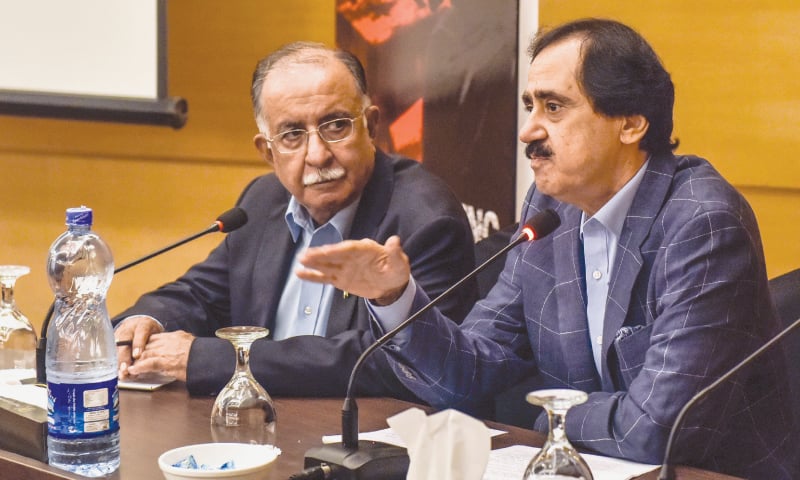 KARACHI: Walking between graves, stumbling and falling over them in a graveyard where his father happened to be buried, too, investigative journalist Wajahat S. Khan realised how crowded the place had become in the 30 years since he had last been there. "We don't even care about the dead here," he was heard saying in the independent investigative documentary Graveyard Inc., which came about as a result of his experiences with personal tragedies. "When the citizens of Karachi are at their most vulnerable, they are exploited by the mafias," he said.
The issues raised by the documentary saw social activists, lawyers and folks representing religious minorities air their concerns about the right to dignity of a decent burial, in the shape of a panel discussion held at a hotel here on Saturday.
Amber Alibhai, general secretary of Shehri-Citizens for a Better Environ­ment, who was also moderating the discussion, said that it was sad how people were made to pay extra to bury their loved ones while grieving their loss. "And to complete the burial process, we compromise with the bad elements," she said.
Panel discussion held on investigative documentary Graveyard Inc
Graveyard Inc. unearthed some thought-provoking and sad realities. It had the mayor of Karachi saying that it may seem that the city's graveyards were under his control, but many of them were actually being run by parallel mafias who bury people vertically, on top of one another while desecrating old graves, even after a graveyard had been closed. People had been forced to pay huge amounts while making a deal with these mafias. And many of them, who are unable to afford it, are still repaying the debt as they had taken loans to bury their dead. It also showed private graveyards, like the Mohammad Shah Graveyard, and the military is converting amenity plots reserved for graveyards for commercial ventures.
Public interest litigator Shahab Usto with whose help Wajahat filed a constitutional petition with the Sindh High Court to take a holistic view of graveyard issues in Karachi, including encroachments on the conversion of graveyard lands into commercial and housing projects, asked whether it was human dignity to approach the court of law due to denial of getting your basic rights such as the right to getting clean water or the right to clean sanitation and sewerage. "Courts are set up to deal with advanced issues but sadly the governments here have made getting our basic rights into an issue thanks to their uncaring nature," he said.
Civil rights activist Nazim Haji said that the people should hold the elected representatives responsible for these things. "Ask the electoral representatives, ask the bureaucrats about their responsibilities to the people and ask them why things are the way they are and implementation of laws does not happen here," he said. "If they don't know how to go about things, then we can prepare proposals for them. Remind them that even if they don't respect the living, they should at least respect the dead," he added.
Representing the Hindu community in Karachi, Ravi Dawani, secretary general of the All Pakistan Hindu Panchayat, said that the 500-year-old shamshanghat in Karachi was originally 25 acres in size but after it being used for burials also, as many poor Hindus who could not afford wood for cremation buried their dead there, only one-16th of it is in use for cremation now. "Meanwhile, we have witnessed stray dogs digging out the dead and eating them. There are also about 750,000 Hindus in Karachi now and we have asked the chief minister to provide us with land for a temple and a new cremation ground in Malir, DHA or Clifton," he said, adding that their community was facing much hardship because of the issue.
Lawyer and social activist Gibran Nasir said that the actual issue the way he saw it was the issue of personal mindsets. "They are exploiting us because we are also letting them do so. Such things happen when people become complacent and when people look for shortcuts," he said.
About the government representatives who are doing nothing about graveyards and the issues faced by people while burying their dead, he said that it was because they felt it was a waste of time. "The dead cannot vote after all. If they could, you would have seen all development taking place in graveyards alone," he concluded.
Published in Dawn, August 26th, 2019