When I was a kid, I always imagined and made stories of finger-sized living things, be it animals or humans. The thought of miniature creatures made me giggle as I often wondered about them
co-existing somewhere on earth and this made me so excited to see them some day. But as I grew older, the truth that such creatures only existed in sci-fi/fantasy movies and stories dawned upon me.
While finger-sized humans do exist in fiction, we can still speculate that maybe some other planet in another galaxy hosts them. So for the time being, let's leave the 'tiny human' idea to fiction/fantasy writers and focus on tiny animals that in reality do exist on this beautiful earth.
Yes, there are miniature animals in real and not the result of science experiments. Let's take a look at the miniature world of adorable animal species.
Slow loris
Okay, this fellow, with its bulging wet eyes, will give you an impression of someone scared and timid, but this fellow is quite the opposite of the impression you are taking.
Slow loris is among the 'vulnerable to extinction' animals due to its habitat destruction, being hunted for medicinal purpose and for pet trade. Slow loris is a hand-sized, six- to ten-inch critter, weighing not more than 2lbs.
The specie doesn't have a tail, but its thumbs are apposable so they climb the trees very easily. Slow loris is famous for its toxic bite. Yes, they have sharp teeth!
Pygmy chameleon
Chameleons are best known for their ability to change colour, but not all chameleons have this ability. They have eyes which can simultaneously move in two different directions, at once. Yes, this gives them a panoramic view of their surroundings.
There are over 150 species of chameleons, three of which are the smallest or pygmy chameleons, namely the bearded, spectral and pitted pygmy chameleons. These three pygmy chameleons have an adult length of 3-3.5 inches (8-9cm), but other species can be as small as 1 inch (2.5cm).
When they are scared or make an attempt to intimidate other chameleons, predators or even an insect bothering them, these tiny chameleons vibrate or buzz. Pygmy chameleons have short lifespan of only one-three years.
Pygmy hippopotamus
Pygmy hippos are native to swamps of West Africa, they are reclusive and nocturnal. They are half the size of a normal hippopotamus.
An adult pygmy hippo stands between 2.46 -3.28ft high at the shoulder and weighs 180-275kg, compared to their larger cousins that are somewhere between 1300kg to 1800kg, and stand at 4.9ft at shoulder. Their life span is 35 years.
Pygmy marmoset
Somehow, this little marmoset meets my imagination as it is the size of a finger. They are 10 to 14cm tall and weigh just 100gms. These cute fellows are also called finger monkeys or pocket monkeys, as they fit easily in your pocket.
Found in the western Amazon basin, the average lifespan of a finger monkey is 12 years. The marmoset has very sharp nails and teeth, and with the former it clings on a tree and its branches, while it uses the later to feed on insects, fruits, nectar and tree gum.
Pygmy owls (of the genus glaucidium)
Pygmy owls are members of the genus glaucidium. They belong to the typical owl family, strigidae.
The genus consists of about 31 to 35 species distributed worldwide. The exact number of species is somewhat disputed. These are mostly small owls, and some of the species are called 'owlets'.
Some specie from the pygmy genus, for instance, pearl-spotted or glaucidium perlatum owl, have an extra pair of eyes on its back… sounds creepy right? Well, not eyes really, as these extra pair of 'eyes' are actually the teardrop shaped spots bordered with white and that's why they look exactly like eyes.
Pygmy possums
Despite their appearance, which makes them resemble the rats or mice family, they are marsupial or pouched mammal and therefore relate to the kangaroo or koalas.
There are five species of pygmy possum, four endemic to Australia and one found in Papua New Guinea and Indonesia. The eastern pygmy possum is only about 2.8 — 3.5 inches long, having a 3 — 4.3 inches long tail.
Meanwhile, the Tasmanian pygmy possum, is the world's smallest possum, weighing in at only about .25oz and growing to only about 2.5 — 3 inches in body length.
Pygmy three-toed sloth
This funny looking, slow, but smart creature is called three-toed sloths (their larger cousins are two-toed). Believe it or not, the three-toed sloth comes first in the list of slowest animals on the face of earth, while you were thinking of the tortoise.
Sloths haven't made any headlines, but this mammal is way smarter than one can imagine. Sloths spend most of their lives upside down on the trees, they only come down once a week when there is a call of nature. Three-toed sloths are endangered species, with less than 100 left in the wild now.
Sloth moves so slow that it takes them about a minute to climb only six to eight feet (1.8 to 2.4 meters). The slow lifestyle of the sloth allows algae to grow on their fur, known as trichophilus. More than half of all sloths harbour this algae, which gives their coarse, brownish-grey coats a greenish hue during the rainy season.
Pygmy seahorse
Can you imagine the size of this seahorse? I doubt, because this teeny tiny creature's length ranges from 1.4 — 2.7cm between the tip of the tail to the end of the snout.
Found in the in the Coral Triangle area, Indonesia, Papua New Guinea, Solomon Islands and Fiji, they easily blend with their surrounding coral and are hard to distinguish. Pygmy seahorse cannot survive in an aquarium even if provided expert care, one of the reasons is their size because these seahorses cannot handle the strong water currents and therefore need a host to stay hooked to.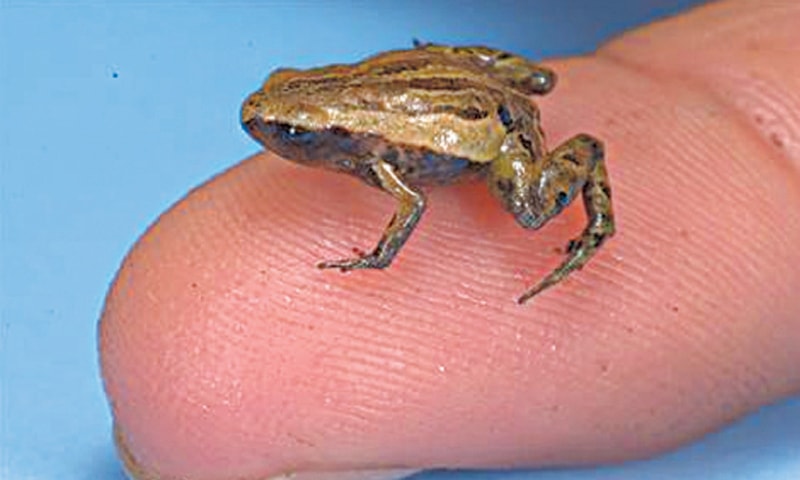 Frog or a housefly?
Yes, you read it right, this teeny tiny frog is the size of a common housefly which can sit on your thumb nail and you doubt it for a housefly.
Discovered in 2010, all the species of the paedophyrne genus are tiny and seem to live solely amid leaf litter on Papua New Guinea's rain forest floor. There are three tiny frog species, of which the largest could comfortably sit on your thumbnail, while the smallest is roughly as long as a paper staple.
The trio has the wittiest names you have ever heard of, such as mini mum, mini scule and mini ature. Aren't they funky?
Tinniest chameleon
Honestly speaking this miniature chameleon doesn't look real at all, but unbelievably, brookesia micra is a species of chameleons from the islet of Nosy Hara in Antsiranana, Madagascar.
As of 14 February 2012, it is still the smallest known chameleon and among the smallest reptiles. In length, adult Brookesia micra can grow up to 29mm (1.1in). Brookesia feed on small insects and rely on their cryptic coloration to evade predators. When disturbed, these chameleons will play dead in an effort to resemble a fallen leaf.
Barbados thread snake
Barbados thread snake is native to the Lesser Antilles, and is only about the size of a quarter when coiled up. At only about 10cm long, it's officially the smallest species of snake known to exist on earth. They're actually so small that they don't have any eyes, making them completely blind. They feast on larvae and termites and they are not venomous.
Bee hummingbird
Hummingbird belongs to the smallest bird species, but the bee hummingbird (mellisuga helenae) is the smallest bird in the world. It was once relatively common throughout the Caribbean, but deforestation and other destruction of habitat have made it very rare, and it's now considered a near-threatened species.
Their primary diet is nectar with the occasional insect (provided that it's small enough of course), and are so tiny that they construct their nest out of bits of moss and spider webs. Their eggs are the size of peas.
---
The list of pygmy animals is endless so here are some more:
Pygmy mongoose or dwarf mongoose: grows not more than eight inches in length;
Pygmy mouse lemur: a tiny primate only about 4.7 — 5.1 inches long, including the tail, found only in an area of Kirindy forest in western Madagascar.
Pygmy shrew: this little fellow is unique in its own way, grows only about 1.4 inches in body length but despite its size, it has an enormous appetite and can eat 1.5 to two times its own body weight in food a day.
Borneo pygmy elephant: found in tropical rainforest habitats in north Borneo, it is estimated there are fewer than 2,000 left.
Pygmy raccoon: a critically endangered species found only on Cozumel Island off the Yucatan peninsula. These tiny creatures are on the verge of extinction, as it is estimated that only around 500 are left in the world now.
Pygmy tarsier: the animal was 'rediscovered' in 2000 after one was accidentally killed in a trap set for rats. Fortunately, in 2008, researchers from Texas A&M University spotted the first living pygmy tarsiers in decades. The four-inch long pygmy tarsiers weigh only about two ounces, and prey entirely on insects.
Pygmy goats (capra hicus): these goats originated in Africa and were first imported into the USA in the 1950s. These dwarf goats have gained popularity as pets, as milk and meat producers, and as inhabitants of many petting zoos over the past 60 years because of their eagerness to interact with children and adults alike.
Pygmy jerboa: Jeroba is considered world's smallest rodent. Its tiny but it jumps to high, when needed it can hop as high as nine feet in a single bound. There are seven species of pygmy jeroba, all belong to the subfamily cardiocraniinae.
Published in Dawn, Young World, August 24th, 2019