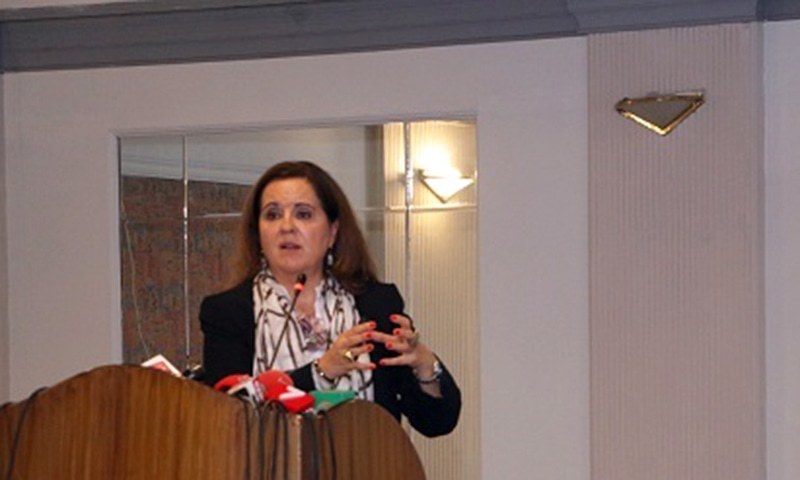 PESHAWAR: Resident Representative of the International Monetary Fund (IMF) in Pakistan Teresa Daban Sanchez has said the failure to get out of the grey list by the Financial Action Task Force could have implications for capital inflows to Pakistan and also jeopardise financing assurances under the programme.
Addressing a seminar on 'IMF Extended Fund Facility Arrangement for Pakistan' at the University of Peshawar on Wednesday, Ms Sanchez said the risks of the FATF grey list and non-compliance of fiscal measures by the government loomed large over the programme.
The university's Economics Department organised the event, which was attended by Vice- Chancellor Dr Mohammad Asif Khan, chairman of the Department of Economics Professor Zilakat Khan Malik, faculty members, and students.
Ms Sanchez said opposition to governance and institutional building by vested interests, fiscal slippages, and absence of majority by the ruling PTI in the Senate could put the programme at risk.
Fund's representative says Pakistan has developed programme for stable economy
"Failure to get out of the grey list by FATF could have implications of capital inflows to Pakistan," she said.
The IMF's resident representative said the main policies envisaged under the IMF supported programme were revenue-based fiscal consolidation, focused on removing exemptions and privileges, greater coordination with provinces, and elimination of quasi fiscal circular debt.
She said the current programme required a market determined and flexible exchange rate and strengthened central bank focused on exchange price stability.
Ms Sanchez said the IMF programme envisaged strengthening of social safety net to protect the most vulnerable segments of society and budget allocation for the Benazir Income Support Programme and conditional cash transfer.
She said Pakistani government had done the spadework to stabilise economy since early 2018, including some exchange rate depreciation, increase in the State Bank of Pakistan policy rate, power and gas tariff adjustments, and securing of sizeable short-term financing from bilateral creditors.
The IMF's resident representative said the government had developed a comprehensive three years programme to stabilise economy and lay the foundation for robust and balanced growth.
About Pakistan's main macro-critical imbalances, she said balancing public deficits and losses in state earned companies in a context of perennial low tax revenues, increasing government barrowing both domestic and international, a high and unsustainable debt level, and interest payments (25 per cent of the government revenue) were major challenges.
Published in Dawn, August 8th, 2019