How a mega city the size of Karachi survives and functions without a dependable public transport service is a riddle that baffles many. Besides the chaos and pain that people endure, the economic cost of insufficient and inefficient public transport is unsustainably high.
As per the World Bank, there should be a 100-seater bus for every 1,500 people. So considering Karachi's population of 14.91 million, there should be 20,448 35-seater minibuses and 5,566 50-seater buses. But the number of buses plying the roads is much less than that.
Most working class people can't afford private vehicles hence they rely on public transport services. However, it is the privately-owned vehicles that dominate the transport services as the Karachi Transport Ittehad is a coalition of privately owned buses, taxis and rickshaws.
Most use buses and mini buses since they are the least expensive mode, with fares now Rs15 for 5km and Rs30 for 10-20km. These are expected to rise further due to increases in fuel prices.
A major problem is that of the overloading of passengers (average of 45 passengers per bus). Over half of the passengers don't even get a place to sit, especially during rush hours (8am to 9:30am and 5pm to 7pm). They are forced to stand in the aisle, hang on the edge of the doors or sit on the roof. This problem is mostly because of the shortage of buses available to meet the massive demand.
Considering the city's population, there should be 20,448 35-seater minibuses and 5,566 50-seater buses, but the numbers available are much less than that
As can be seen from the table, there has been a 57 per cent reduction in the number of buses in 15 years, and it has been so due to either buses being scrapped, converted into loading trucks or having moved out of the city.
Of the original 403 planned bus routes, only 41pc (165) are operational. That's why most passengers have to take more than one bus to get to a certain destination or walk long distances from the bus stop to their main destination. As a result, people either get late for work or sacrifice their comfort to make up for the time they spend in changing buses.
There are numerous behavioural issues observed inside buses. Despite the existence of a partition, sexual harassment takes place with incidents of intentional touching or men taking pictures of women without consent. Pick pockets are also common. Drivers sometimes play vulgar music, especially during the night, creating a sense of uneasiness for some passengers.
Buses don't follow basic safety standards as there are no formal maintenance checks. Many have broken windows, torn seats and missing doors. CNG cylinders are attached underneath front row seats creating hazardous conditions for those sitting there. Buses often race against each other, in the midst of traffic, simply to catch more passengers first. Not only does this cause discomfort to passengers, it also leads to accidents at times.
Alternatives to buses are cabs and rickshaws. While they are more comfortable, their fares are much higher, with an average rickshaw driver charging ten times more than a bus fare. In case of cab drivers, the difference is higher even though the fares can be bargained.
These modes are unaffordable for the lower income groups who on average earn Rs200-250 daily. Ride-hailing services such Careem, Uber and Bykea are the most preferred option by middle-class travellers because of their superior facilities and reasonable fares, relative to the local rickshaws and cabs. They're successful because they fill the gaps that are present in the current transport setup but these services are also unaffordable for most of the labour class.
Karachi Metropolitan Corporation has announced the Transport Master Plan 2030 where six bus transit routes (BRT) have been promised. The routes will cover 95.1km and provide transport to about 350,000 people daily.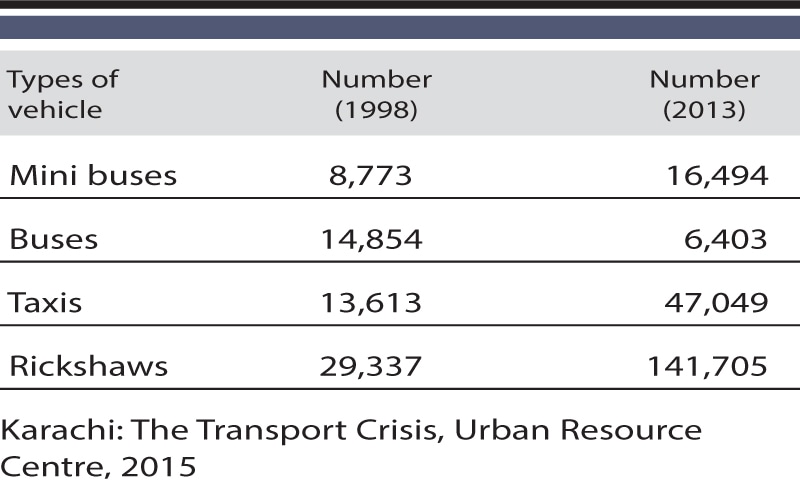 In 2017, the government had also announced the revival of the now defunct Karachi Circular Railway. A 50km track was promised to be built, covering all the industrial and urban areas of the city.
But there have been numerous delays in the progress of each of these projects due to conflicts between the federal and provincial governments.
The Sindh government announced Rs5.2 billion for the development of public transport in this year's budget, which includes financial assistance from the Asian Development Bank and the World Bank for the Red line and Yellow line projects respectively.
"We are well aware of the current problems of the public transport system and that is why we have announced the BRT projects in Karachi. We hope that this will be a positive step towards development" said the Sindh transport minister, Awais Shah Qadri.
"We hope that these upcoming BRT and railway projects are implemented with immediate effect and that they're maintained up to global standards. We expect that these projects would be corruption free, maintain safety standards and help to meet the mammoth demand of the increasing population," commented a student with interest in the urban transport scene.
Published in Dawn, The Business and Finance Weekly, July 15th, 2019
Follow Dawn Business on Twitter, LinkedIn, Instagram and Facebook for insights on business, finance and tech from Pakistan and across the world.