Lucky Again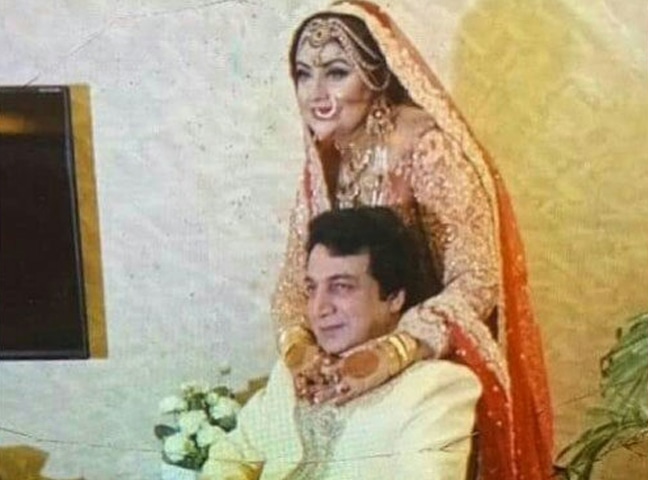 It took many of Punjabi film actress Anjuman's fans by a pleasant surprise when the news of her second marriage at the age of 64 broke last week. She tied the knot on June 17 to Waseem 'Lucky' Ali, a businessman who, it is believed, had been trying to convince her to be his wife after the death of her first husband Mubeen Malik — she has three children from her first marriage. Reports say that Anjuman took 20 million rupees as haq mehr, along with quite a few pricey things including a car and a house. Since Waseem LA has also been a movie producer, chances are that the actress might venture into film production. Well, since money appears to be no hurdle, why not!
Dr Rahat
Congratulations to singer par excellence Rahat Fateh Ali Khan for getting an honorary doctorate from Oxford University. This happened on June 26, when he was awarded the Doctor of Music degree on university premises.
The vocalist was super happy about it, as he should, and called it a "massive achievement." We won't talk about what transpired a couple of days later when actress Sadia Imam claimed that she had penned the lyrics to two of his famous songs, for which she claims she didn't get the credit (a claim debunked by the producers of at least one of the songs), because right now we should be focusing on Rahat FK's academic accomplishment. Dr Sahib won't prescribe anything else at this point in time of his career.
Depp Sues Heard
Two years back, 2017 to be precise, the high-profile Hollywood couple Johnny Depp and Amber Heard finalised their divorce. Things should have been done and dusted then and there. Not to be. The pair had a non-disclosure agreement and Amber H did not pay heed to it by writing a piece in an American newspaper about Johnny D's alleged abusive behaviour.
Now, her former husband has sued her for 50 million dollars (yes, 50 million dollars!), for defaming his character. Wow! This seems to be an unending battle. They're still acting like husband and wife.
Sonam and Fawad
The svelte and extremely fashion-conscious Sonam Kapoor, who many think had her entry into Bollywood nice and easy because she's Anil Kapoor's daughter, has revealed in an interview that, in the initial phase of her career, the leading men of Indian cinema were reluctant to work alongside her. She says she gave auditions for roles that she got in the first few films (starting with Saawariya) and when she was signed up for Khoobsurat (co-produced by her father and sister), no male actor of Bollywood wanted to play second fiddle in a female-centric film.
That's where Fawad Khan, who exuded confidence, said 'yes' to the part opposite her and subsequently became a huge star in India. Soonam K's praise for Fawad K, however, still doesn't change the fact that geo-politics doesn't allow him to work in Bollywood any more.
Vicky's GF
Contrary to what his fans think, Vicky Kaushal has not been single for a long time. Yes, he's kept his relationship under his hat, and the hat appears to be quite deep. He is deeply interested in a South Indian actress Malavika Mohanan (Beyond the Clouds) whom he's known from the time when both were kids.
Insiders say that he often goes to her home to eat South Indian food and even checks in on her when she's busy filming in her native part of the country. Hmmm … let's hope he doesn't completely go south. The north also needs him.
G 'n' R Drummer
This is disturbing. On June 27, drummer of the iconic rock band Guns 'n' Roses, Steven Adler, tried to kill himself at his Los Angeles home. At 6:30 pm, the police received a call that someone had tried to stab himself.
When the police reached the spot, they found Steven A lying there with a 'stab wound to his stomach'. He was immediately taken to a nearby hospital, where his condition was declared out of danger. We wish him swift recovery and pray that whatever demons he's fighting are vanquished.
Published in Dawn, ICON, July 7th, 2019