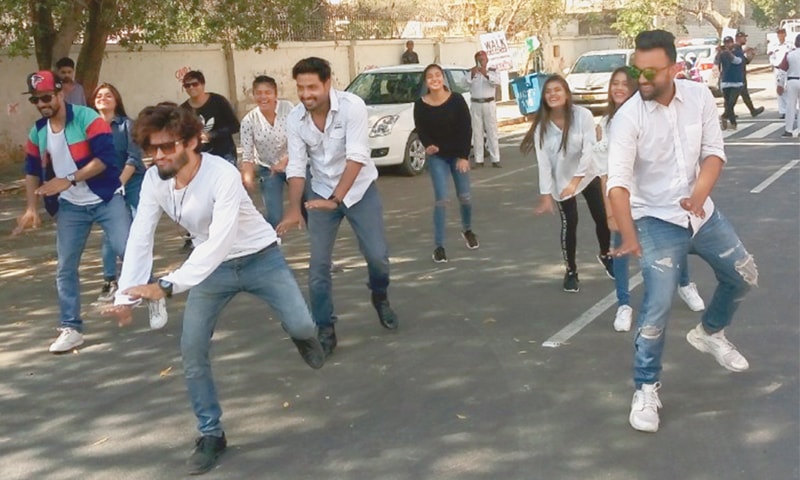 KARACHI: The bright faces from different walks of life, especially the local community, civil society activists, youth and government officials gathering on M.R. Kiyani Road quite early on Sunday morning were up and about for a good cause — a walk for 'Reclaiming Public Spaces' and spreading awareness, organised by the Karachi Neighbourhood Improve­ment Project (KNIP) in collaboration with Thespiaz Theatre which started from the Hindu Gymkhana on M.R. Kiyani Road up to Shaheen Complex and then back to the Arts Council.
KNIP, a World Bank supported initiative of the government of Sindh to enhance public spaces, urban roads infrastructure, mobility, inclusion and access to markets in targeted neighbourhoods of Saddar, Malir and Korangi, also targets to improve the city's capacity to provide selected administrative services.
"Reviving public spaces is an important cause and supporting it is also very important because that is how you mount pressure on the government to keep public spaces clean," said town planner Farhan Anwar.
Architect and CEO of the Heritage Foundation Yasmeen Lari also said that over densification of the city and lack of plants and trees was taking its toll on Karachi. "There are just too many buildings and godowns, leading to traffic congestion here," she said. "The extra construction needs to stop and trees need to be planted for a cool cover and clean air. If the government doesn't seem interested in fixing things, we citizens should start a huge surge of volunteerism to save our public spaces. We need to mobilise young people too to come out because the public needs to be involved here," she added.
President of the Arts Council Ahmed Shah said that he had spent his entire life fighting to reclaim public spaces. "Because it is we the public who must step up and fight stand up to official and unofficial mafias that create such hurdles in our path," he said.
As the people walked there was also a group of young volunteers from the Thespianz Theatre facing them from the other side entertained them with a beautifully choreographed flash mob performance on national songs. Later, everyone happily walked into the Arts Council auditorium to be entertained further with theatre play on a social theme titled Footpath ki Dukaan, directed by Faisal Malik and written by Nouman Mehmood, which examined the hurdles between the public and public spaces, societies and individuals who instead of owning their cities, ruin its beauty and limit its public spaces.
Published in Dawn, May 6th, 2019