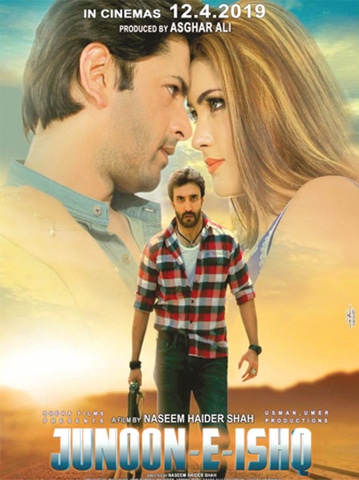 Within the first 10 minutes of Junoon-i-Ishq, whose story is palpitating with junoon (intensity) but not ishq (love), Gulbaz's father (Rashid Mehmood) has had enough. Pouring his heart out to his billionaire boss (Shahid), Gulbaz's father, in a fit of despairing angst, screams that his son is a psycho.
You can't blame the guy.
The not-so-young Gulbaz (Aamir Quraishi), whose music intro includes the wailing of a cat on its death throes, has a problem. He is truly, madly, psychopathically in love with Sahiba (Mahi Khan), the cold-hearted, bitchy daughter of his dad's boss.
Junoon-i-Ishq falls into the "so-bad-it-makes-you-cry-with-laughter" category
It doesn't take us long to realise that Gulbaz and Sahiba are made for each other — even though one is the villain and the other, the movie's heroine. Gulbaz, seeing nothing but red, chops off a ruffian's hand because the man dared to touch his beloved.
Sahiba, who considers herself above everyone, wants nothing to do with Gulbaz. She is a bubbly, happy young woman who loves to sing and dance for the Prince Charming she has yet to meet. When bored, she screams at her servants and runs over poor people ("These filth shouldn't even be allowed to live," she screams after hitting a man with her car in one scene).
Made for each other, right? Wait, it gets better.
Gulbaz is soon thrown in jail with a life sentence because he decapitates a man. Sahiba, as if destined by kismet, finds herself behind bars as well.
Out frolicking at a holiday resort, she is pissed off by Raja (Adnan Khan), a local poultry deliverer, and runs over his widowed sister-in-law. Fleeing the scene of the crime, she leaves her friends behind, drives from Naran to her house in Lahore, where the long arm of the law is already waiting for her (the police had found her address from a restaurant, a female officer says — a restaurant, mind you, and not the hotel she was staying in). The sessions, high and supreme courts all find her guilty.
Sahiba's father strikes a deal with Raja to withdraw the case. In return, Raja demands Sahiba to move into his house so that she can take care of his newborn nephew (the son of his widowed sister-in-law) until he is seven years old.
By this time, we've barely gotten to the "Intervel" (yes, that is what it read on the screen). Screenwriter Wajid Zubairi (writer of The System) doesn't give a hoot about screenwriting conventions. He, instead, overstuffs the plot with story-twists that may go anywhere and end haphazardly. The trait is doubly true for the post-intermission half.
However, what you see on screen is transfixing — albeit in a weird, cringe-worthy way — thanks to director Naseem Haider Shah (a Lollywood director with three decades of experience), and the most amateur ensemble one could cast in a film.
The dialogues and situations are as smutty as the characters' personas. Take, for instance, the item number in the beginning of the movie where a bar dancer (Mahnoor) compares her sensuality with "baara garam masalay" (twelve spices). The song by M. Arshad has the lyrics "Tina ki jawani hai baara garam masalay" and the usual visually discomfiting hip-shaking, and one can't help but look away. Then, in another scene, Raja asks Sahiba to feed the infant child — and the way he says this, makes you do a double-take to reconfirm that you haven't misheard what he said, and then keel over from a fit of uncontrollable laughter.
Junoon-i-Ishq falls into the "so-bad-it-makes-you-cry-with-laughter" category. The cinema hall was in an uproar; pity though that the hall had an audience of only two people — one of them, yours truly.
This, then, is the sad kismet of Junoon-i-Ishq. The trailer's forewarning was enough to push people away, and shows were cancelled for lack of pre-booking. Capri Cinema in Karachi replaced it after the first two days; they didn't even wait for Monday. Nueplex on Rashid Minhas had zero occupancy.
Even though Nueplex has a policy of only running a show if at least 10 tickets are sold, they made an exception for this writer who was duty-bound to review this movie. Kudos to them for taking one for Team Pakistani Cinema — otherwise, I might have missed an agonising, embarrassing experience.
Published in Dawn, ICON, April 21st, 2019