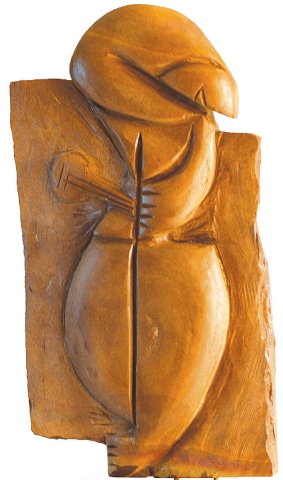 Sculpture offers viewers a challenging approach to art as it expects them to understand that physical form and materials have a voice. In his essay The Sculptor Speaks (1937), Henry Moore points out that "Appreciation of sculpture depends upon the ability to respond to form in three dimensions. That is perhaps why sculpture has been described as the most difficult of all arts; certainly, it is more difficult than the arts which involve appreciation of flat forms, in only two dimensions." He goes on to explain that though viewers may attain considerable accuracy in the perception of flat form, they do not make the further intellectual and emotional effort needed to comprehend form in its full spatial existence.
Moore's observation explains, to a considerable extent, why public appreciation for sculpture lags behind finer arts, like painting, in our milieu. Religious reservations and a dearth of statuary history are other constraints. The fact that sculpture continues to maintain its presence in Pakistan owes much to the commitment of the few dedicated sculptors of the modernist decades whose practices introduced the discipline to the public. Today, contemporary multi and mixed media sculpture continues to evolve on this foundational structure. In Karachi, Anjum Ayaz features among those who gave sustenance to the genre in its early years.
Initiating his education from the National College of Arts (1965–1967), Ayaz moved to Karachi and joined the Karachi School of Art from where he graduated in Fine Arts in 1970. Unlike sculptors with an easily identifiable mark, Ayaz is fluent in several stylisations that carry influences of Moore, Hepworth, Brancusi, Arp, and Tanavoli, among others. Extracting his vocabulary from the Indus Valley civilisation and the Gandhara statuary, he references the Indus tile patterns of the Bull, the Priest King, the Dancing Girl figurine and Buddhist art. Traces of Sadequain's spiky figurations and calligraphy can also be read in his relief panels.
Anjum Ayaz's work is defined by large-sized sculptures for public spaces, such as beaches and gardens
Working in labour-intensive materials like stone, metal and marble, Ayaz's work is mainly defined by large-sized sculptures for the city's public spaces, beaches and gardens. He has exhibited regularly in Pakistan for the past 30 years and his public sculptures are placed in Karachi, Lahore, Sargodha and Islamabad. However, it is international recognition — through participation in 25 odd group and solo sculpture shows in countries and cities such as Holland, Germany, Singapore, Montreal, Paris, Marseille, Tokyo, Dubai, New York, Beijing and Sydney — that has highlighted his capacity and range of work.
In 2007, 'Sculptures by the Sea' Bondi (the world's largest annual free-to-the-public outdoor sculpture exhibition), in Australia, invited him to display his large-size stone sculpture 'Waiting.' In Tokyo, his stone sculpture 'Smile' is placed by the roadside near Azabu Market. His piece 'Indus Bull' was exhibited in the previous Athens Olympics while, in Beijing, his work 'Life', an 18-feet high stone piece, is placed in the Sculpture Garden for the 2008 International Olympics.
In our society, the general public is simply unaccustomed to looking at sculpture, to placing it in their homes and being around it. In many instances, it requires a special place — even a pedestal — and space to walk around it. Unfortunately, it is neither viewed nor appreciated properly. This inability is compounded when the imagery is modernist and highly abstracted. Unlike a two-dimensional painting that stays flat, three-dimensional sculptures have a real presence, a kind of physicality — a mass — and the effort to engage with this tangibility at some level is a requisite for starters.
Published in Dawn, EOS, April 7th, 2019